We arrive then at the twilight moments of my involvement with Kirton News. Love and thanks go to you all my faithful followers but, I am afraid, abdication is iminent. I was thinking of applying to step in to Jacob Zuma's position but couldn't afford the jabs - or the air fare - so I'll leave that one... for now!
I shall be reflecting on the last eight or so years in my final message but for now I can positively report that all may not yet be lost. After our eleventh hour appeal in the February mag possible candidates have stepped up to the oche and negotiations to keep Kirton News' head above water are in hand. For those of you who genuinely care the message is keep everything crossed for the next week or so.
For those who don't then, in the words of the Great Norman Stanley Fletcher - "Naff Off!". Because I, for one, still believe.
In the midst of current events - yet more shootings at an American school; sex scandals galore; unabating Brexit bullshit and that pervading musty stench of damp wool (if not an entire sheep) being pulled over our collective eyes I hope all of you can take something encouraging from the way the Seasons are turning. As a regular getter-upper in early morning I am cheered to see that easterly glow on my way to the Bakery. And that westerly warmness on my way back from the boozer. Cheered more so because I am still around to see them. My sympathies and thoughts go out to you all – and there are several just of my aquaintence – who have experienced loss this Winter.
As I sit and compose this rubbish the realization bleeds into me that I shall miss these moments of enforced searching, thought and contemplation. I know that most of you 'Tweet' or 'BookFace' or such to express your ponderings, criticisms and opinions but, If any of you know me you will appreciate my utter abhorrance of the 'Social Media' explosion. Because folks can ramble when they have 'ad a few' and think it doesn't count so much disturbance, trouble and downright hatred can result. It isn't good in the long, or sometime short term. At least putting your thoughts in print - which can be there for a thousand years - makes one concious of exactly what damage hasty words can do.
Think on.
And finally. This issue is quite diverse in interest, something I have always attempted to bring you. Please take time to peruse all the articles. Everyone has something to say and should be respected for that and we should all be grateful for the freedom we (still) have in this country to express ourselves and our beliefs. Perhaps with the exception of the U.S. Second Amendment.
Sincerely;
Sam
Heritage Lincolnshire's Campaign to Save Kirton's
Old King's Head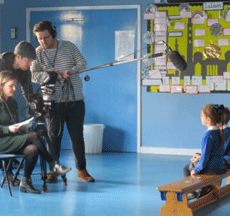 Kirton Primary School to
Feature on the BBC's
Inside Out programme