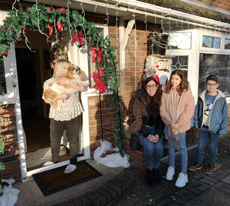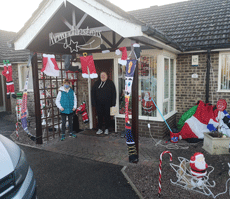 Happy New Year folks! There's still that faint glimmer of hope somewhere isn't there? The hope that 2021 will be better than it's predecessor, it has to be doesn't it? I must admit when Big Ben chimed on New Year's Eve in our house, it was definitely more of a muted celebration with not a party popper in sight. I think we've learned that whatever resolutions or plans we make for the year ahead can very easily and quickly be turned upside down!
I think we all feel a bit tired now, physically and mentally, I know I do. What I really want from 2021 is for the vaccines to be distributed far and wide, for everyone to wear their masks OVER their noses and for people to stop dying from this awful virus. Certainly if you're out there working on the frontline in our hospitals, police and fire stations, surgeries, schools, essential shops, life just doesn't stop. You all have my utmost respect and admiration.
I tried to lighten the mood a teensy bit before Christmas by organising the Best Decorated House competition, combined for Kirton, Frampton and Wyberton. We had some fantastic entries and after a public vote, our two winners were Debbie Tomlin who won a £50 Flower Shop voucher and Lynn Burdass who won a £30 Baked by Evelyn Ruby voucher and shared this with her lovely neighbour Helen Smalley who nominated her! I read lots of comments on the community Facebook page saying folks had gone out in the car for a little tour to look at the entries. Hopefully we can do this again next December.
We also wanted to say a huge 'Thank You' to our local NHS heroes and after a draw including over 100 nominations, we, along with an anonymous donor treated 13 recipients to an Amazon voucher to spend safely online. Kirton News is first and foremost a publication for our community and we give back when we can.
In this issue we're chatting to Ian Parnell from Kirton Leisure Centre to find out how him and his staff have been keeping during the yoyo year that was 2020 and have they missed us as much as we've missed them? Turn to Page 5 to find out.
Also, in our Meet the Locals feature on Page 7, we're talking to a very familiar face, Barbara Westwood, Kirton's caretaking wonder woman!
I'm always contactable on Editor@kirtonnews.co.uk. I'd love to see some suggestions for our 2021 issues. Do you have an interest you're passionate about or have you read any fantastic books lately? We'd be happy to include you!
Rachael.
.