I suppose I should start the very daunting task of my first Editor's letter by introducing myself! My name is Rachael and I live just outside the village with my husband and two children. I have very strong ties to Kirton and spent a great deal of time in the village as a child with my wonderful grandparents, George and Margaret Tetther who lived on Boston Road. My Mum and her two brothers grew up in Kirton and still live there today. I vividly remember The Curry King being the Co-Op, Upsall's, the charming outdoor bowling green and Caroline's dress shop to name but a few from days gone by.
My first duty as incoming Editor is to send a heartfelt thanks to Sam Chapman who, for very nearly the last 7 years has entertained us with his acerbic wit, kept us informed and who has (and hopefully still will be) a constant presence in the village. I hope I can at least live up to the level of commitment that he has shown. Also, thanks to the outgoing committee, Mary Rayner, Ann Dawson and Audrey Forinton. They have all done a fantastic job in nurturing a publication we should all be really proud of (too many villages no longer have one). We also have a huge band of distributors who make it possible for every home in Kirton to receive a copy of this publication. Be sure that your efforts do not go unnoticed and we're very grateful.
I'm a huge believer in the power of the local community. I'm a member of the Town Hall Management Committee and I also run the Facebook Community Page for Kirton, Frampton & Wyberton (like it or loathe it)! I have seen many varied and passionate comments over the last few years on a number of subjects. Being a Facebook administrator means that I can't comment on any post but rest assured that this doesn't mean I feel apathetic towards things that happen in our village. Far from it. This is precisely why I have taken on this role, why I'm on the Town Hall committee and why I believe we still have a great community at the heart of our village.
My beloved Dad, Alan Lee, who passed away far too suddenly a few months ago was a dedicated ambassador for the village through his work on the Parish and Borough Council. He was a member of the Friday group, who are still seen tirelessly working to make our village a tidier place to live. It takes a lot of guts to put forward your ideas and opinions, especially if sometimes, it goes against the general consensus and he wasn't ever afraid of that. It's something I will always strive to live up to.
I ask that you don't be just another pessimistic voice on the Facebook page. We may not all agree with what new businesses are opening but at least they are opening. Join a committee, introduce yourself to your neighbours or help out at an event. Someone out there always needs help. I may not be as physically available as our previous Editor, but myself and Andy, our Advertising Manager will always respond to your queries and try to help in any way we can. This is, after all, your publication and your village.
Rachael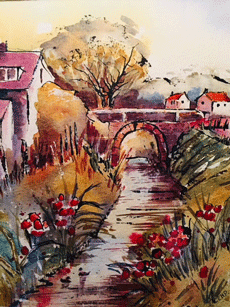 Kirton Artist
Exhibiting at Blackfriars