Frampton Gardening Club
Frampton Garden Club starts its new club year on Thursday 30th May 2019, with our AGM held, as usual, at Frampton Village Hall at 7.30pm. During the meeting the members have a chance to review last years speakers and events, and plan for the coming season.
The Pauline Chubb Award will be presented to the member displaying the best flower from their garden, as judged by fellow members. The varieties and colours are always a treat at this lovely time of year, and having been encouraged by Tom Holland at our March meeting to introduce more colour into our gardens, we can expect even better flowers this year. The members bring sharing plates of savouries and sweets and will round off avery enjoyable evening with a "Mystery Event".
The April meeting brought another speaker, Harry Leach, to explain the best techniques for planting tubs, hanging baskets and other containers [ none of which need be expensive ]. Not everyone has a garden, but so much pleasure is gained by family, friends and even passers-by from pots filled with colourful plants and flowers, we have all paused to admire a lovely display in someone's front garden that has brought a smile to our faces and lifted our mood.
The Chelsea Flowers Show will once again be on our screens in May, with beautiful gardens filled with celebrities. This year The Duchess of Cambridge has collaborated with garden designers Andree Davies and Adam White for the RHS Back to Nature Garden, which is intended to encourage parents and children to spend more time outdoors to help improve their mental and physical well-being.
This sentiment is endorsed by all gardening clubs, although the carefree days of our childhood spent exploring the lanes and dykes, making dens and playing with friends, unsupervised by parents, is largely gone.
The Garden Club takes too the road for June and July meetings, so please don't come to the Village Hall, we shall be at Peter Beal Roses near Norwich in June and Amber Hill Butterfly and Wildlife garden in July, all followed by afternoon tea.
We return to Frampton Village Hall on Thursday 29th August for our annual Produce Show, when members proudly display their flowers, vegetables, fruit and conserves for 2019. Please come and join us at 7.30pm, when you can be assured of a warm welcome and more tea/coffee, cakes and biscuits.
Click on the links below to visit our Church's website:-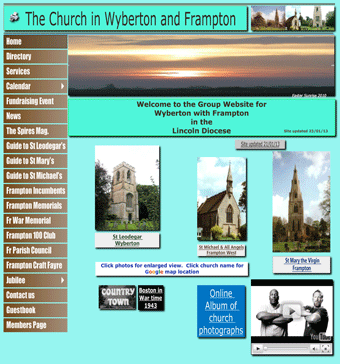 The Church in Wyberton & Frampton