Frampton Gardening Club
The wind, rain and sun have done their worst this summer, so that in spite of staking delphiniums and peonies, a summer blast laid them all flat, roses have been battered, dead headed and then battered again by the rain. The weeds, spurred on with sunshine and showers are growing in abundance, threatening to swamp the flowers.
Not all is lost though, tomatoes in the green house are doing well and after the netting went up to deter the rabbits , the runner beans are at last getting to the top of their support poles and the courgette is sending out flowers with promise of a late summer harvest, and hydrangeas positively thrive in wet conditions.
In spite of the erratic weather, the Club has fortunate in its planned outing this year to Peter Beales Roses near Norwich in June, the roses were at their stunning best and the rain held off until we were all safely on the coach to return home. The detailed talk into the grafting and budding of roses for commercial retail purposes was fascinating, and made us all appreciate the value of the rose bushes we buy.
2019 hasn't been the beautiful summer of 2018, but it has had its moments, as I write we have recovered from a mini heatwave, only to be drenched by thunderstorms! A typical English summer?
The club July outing to the Butterfly Garden is at the end of July, and we all hope that the weather remains kind to us, so we can at least catch a glimpse of the beautiful butterflies for which this garden in Amber Hill is famous. This is followed by afternoon tea at the newly refurbished Four Cross Roads Inn, where members can sit and chat compare notes of sitings.
I would like to invite anyone to come along as a guest, to see how well we have done, it's usually well attended and members all have the opportunity to vote for their favourite exhibits, cakes and preserves coming top of the list for excited judges.
The Bill Castle Award will be given to the member attaining the highest overall number of points. The club starts its normal meetings again in September on Thursday 26th at Frampton Village Hall at 7.30pm. entrance to the first meeting is free and membership only £10 per year with £1 entrance per meeting. We have many varied speakers during the autumn, winter and spring months and two outings during the summer.
These outings include visits to large houses and gardens and to more intimate ones, all with interesting plants and flowers for members to admire and be inspired by, usually with a chance to buy a little treasure or two. You can be assured of a warm welcome if you come along, with no horticultural knowledge needed, just a desire to enjoy flowers, plants and vegetables, and friendship of like minded people.
Maggie Welberry
Click on the links below to visit our Church's website:-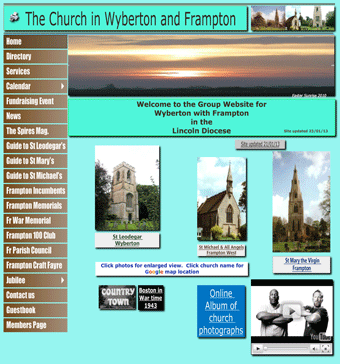 The Church in Wyberton & Frampton