Frampton Gardening Club
The February meeting of Frampton Gardening Club, held on the last Thursday in the month, was a talk by Roger Carrot about Boston RSPB Young Explorers. This group is aimed at children aged 6 to 14, with varied activities to interest young people in, and care for, the natural world. The club meets once month at Freiston Shore Nature Reserve with the hope that in the future, accommodation for them will be built at Frampton Marsh. What a wonderful resource to have locally for families to explore together the wonders of nature.
The March meeting on Thursday 26th March will welcome back our old friend Tom Holland, his talks on bringing colour to our gardens and his expertise on growing conditions, are always inspiring, especially in the spring when we first venture out. Members also have an opportunity to purchase his plants and flowers.
Thursday April 30th's meeting will be a Specialist Horticultural Talk by Walnut Tree Gardens, and is held as usual at Frampton Village Hall at 7.30pm. We welcome new members and old friends, to share our love of gardening and a cup of tea or coffee and cake. Please come along, the first meeting is free, and we hope it won't be your last.
The club outing this June is to Grimsthorpe Castle, on Tuesday 16th, leaving from Kirton Town Hall, deposits will be taken for this day out at the next meetings.
The July outing is still to be confirmed.
I am writing this at the beginning of March just before leaving on holiday, the world has changed since we booked, now the shadow of Coronavirus falls across us all. I hope that all will soon return to normal, and that we can all enjoy being out in the fresh air in our gardens, much the healthiest place.
An update on Holly, our rescue baby Hedgehog, she is alive and well and still eating us out of house and home. Soon she will no doubt be leaving us to explore the big wide world and eat all those pesky slugs. Well, we can only hope.
Maggie Welberry
Click on the links below to visit our Church's website:-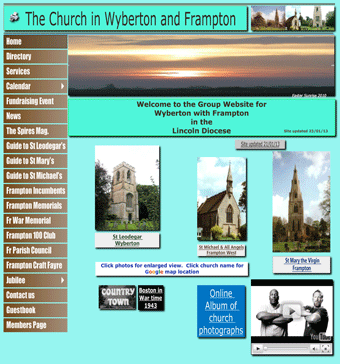 The Church in Wyberton & Frampton