Silver Spur Country Music Club

Hubberts Bridge
Community Centre,
Near Boston, Lincs.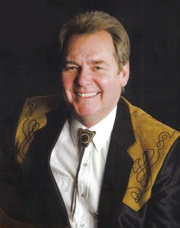 Dave Wilson
with Jonny Williams
& Lynette Marie
Saturday 2nd Sept at 7pm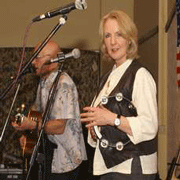 American Routes
with Curtis Magee
Saturday 7th October
at 7pm
Host and Compere: ERN LAWSON
Book tickets for any concert
on 01205 722348
then pay on the door on the
evening of the show.
* * * * * * * * *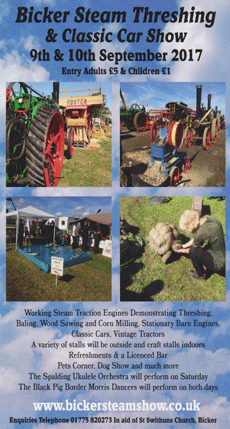 * * * * * * * * *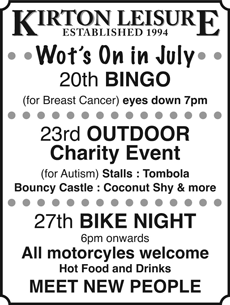 * * * * * * * * * *
Come and
join us for
Social Afternoons

1st Wednesday
of the month
2pm – 4pm

Kirton Parish Church
Good choice of activities including dominoes, scrabble, draughts,
playing cards, jigsaws, crossword books, and magazines to read

Bring your own craft activities,
if you wish - Sit and chat

1Enjoy the company of other people, everyone is welcome
Admission: £1
including tea & biscuits
Contact:
Fay on 01205 723529
* * * * * * * * * *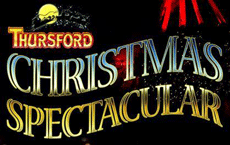 Afternoon show:
Wenesday 8th November 2017
Organised by Caring Companions
Boston & District.
This is the biggest and most exciting Christmas Show of all times and would not be out of place in London's West End. There are around 100 performing artists plus the resident organist, providing humour, variety and fantastic dance routines.
Over a 1,000 seats is surrounded by fairground organs and steam engines, a show not to be missed.
We have a few seats available at £48.00 inclusive of entrance ticket and coach fare.
£10.00 deposit secures you a ticket, balance to be paid by the 1st September.
Pick-up in Kirton at the Town Hall,
times to be arranged.
For more details contact
Stanley Naylor on 01205 722594