ScoutAid; Here's to another 29 years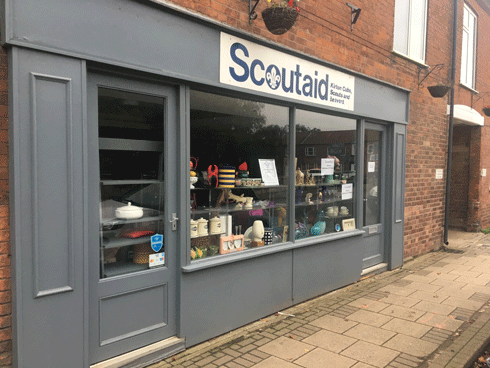 As most of you may be aware the ScoutAid Charity shop in Kirton, fondly known to many as 'the scout shop' has gone through a bit of a transformation, not only has it got bigger, it has also moved.
We had been in Station Road for nearly 30 years, but due to reasons beyond our control we had to relocate, and managed to secure new premises in High Street (formally Beesons the Butchers).
All those years ago, the shop was originally the idea of Mary Duff, who had previously been a cub scout leader and group scout leader and is now, still very much part of the group as one of the main volunteers of the shop, along with around 20 other dedicated volunteers who give up their time freely to manage the shop and raise money for the group; their efforts have recently enabled the group to purchase a mini bus so that we can take the Beavers, Cubs and Scouts on trips and camps. It also enables the group to subsidise such things as camps, trips and meeting supplies, as we aim to keep costs low to ensure that no member should miss out.
We will open on 23rd October, so, by the time you read this we should already, and you may have even visited us.
Our opening times remain the same, Mon – Fri 9am to 4pm and Sat 9am to 2pm, but please we can only accept donations during our shop opening times, we wouldn't want either you or ourselves to get into trouble.
We hope to see you soon!
A very excited ScoutAid team
Remembrance Day Parade
This years Remembrance Parade will be taking place on Sunday 14th November we will be congregating in the War Memorial ready for the 2 minutes silence at 11am. The council have arranged the road closures so there will now be able to run the parade from the Town Hall to the War Memorial, we will hold a service there and then the parade will march onto Kirton Parish Church, where we will hold another service. We look forward to seeing the village community join together in the Remembrance Service this year.
Cleaner Required
A cleaner is required for a 2 bedroom bungalow in Sutterton for 2 hours once a fortnight. £12.50 per hour paid. If interrested please contact Mrs B. Ramsden on: 01205 461451.
Womble Macmillan Coffee Morning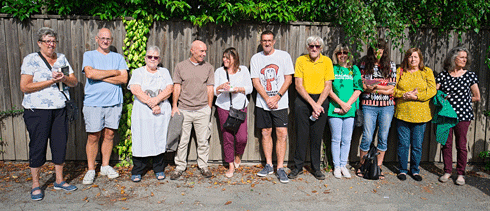 Wombles continue to improve our local villages, town and environment. There are a lot of regular routes some Wombles clean up weekly, sometimes finding much less rubbish thankfully. Maybe our message is finally getting out there. There will always be some that don't have a care in the world about dumping and fly tipping rubbish. The appointment slot has been removed now so there is no excuse for fly tipping. If people can be bothered to load a car and go out late at night to dump, they can surely go to the local recycling centre.
The Council also introduced free bulky waste collections for residents. This ran throughout September and they offered a free collection for up to three items. Let's hope this continues in the future and deters more fly tipping. Great Uncle Bulgaria, Steve Slater, continues to work closely with Boston Borough Council to make as many improvements as possible.
The Kirton crew have continued to be busy on their weekly Tuesday morning Womble. After several weeks Wombling further afield in surrounding Villages we will be concentrating again on Kirton. We should be able to get into the dykes and clean up the verges again. We gave the Memorial a spruce up, weeded, sweeping the leaves and general tidy up in readiness for the Remembrance Service.
We now have 14 schools, plus the Scouts, actively working with their pupils which is fantastic. Contact was made with a further 6 schools in May/June but no replies at the time of writing, despite a reminder being sent.
You may have seen a separate note last month about the amount raised from the Womble Macmillan Coffee Morning. We were absolutely delighted with the support this event raised and we must once again thank everyone for their generosity. Special thanks to Ian Parnell at Kirton Leisure who allowed free use of the premises and the wonderful donation of free teas and coffees. The final total was £1145.20. Amazing! Maybe we should have an annual event like this. Food for thought (or cake in this instance).