Kirton painting group exhibiting at Fydell House in Boston
A Kirton painting group has been invited to exhibit artworks at the historic Fydell House in Boston. The exhibition will feature mainly watercolour paintings, with a wide variety of subjects such as local area, landscapes, animals and flowers.
This art group has been meeting at Kirton Town Hall for several years and 15 members will participate in the show, hanging more than 50 paintings.
Fydell House is a historic building with an interesting past and a beautiful garden open to the public. It is popular for tea and food during daytime.
The exhibition opens on November 1st and will last until January 30th. Entry is free and Fydell House is open Monday – Thursday 9:30 – 4, Fridays 9:30 – 3.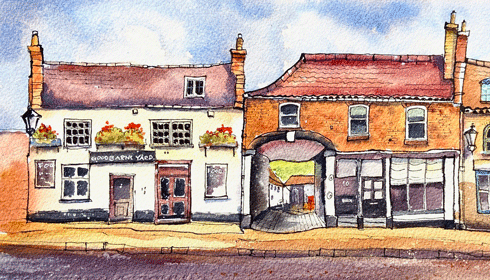 Car Parking Discussion
back on the Agenda
There was a really well attended Kirton Parish Council (KPC) meeting at the Town Hall on Tuesday 10th October and there was lots of business for the council to discuss.
Agenda item 7 was to discuss the Town Hall and Public Car Park. This discussion was eloquently led by Councilor Astill. Who gave his view of the situation at present and his overall thoughts concerning the car park contract etc. The upshot was that he suggested that the current situation hadn't been thoroughly planned and there had been a rushed decision to restrict the car park without local residential and business discussions taking place.
Regular readers will know about the Kirton Car Park Group (KCPG) and their wish to change the way the car park is restricted to better suit all the residents of Kirton, the businesses, the Town Hall Committee and visitors to our village.
Now there will always be differing opinions regarding parking and of course if you live on the periphery of the village this will be different from those residents in the centre. All opinions are valid though. Acceptance of the views of others is essential if we are to get a resource that suits all of us. Of course, in the past, emotive statements have been made on both sides of the argument but many of these were without evidence or an understanding of the reality of living close to the car park. Additionally, a misunderstanding of why people park and what villagers need has also clouded the issue.
An example being that residents of the village who regularly used the car park freely, before the restrictions, were regularly ridiculed and referred to as 'freeloaders, inappropriate users, idlers, breaking the law and offenders' in addition to other derogatory descriptors of our village residents – your KCPG have again reminded the KPC that before the car park was restricted there were no rules (other than on commercial vehicles and heavy vehicles) so residents were in fact none of these descriptors and to continue to use them is offensive and incorrect. KCPG support the commercial vehicle limits and weight limits on the car park. However, it's up to the KPC to 'police' these and simply sitting back rather than challenging the drivers and having an open discussion has added to the inappropriate situation we have at present.
KCPG members observe the car park regularly and some people have apparently pointed out that it's much easier to use now. In reality the car park sits nearly empty most days and on only 5 days since 1st February 2023 has the car park been over 75% full (not including the monthly Farmers Markets). Mostly it remains empty and those locally will be aware of the anti-social behaviour (ASB) that this could encourage; evidence would show that there was less ASB (arson, drug use & damage), before the restrictions, as residents came and went freely watching what was going on.
The KPC have stressed, correctly, that they are not 'responsible' for business parking. However, they are also not responsible for many things they get involved with and comment on, usually hastily and on social media.. A charitable explanation would be that they are ignorant of the results of their decisions. A more troubling explanation would be that they simply don't care about the life blood of our village (businesses).
The KCPG know this is a difficult thought to get around BUT all your KCPG has ever wanted is the truth, rather than the conveniently fabricated and unevidenced reasons for the restrictions, and a car park for the whole village – at present it does seem at times that visitors are thought more important than our residents and our struggling businesses.
It seems, from the meeting, that there are lots of good ideas about the car park and at the meeting the KPC agreed to hold an open and public meeting /discussion to hear all views. KCPG supports this and it is due to be held before the contract end point of November 2024.
Currently please be careful if you are parking in the car park. KCPG are aware of the lack of signage (Public Car Park side) and that the camera appears to be switched off. However, this could change at any point. KPC reported that the current thoughts from the car park company are a return cont. over to 3 hours free parking with no return within 4 hours. The agreement of 3 hours parking no return with 2 hours (which is more manageable) was a "gentleman's agreement" and the company want this stopped forthwith. Of course this could result in any "popping in and out" of the car park, whether you park up or not, resulting in a ticket being issued. So, popping in at pupil drop off time and seeing the spaces are full and popping back 5 mins or more later will result in you getting a ticket too? This is the reality.
Let's all try to work together and support our Parish Council in understanding all the facts and coming to the best outcome for all the residents – that's all we can ask ultimately.
Rudy is returning for Xmas 2023
If you are looking for a way to have some festive fun whilst making a difference to those in your local community this Christmas, why not support your local Hospice by taking part in Rudy's Run. This event is perfect for primary schools, sports groups and community groups.
Rudy's Run is a very special Festive Fundraiser brought to you by St Barnabas; you can pick a date of your choice and the children can run, dance or prance as they take part in their very own Rudy's Run whilst raising vital funds for Hospice care in Lincolnshire.
It's FREE to sign up and we will provide everything you need to take part: Rudy's accessories (antlers for each child, a Santa costume for one lucky teacher/group leader), letters to send to parents, a guide to set up Just Giving, and a digital activity pack with games, recipes, crafts and more…This year our activity pack is better than ever, filled with fun festive crafts for all the children.
We know that Christmas is a busy time, which is why we are letting you know about this exciting opportunity now and why we have made Rudy's Run as hassle free as possible. Participation is completely free of charge. All we ask is that each child tries to raise £3 in sponsorship money to support the work of our Hospice.
Simply sign up through the link below and we'll do the rest. 'We' means Rudy, as all packages will be delivered by himself personally! All the Elves at St Barnabas Hospice will be working hard to support you with your Rudy's Run, so please don't hesitate to get in touch at fundraising@stbarnabashospice.co.uk or 01522 540300.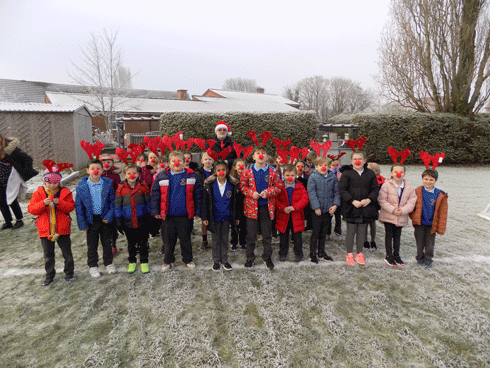 Torchlight Procession 2023
On Tuesday 21st November, hundreds of people will come together in the historic uphill area of Lincoln for the annual St Barnabas Hospice Torchlight Procession, as part of the Light up a Life campaign in remembrance of loved ones.
The Procession will be led by the RAF Waddington Pipe band, with supporters holding flaming torches and light-up lanterns. Together, they will walk the route from Clayton's Sports Ground to Lincoln Cathedral, creating a beautiful atmosphere.
As is tradition for the Procession, a brief stop will take place at the Hospice's Inpatient Unit on Nettleham Road. Patients, staff, and volunteers will then be able to enjoy this emotive display from the comfort of the Hospice building.
Attendees will be able to write Messages of Love and tie them to the railings of the 30-foot Tree of Life outside Lincoln Cathedral, sending a special message to the loved ones they will never forget.
The Torchlight Procession is free to attend, however we do ask that you book your place as well as purchase torches and lanterns in advance of the event (extra lanterns and torches will be available to purchase on the evening). Tickets will be available from 1st November on our website.
Before the event, St Barnabas are encouraging members of the community to dedicate a light in the name of a loved one lost through their Light up a Life appeal and these dedicated lights will shine brightly on the Tree of Life.
This appeal will stay open throughout the whole festive period, with supporters receiving a personalised handwritten card, a star-shaped tree decoration and a digital tribute to share on their social media pages to spread the word about their dedication.
To dedicate a light, visit: https://stbarnabashospice.co.uk/light-up-a-life.