RoadHOG bus takes to the road
The RoadHOG (House of God on the Road) bus will be in the village on May 5th and May 19th between 4pm and 5pm. All 11-16 year olds are welcome onboard. We have games, crafts, and a quiz plus free hot drinks and squash.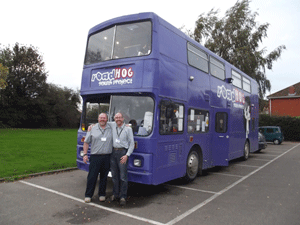 Spring Clean Kirton
Myisha Shooter has set up a 'Spring Clean Kirton' scheme. Originally this was just going to be a family activity for her and her 6 children but ended up having the following friends join to help: Chelsea Dauny and her 3 children, Laura Himsworth and her son, Lynnette Alred and her daughter and a couple Myisha met via the community page on Facebook called Tori and Steve along with their two children.
They started at the Kirton Co-op, worked their way to the memorial, onto to the church, finally ending up at the skate park. They cleaned the playing field and then the playground before sitting down for a picnic and allowing the children to play for around 45 minutes before heading to the Town Hall. In total they collected 7 bags of rubbish!
Myisha is planning on this being a yearly activity initially so thinks the next one will be next Spring, however she has had lots of interest so if more people get in contact, they may also do a village clean in the next school holidays.
If you would like to get in contact with Myisha please email: Editor@kirtonnews.co.uk and I will forward your message onto her.