Battle Of The Sexes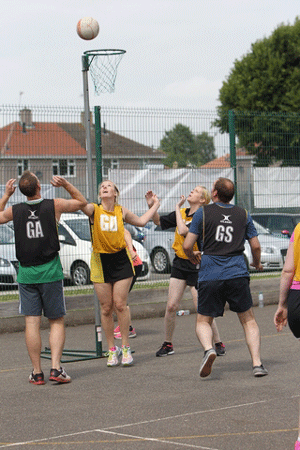 On Sunday June 25th, the 3rd Annual Guys v Girls Charity Netball Tournament is back for a day of on court action and family fun between 10am-4pm at Kirton Middlecott Sports & Fitness Centre.
This year, organisers Rachel, Lindsay, Ellen, Clare, Kate & Laura wanted to do something specifically focused on male and female health so every penny raised at the event will be going to Breast Cancer Care & The Movember Charity, who offer support to men suffering from testicular cancer as well as male mental health issues. There will be a promise board on the day where people will be encouraged to take a selfie and pin their promise to the ('Boobs & Balls') wall to raise awareness on the importance of checking your body.
Food and refreshments will be on hand from Dunhams BBQ and Huskys Ices as well as tea, coffee and other sweet treats.
Families can have a go on a variety of inflatables and enjoy face painting, a surprise visit from a Minion and Peppa Pig and performances from AJ Dance. Have a go on the turbo tombola and if you're feeling lucky buy a strip or two on the raffle.
As usual there will be some great prizes up for grabs including an Eden Hall Spa Day, Afternoon Tea for Two, meal vouchers and more donated from local business' and individuals. Fingers crossed for sunshine!!!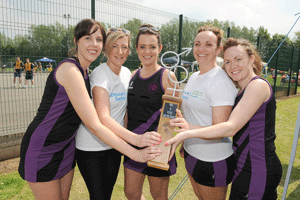 Teams can expect to pick up trophies for being the Best Guy or Best Girl of the tournament as well as the coveted Bad Boy Award and Wooden Spoon for those bringing up the rear. Will last years Team Sass retain their title? Will Kiss My Pass be back for a second bite of the apple? Or will a new team sneak in from the sidelines? Pick your side ...
If anyone would like to enter a team, help on the day or donate to the event please email: GuysVGirls@outlook.com or call 07920573421 to speak to one of the organisers. All help would be greatly appreciated.
Sponsored by: Kirton Middlecott Sports & Fitness Centre - S.M.Kent Roofing & General Building - Taylored Security Services Ltd - Carl Dunhams Family Butchers. First Aid provided by LIVES.
Time goes by for Andrew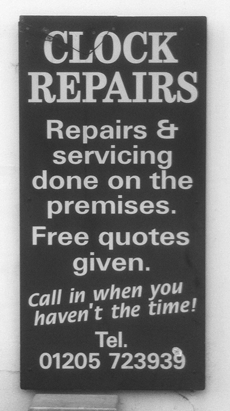 Time plays a huge part in all of our lives but local businessman Andrew Skiba has spent more time with 'time' than most of us. Clock restorer and owner of the familiar "Old and New Times" in the centre of Kirton he has been marking time for some thirty eight years. But tempus has a nasty habit of fugit-ing for us all and he has decided to wind it up and take a well-earned retirement. (So many potential puns... so little - time [?])
He invited me in for a chat a few days ago and told me a little of his own history. The shop is, of course, full of mechanisms and contraptions of all description. But there is something of a sense of supreme comfort and surety about the hypnotic tick-tock in this womb of a room that is almost organic. And I'll bet he knows every single tick and tock, chime and cuckoo personally.
Andrew has been dealing with the public for over 48 years. Apprenticed to his Father's clock making business in Oundle he learnt his craft from a master. His older brother had bought premises in Kirton and having finished his apprenticeship he decided to move here in 1979 and opened the shop and workshop in the building now occupied by the Tanning Rooms next to the Peacock. Some five years ago he took the decision to "down–size" and moved down the road to the old Lloyds Bank building.
Always a people watcher he says he has seen time pass in many ways other than the instruments he has worked on so lovingly and skillfully for so long.
"I've seen the cherry blossom in the church yard come and go. The leaves fall and come again over so many years." He says.
"I've seen the young mothers taking their children to the Primary School. Then those children with their offspring. And doubtless those children with theirs. But there comes a time when you feel you want to take a rest."
When I entered the shop he had another customer (more likely a mate as well) talking motor bikes. Another of Andrew's passions. "I'll miss the people as much as anything" he says.
At times it seems he's almost a therapist. There to listen to peoples gripes and problems as much as fix their clocks. But that's what happens in a true community and with his departure the Village will have lost one more binding thread. It will be a poorer place for it.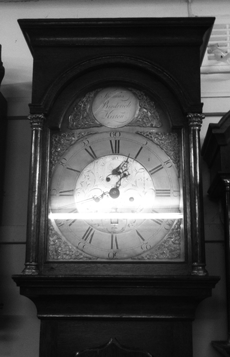 \With an incredible knowledge about the history of clock making over the centuries, much specific to this area, he will also be a loss in a more academic sphere. So much such fragile schooling goes un–recorded and slips away with the individual. But, there we are; such is the passage of time.
Andrew plans to publicize a grand sale of stock from mid–July onward and will - definitely - call time on the business in November.
We wish him well in his next phase.