The Outlaw '17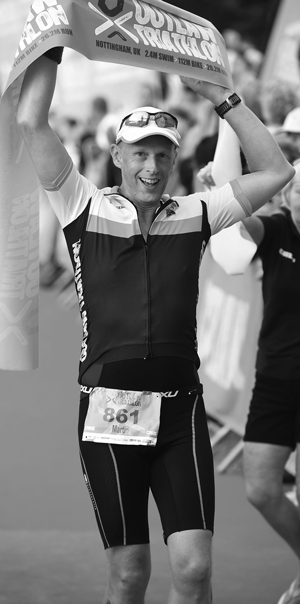 Martin Jessop is taking on another big challenge for charity by doing the Full Outlaw Triathlon in Nottingham again. "The Sheriffs Re-match" will see him take on the 2.4 mile open water swim, 112 mile bike ride and a full 26.2 mile marathon for Cancer Research UK.
By the time he starts he will have completed many hours of training including a 100 mile ride and also three other big races, namely:
The Virginmoney London Marathon; The Outlaw Half Nottingham; The Outlaw Half Holkham in Norfolk plus a few other smaller events in the build up to the main event.
Last year he raised £1618 and finished in 14hrs 32mins and this year is looking to better his previous achievement,
He would also like to say thank you for all the support and sponsorship last year and for the continued support he still gets.
"I still want to try and do my bit by helping to raise funds for ongoing research so that hopefully one day a cure can be found for this dreadful disease".
If you wish to help by donating to this worthy cause you can do so by going to
www.justgiving.com/martinjessop-outlaw2 or text MJES55 +£(amount) to 70070 or drop into any branch of Jessops The Bakers to add yourself to a traditional sponsorship form. Any amount will be greatly appreciated.
Dog fouling: a message to pet owners from Boston Borough Council
If you walk a dog you have a legal responsibility for cleaning up after it when it defecates. It is your responsibility to clean up – not the responsibility of the parish council, the borough council, the county council.... or anyone else. Everyone knows that, even if they claim not to!
No one wants to see, smell, or worse, step into, a pile of dog poo that an inconsiderate owner has knowingly left behind. Dog faeces present a real health hazard to children in particular – they can cause blindness.
Failing to clean up after your dog in this borough is now punishable by a fine of £100. In fact failing to be able to demonstrate your intention to clean up – producing a poo bag for instance - is now punishable by a £100 fine.
In addition to the borough council's own enforcement officers the council has now also enlisted the services of a private enforcement company, 3GS. Their uniformed enforcement officers, who are ex-military, will be mounting surveillance in hot-spot areas and after hours, so early morning and after-dark dog walkers can be dealt with. They are equipped to confirm an offender's identity and issue an on-the-spot fine.
The borough council is happy to accept information which can help deal with offenders, but the public is asked not to put itself at risk of confrontation in obtaining information. Please supply information such as the name and address of the alleged offender together with a description of them and their dog, the date and time of the offence and the location of the offence, so that we can investigate. All information will be dealt with in strict confidence. Contact the enforcement team on 01205 314583.