Calling All Local Groups!
Meet Your Future Volunteers
Volunteers from local charity Heritage Lincolnshire are putting on a "Do Something New" event at Louth Library to show local people just how many different groups and societies are active in the Louth area. The event will be on May 12th from 10am – 3pm. The "Do Something New" event is a collective event to get more people involved in volunteering in their local area. If your group needs new members or volunteers then book your table now as spaces are limited.
Heritage Lincolnshire is a charity based in Lincolnshire for the people of Lincolnshire. We want everyone to be better connected making the most that there is on offer across the county. We want everyone to have the opportunity to do something truly exciting. Us volunteers have done two other similar events that have been successful, and inspired by Grantham Museum's 'Do Something New', we decided a bigger event would be even better!
– Jackie Goodall, volunteer coordinator at
Heritage Lincolnshire
Entry to the public will be free, and the event will be advertised locally through posters, newspapers, radio and social media. A table will cost £15 each and you can use your own turf for both promotion and recruitment.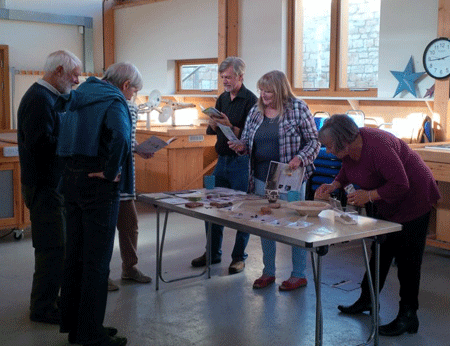 Kirton town Hall Management Committee
The Kirton Town Hall Management Committee will be having their AGM on 15 May 2018 at 7.00pm in the Upsall Room at the Town Hall, Station Road, Kirton. The public and other interested parties are invited to attend.

The View from the Vicarage
"Come, come, whoever you are,
Wanderer, worshipper, lover of leaving,
Ours is not a caravan of despair.
Even if you have broken your vows a thousand times
It doesn't matter
Come, come yet again, come"
These powerful words were written by Mewlana Jalaluddin Rumi, a 13th-century Persian Muslim poet, jurist, theologian, and Sufi mystic, and they may seem a little odd to be quoted by a Christian priest to the people of his three parishes. But perhaps you will see that by the time you have read this letter, just how apt and powerful these words really are.
There are many people living within our parishes that once practiced their faith but have given up for hundreds of different reasons. There are also those who remember the days when they attended Church regularly, and even enjoyed the experience. There are also those who believe that they have outgrown the concept of religion and moved on, even feeling liberated and free from any religious adherence. I am not doubting that these views are valid, but I also meet lots of people who tell me that they would love to believe again in something greater than themselves, and those who say that they cannot come back because they have messed up. Many people simply crave real fellowship with other human beings.
The 20th-century journalist and Christian apologist G. K. Chesterton once said, "There are two ways of getting home; and one of them is to stay there. The other is to walk round the whole world till we come back to the same place." Chesterton's point was that truth might be closer than you realize, perhaps right under your own nose. Often, like with the prodigal son, truth is found at the end of a long road back to the Father's house.
Of course, G K Chesterton was speaking specifically about Christianity. In his book "The Everlasting Man" he contrasts two ways of analysing the Christian faith. The first is from the inside. The second is from a million miles away. As he writes, "The best relation to our spiritual home is to be near enough to love it. But the next best is to be far enough away not to hate it." Often, we find that sometimes just stepping outside the front door of your own particular viewpoint, leaves you too close to have a clear perspective. You can be standing beneath the awning while complaining about the shade. Your proximity itself creates emotional and intellectual blind spots.
As Chesterton puts it, "The popular critics of Christianity are not really outside of it … Their criticism has taken on a curious tone; as of a random and illiterate heckling." Perhaps you get what he was talking about: Many of the complaints and criticisms we hear about Christianity and the Church are more emotionally charged than carefully reasoned. And safe passage to meaningful conversations with each other can be hard to find.
C S Lewis also navigated this same terrain. He describes this journey in his first published work after his conversion to Christianity, The Pilgrim's Regress. It's a fictional account of his conversion that he wrote over a holiday visit with his childhood best friend. Of course, C S Lewis based his work after John Bunyan's classic The Pilgrim's Progress. Just like John Bunyan, Lewis uses allegory to make his points. But his "regress" offers a glaring contrast to Bunyan's "progress." C S Lewis wanted to illustrate that his character found spiritual fulfilment not by progressing to a far-off land to be freed from a heavy burden—but in the fulfilment of a longing that could take place only in the Christianity he had previously rejected.
C S Lewis speaks of making spiritual progress by turning around and retracing his steps. Sometimes, this is exactly what progress looks like: Turning around and heading back the other way. Think about it, we can hardly call going further down the wrong road progress.
Lewis could write 'The heresies that men leave are hated most.' The things I assert most vigorously are those that I resisted long and accepted late."
Where are you on your journey? I dare you to read again Rumi's poem and then let it settle in your mind and heart. The Church has changed in these parishes, you might be surprised at what is happening! There is always a warm and kindly welcome.
Yours parish priest and friend,
Fr Paul