Wyberton Wombles of Boston Common
The Wombles have been busy again during May and June. I am sure you can see the difference in and around our town and our village. Regular visits are made by Wombles to particular areas. These include both parks, Graves Park and Dame Sarah Swift in Church Lane.
The lanes and roads are looking very clean and tidy with much less litter lying around. A lot of work has been done on Drainside with the help of local farmer Andrew Dennis and we were very grateful for his support. Andrew kindly loaned a member of his team along with machinery to help remove long standing rubbish from the drain. The "Kirton Crew" also cleaned up of the area close to Andrew's farm on Wash Road on a wet and windy day. The clean-up yielded 21 bags plus an assortment of other rubbish like tyres, TV, glass table top, gas cylinders and much more. Andrew kindly laid on refreshments for the crew consisting of tea, coffee, soup and apple pie which was a lovely gesture.
The group are not just litter picking. They are hedge and verge trimming, clearing and sweeping footpaths, using their own lawn mowers, bulb planting and much more. It really is a community effort and one we should all be proud of. Work has been done to tidy up both bus stop areas at the top of Middlegate Road West, bulbs planted and signs cleaned. Work has also been carried out at the bus stop near the Woodlands, with overgrown shrubs and weeds cleared which makes the whole area look much nicer.
There is regular fly tipping of black bags on the front of Hardwick and Dennis Estate. Please be vigilant and report if you see who the culprit is. We suspect it is the same individual doing this. Take a photograph on your mobile phone if you can so it can be followed up. We find a lot of litter is fast food wrappers, drinks cups and wrappers which have obviously been thrown out of car windows, or even when walking, once finished with. Why people just cannot take their litter home is saddening and quite frustrating.
You may wonder where Boston Borough Council are in all this. We are working closely with them and have managed to get regular layby rubbish collections 3 times a week. A team at the Council are working to alleviate fly tipping with cameras being installed in particular hot spots. We are also hopeful to see the Borough Team expand in the near future which will be a great help.
It is especially pleasing to see families out wombling, particularly the primary aged children. They are doing a fantastic job and are really getting on board with looking after their environment. Middlecott School have joined the Wombles and a group of their pupils have already been out into the local area. Seven schools in Boston have signed up also to join the group which we are all really excited about. We are looking at ways to encourage more children to become involved, especially teenagers. We were very fortunate to receive sponsorship for start-up kits for all the schools which consisted of 15 litter pickers and 7 hoops that hold the red bags. Sadly, our local Primary School, Kirton, declined to participate and join the Wombles.
Several bigger clean ups have been completed closer to Boston. In Wyberton you may have seen the newly painted bush shelters which look amazing. A group of Wombles recently got together to clean the War Memorial in Wide Bargate, a little-known area alongside John Adams Way and Redstone Industrial Estate. The Memorial in the village was also cleared by Wombles by doing sweeping and weeding of the pathway and surrounding fences.
We have a weekly Tuesday morning Womble by the "Kirton Crew". We have managed to cover a lot of Kirton, Sutterton and into Wigtoft. We would like to thank Rainbow Garden Centre for allowing up to park our vehicles when we have been working along London Road towards Sutterton. Also, thanks to Jack and Nikita for donating bulbs to plant on the verges. The Wombles have been in action since the beginning of February 2021 and now has 1200 members. Not all 1200 are Wombling, some are keeping up to date on what the group is doing, supporting by offering materials and there are some Wombling without posting on the group. Every little helps though in our efforts to keep our towns and villages free from litter. We have had some signs made which are being posted in particular popular areas for fly tipping which we hope people will consider before leaving more rubbish.
If you see any area you think would benefit from a clean-up, please do get in touch via the Womble Facebook page or call Steve on 07595 635891.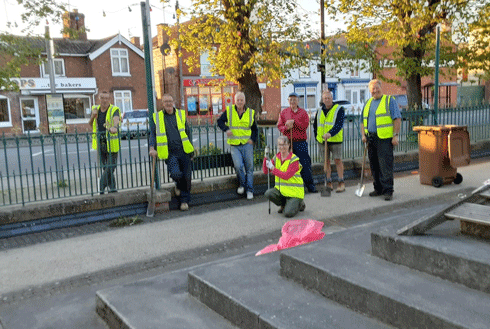 What are we going
to do with the children?
Believe it or not, the school summer holidays are upon us at the end of July. Finding new ideas to keep the children entertained can be a challenge, especially after having them at home so often over the last year. Thinking ahead, doing a bit of research and creating a plan or timetable of activities to keep the kids occupied can help to take some of the stress out of this time.
Read on for fun ideas you could try and enjoy a stress-free summer holiday with the family.
Get outdoors
We've all experienced the blessing that is the great outdoors during the lockdown, and with the weather looking good, getting out and about over the summer is a no brainer.
• Make packed lunches and take the kids on a nature hike. There are activity sheets you can download online to help get the kids hunting.
• Create a treasure hunt in the garden or check out geocaching.com – both fun activities for zero cost.
• Get in touch with your local Friends of Park group and take part in a community litter pick.
• Get together with friends and organise a mini sports day followed by a group picnic.
Get crafty
For those days when the weather isn't too great, it's good to have some ideas of activities you can do indoors.
• If you're planning a mini sports day, get the kids making medals, score sheets, and maybe some bunting out of leftover fabric.
• Kids often have their own unique sense of style so customising their old clothes can be a fun way to let their creativity loose. This can be enjoyable for kids of all ages – and adults too! Search for upcycling tips online.
• Get the kids making temporary tattoos out of paper, perfume and water – you'll find loads of tutorial videos on YouTube to show you how.
Get adventuring
With many places reopening with limited numbers, it pays to plan a trip in advance. Theme parks and zoos can be an expensive day out for a family, but there are ways to cut some of the costs.
• Travel by train. Check out daysoutguide.co.uk/uk-days-out for various deals.
• Look out for discount vouchers on products in the supermarket.
• Bring the zoo to you with Chester Zoo's official YouTube channel. Create that fun adventure vibe by setting up a blanket in the living room and having a picnic lunch.
Christians Against Poverty (CAP) is a UK charity with over 580 services across the country delivering debt counselling, money management education, job clubs, life skills groups and more. Visit capuk.org to find out more or contact the local centre manager Hannah on hannahhollingworth@capuk.org 07947 621899.
A Parson's Tale at Kirton '97
Memories Of Rural Touring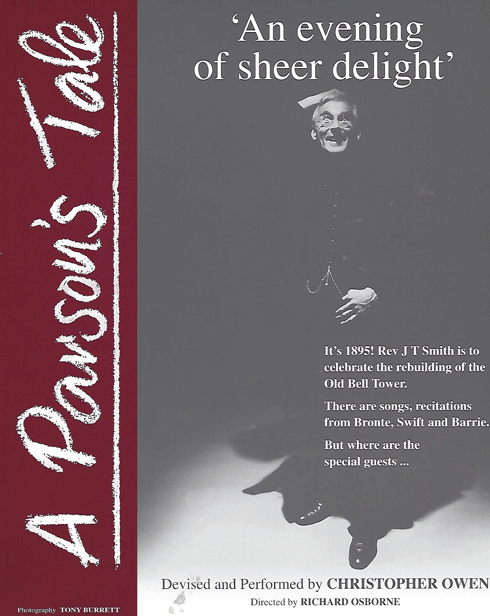 In February 1997 my wife Joy and I embarked on a tour of my one-man show A PARSON'S TALE for Lincolnshire Rural and Community Touring, visiting a number of villages such as Harpswell and Hemswell, Allington, Castle Bytham, Tetford and Helpringham. It was a new adventure for us.
In the Spring that year we came to Kirton where we played in the Town Hall (lunch set up B&B) and continued on to villages such as Wrangle, Grainthorpe and (to Caistor).
We took the show throughout Nottinghamshire, North Yorkshire, Norfolk, Cumbria, Somerset, Cornwall, Kent. Thereon to Cyprus and the Gulf States.
In the UK, we would stay in B&B's or hospitality, we'd have lunch, our main meal of the day, at a pub (such as The Wheatsheaf Inn at Kirton) and would arrive at our venue for that day at 3.30 pm, set up the lights, the simple set, perform at 7.30.pm, strike the set and lights, get back to where we were staying. Next morning, off we'd go again.
People ask us what decided us to tour as we did. We were both is our 60's. (I'm now 84 – no more touring for me!). I'd been doing well as an actor featuring in in the 1990's in the BBC House of Cards, Sharpe's Honour, Men Behaving Badly, Minder, etc. But, as with actors generally, there came a period when there was less interesting work on offer. I'd been interested in the social history of 19th Century parsons, did a lot of research and put together my play.
At a later date I put together Right ho, Wodehouse! which Joy and I toured extensively.
I retired as an actor a few years ago, and have continued writing with modest success, my plays performed, my stories in magazines and anthologies. And now my book America Awaits Us, My Lovely and Other Stories has been published by Troubador, available in bookshops, online retailers and from Troubador Publishers. Book link which includes my acting and writing CVs.
Of all my 55 + years working as an actor these tours hold a special place in our hearts.