Major investment
for Kirton convenience store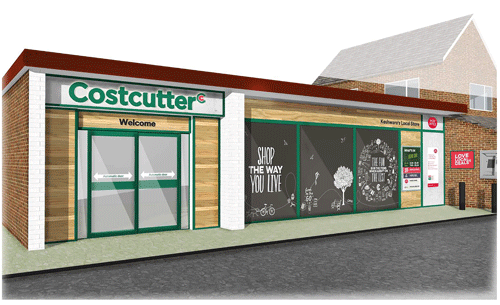 Following a £150,000 investment, a new-look Costcutter convenience store is preparing to open on Boston Road, Kirton, offering customers greater choice, more in-store offers and a fresh new look.
As the third new-look Costcutter in the UK and the first in the Midlands, the store forms part of a brand transformation programme that better responds to the needs of today's shoppers.
The store will offer an extensive range of convenience products including food-to-go, a comprehensive selection of fresh food and chilled produce, beers, wines and spirits, Tchibo coffee and locally sourced meats and locally grown fruit and vegetables. The store will also continue to operate a main Post Office counter and an out-of-hours counter offering a range of services.
Officially opening on Saturday 18th March, store owners, Mandy and Suni Keshwara are inviting customers to a fun filled day including free coffee, food tastings, a free raffle and a range of special offers.
Suni Keshwara commented: "As the first new-look Costcutter store in the Midlands, we're really looking forward to showing off our new store to our customers and getting their reaction to the fantastic new shopping experience and extended offerings, especially the food-to-go range. We look forward to seeing our customers on the 18th March, so they can help us celebrate the opening."
The new store will open seven days a week from 07:00am to 9:00pm and will continue to be run as a family business. The store on 17-19 Boston Rd, Kirton has been run by the Keshwara family since 1986.
ESOL Classes now in Kirton
With a grant from Lincolnshire County Council a new partnership has been formed in Kirton. The New Life Community Church (NLCC) and Bringing Learning into Communities (BLIC) are working together to offer English Classes at the NLCC Kirton.

BLIC already run classes in Boston and NLCC have classes running in Lincoln, together they can extend this service to the Kirton area and initially the classes will be held on Tuesday mornings from 10am – 12noon. The funding provides the opportunity to run 4 x 12 weekly sessions and any anyone who feels they would benefit is welcome to attend. The classes are not accredited but a certificate of achievement will be given at the end of the 12 weeks.

If you would like to improve your English in a relaxed and informal setting please join us on 4th April 2017. If you are not sure but would like further information please do not hesitate to contact either Neal at the church on 01205 724542 or Lorraine at BLIC on 01205 722726.
My Name is Rhaman Oyedele
Hello, my name is Rhaman Oyedele and I'll be writing a monthly article for you to read. This month I'll be telling you about the transfer embargo, that West Ham were facing with Dimitri Payet during the January transfer window.

For those of you that don't know Dimitri was west hams stand out player last season, but in a dramatic fall from grace, he refused to play for West ham and left for former team Marseille. West ham co-chairman David Gold said he was 'Hugely disappointed' by Payets' actions.

Constant bids from Marseille were made and west ham accepted, as they were more concerned about team morale than one player. The question on everyone's mind now is will west ham be able to cope without Payet?
Garden waste collections 2017/18
Do you want to be in with a chance of getting your garden waste taken away FOR FREE this coming growing season?
All who registered online for the past season's collection service will shortly receive an email with details of this year's arrangements... and the opportunity to qualify as one of ten winners of a completely free service (to the value of £30, equivalent to the annual collection charge for one bin) if they make a direct debit payment agreement.
If you didn't register online last year, or want the service as a new customer, you can still be included in the draw by sending your email address to gardenwaste@boston.gov.uk providing that you sign up by direct debit.
The incentive has been introduced to encourage more to use the easiest, quickest and most economic way for the council to register those who want to take advantage of the service for the coming growing season. Please note this offer is not open to Boston Borough Council employees or its elected members.
The council is keeping the charge for collection, with no increase in 2017 – at £30 for emptying a single bin plus £15 for emptying each additional bin. For those new to the service, or those requiring extra bins, there will be a one-off charge of £25 to buy each bin plus the service charge.
The service will start again on Tuesday, February 28, and run to the end of March, 2018, over 40 weeks (20 fortnightly collections) with a break over the winter period.
Cllr Michael Brookes, the council's portfolio holder for waste services, said: "This service is now well established and much appreciated and I want to thank all those who used the service last year. We are offering it again this year without any increase in cost.
"If you have a garden there are good reasons for requesting that the council makes a kerbside collection of your garden waste. While anyone can still take their own garden waste to the Slippery Gowt tip for no charge, the council's collection service means residents do not have to move dirty waste in their own vehicles.
You can also contribute to the borough's green ethos of recycling garden waste into environmentally-friendly compost."
You can find out more at: www.boston.gov.uk/gardenwaste
Last year's garden waste collections generated 5,000 tonnes of waste sent for recycling into compost.
Residents are reminded that they must not put garden waste in their green or blue bins. This will contaminate waste bound for the Energy from Waste plant near Lincoln or for recycling. Contaminated bins will not be emptied.