Kirton Brass Band at Xmas
Our Preseident, Mr Len Cuttler, Chairman Dave Reddin, Committee and band members would like to take this opportunity to wish everyone a very Happy Christmas and a Prosperous New Year.
The Band are quite busy preparing their Festive music this month in the run up to Christmas for two notable concerts interspersed with outdoor carol playing.
The dates are as follows:
Sunday 2nd December: Carol playing at Morrisons Store, Pinchbeck 10 am
Saturday 8th December:
Annual Xmas Concert at Kirton Methodist Chapel 7.30pm. Tickets on the door £5
Sunday 9th December
Carol Playing at Tesco Store, Boston 12 midday
Wednesday 12th December
Annual Christmas Concert at Baytree Garden Centre, Weston. Tickets £5, booked in advance. This is a very popular event and it is advisable to book early to avoid disappointment.
Sunday 16th December
Wyberton Church, 9 Lessons and Carols 3.30pm
Carol Playing/school choir Broadgate Builders Showhome
St John's Circus, Broadway. Spalding, 5.30pm
Christmas Eve
Carol Playing at Morrison's Store, Pinchbeck 10am
Also to remind you that members of the public are very welcome to pop in to any of our rehearsals on Thursday evenings, Training Band 6.30 and main band 7.30 at Kirton Methodist Chapel Schoolroom.
Merry Christmas!
Freemasons say 'sky's the limit'
in offering community support
Freemasons are here for everyone in the community, says Lincolnshire's senior mason David Wheeler about the organisation's latest donation.
Members of the organisation have just given £4,000 to the Lincolnshire and Nottinghamshire Air Ambulance, one of many examples of charitable support Lincolnshire Freemasons provide to the community.
"Freemasons represent only one in 250 of the people living in the historic county of Lincolnshire, and we all hope never to need the valuable support of the air Ambulance, but tragedy can strike randomly and at any time. We are all part of our community and we try to help everyone in it if we can," said Mr Wheeler, who is Lincolnshire Freemasonry's Provincial Grand Master.
"The £4,000 donation will fund the Air Ambulance to make two life-saving missions, which cost an average of £2,500 each. In itself, that's a small price to pay to save a life – but the work of the air ambulance is more significant than that. We should never forget that its missions are also about the patient's family, friends, and colleagues, who would also suffer if a loved one were to pass away because the helicopter and its healthcare professionals weren't available."
Donations of millions of pounds
Masonic funding for air ambulance services amount to £2.3m nationally since 2007. This year 20 services will share in £192,000 from the Masonic Charitable Foundation, which administers funds raised through personal contributions from Freemasons – including those in Lincolnshire.
The Lincs and Notts donation was handed over by Provincial Charity Steward Peter Tong, who said: "The Air Ambulance service in our region has been there to help more than 192,000 people since its inception in 1994. It already flies two or three times a day, but the organisation's ambition is to make itself available to fly to where it's needed on a 24/7 basis. That could lift the number of missions to five a day, which is a tremendous financial commitment. We wanted to play a small part in helping to make that happen."
Sally Crawford, the Lincs and Notts Air Ambulance head of Fundraising and Communications, said: "We'd like to thank Lincolnshire's Freemasons and the MCF for supporting the Lincs & Notts Air Ambulance; £4,000 is an incredible amount of money and we are most grateful. The Critical Care we provide gives people in their very best chance of survival and recovery. We receive no direct Government funding, and are not part of the NHS, so donations like this really are essential in helping us to save lives!"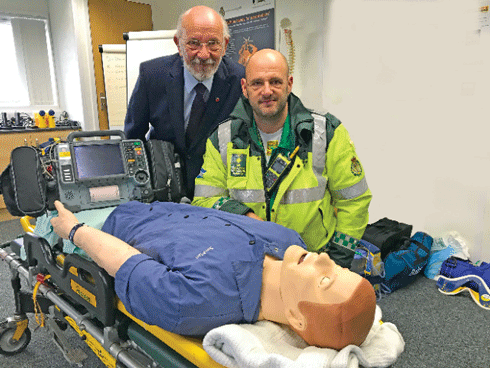 Blackmail scam from the Darknet
An email to a Boston woman from the "Darknet" has led to a warning for people to frequently change their online passwords.
The menacing email sent to Rachel Kirby (better known as Boston in Bloom and Boston Big Local stalwart Rachel Lauberts) told that her mailbox had been hacked, her operating system infected with a trojan virus and all information harvested over a six-month period - emails, all her contacts, financial details, pictures, videos and online history.
Rachel said it was old account that she did not often use under her former name of Rachel Deavin, but the blackmailer confirmed the password for it.
In odd language the blackmailer claimed to also have had control of Rachel's computer camera and threatened to send all her contacts a captured image of her, synchronised with the "intimate content site" she was allegedly watching unless she paid $823 into a bitcoin account.
The blackmailer said "You have a very wild imagination, I tell you!". And went on to say: "I think that you do not want all your contacts to get these files, right? If you are of the same opinion, then I think that $823 is quite a fair price to destroy the dirt I have created."
Rachel said: "There is a deadline for me to pay up and then if I don't contacts from that old account will receive an image the blackmailer says will be created - a created image no doubt aimed at embarrassing me. I have nothing to hide and will obviously not be paying the blackmailer - I don't even know how to use a bitcoin account.
"It is a very horrible thing to happen. I felt violated. Some people might panic and just pay. I think this was just a phishing email, but, because it had my old password it could be convincing. I thought that if it were all true my bank account would have been emptied and I would have at least been emailed a webcam picture of me as further proof."
Rachel reported the blackmail bid to the police and her own research led her to: https://haveibeenpwned.com which revealed her account details had been sold twice.
"I do change my password frequently, and in this case it was an old password which was being used. It does highlight the need for people to change their passwords," said Rachel.
Helpful information to avoid online fraud can be found by calling 0300 123 2040.
Richard Steele, Boston Borough Council's data protection officer, said: "This type of phishing email has been doing the rounds and people should never meet the blackmailer's demands. They almost certainly will not be in possession of all they claim, even if they can demonstrate they have your password. It does make sense to change passwords, have different passwords for different accounts and make sure they are strong - a random mix of letters, numbers and punctuation is best."
Your garden waste –
final collection dates
Final garden waste collections for 2018 will be:
Week commencing Monday, December 3 for those who have their brown bin emptied during their green bin collection week.
Week commencing Monday, December 10 for those who have their brown bin emptied during their blue bin collection week.
Your 2018/19 collections will resume week commencing Monday, February 25 until Sunday, March 31, 2019.
We are hoping to open the payment system for the 2019/20 service early in the New Year with collections starting week commencing Monday, April 1. Updates will be available on the council website, social media channels and local press - please keep an eye out for this.
Kirton Primary School
Achieves Centre of Excellence Status
Kirton Primary School is celebrating after achieving the status of 'Centre of Excellence' in financial education. This school has been awarded this national status as an acknowledgement that it has embraced financial education, embedding it within its centre and disseminating it in the local community. The award recognises that the school gives its pupils the knowledge, skills and confidence to be able to make informed and independent financial decisions.