Care Worker Gaynor is a Winner
A former naval communications officer has been named Lincolnshire's social care rising star.
Gaynor Jones spent seven years in the Royal Navy, before joining the team at Cedar House, in Spalding, which provides respite care for adults with learning disabilities and autism.
Judges at the Lincolnshire Care Awards said that Gaynor was selected as the winner because of the passion she shows for her work and her ability to reflect.
She was presented with her award at a gala dinner at the County Assembly Rooms in Bailgate, Lincoln.
The 45-year-old, who lives in Kirton, was nominated for the Rising Star award by both her manager Julie Watson and Trish Wilkinson, the mother of one of the people she cares for.
Trish's son Scott, 19, has stayed for short breaks at Cedar House around 20 times over the last 18 months. She said she put Gaynor forward for the accolade because she felt it was important to let someone know when they are doing a great job.
"It was hard for me when Scott turned 18 and had to move from children's to adult services," she said. "He can't communicate how he's feeling, but as soon as I heard Gaynor singing to him, I knew he'd be fine.
"Gaynor is so warm and friendly and approachable and she was the first person we met at Cedar House. She made us feel instantly comfortable. She's a real problem solver and you know whenever you mention anything to her she will sort it out. She is absolutely a deserving winner."
Originally from South Wales, senior support worker Gaynor has been employed at the centre, which is operated by adult health and social care charity Making Space, for the last two years. This is her first role in social care.
Julie Watson is Gaynor's manager and the registered manager at Cedar House. She said: "Gaynor is always happy and the people we care for love our little Welsh lass. Best of all is when we see people who can't communicate come to life when they hear her voice.
"Working in social care is hard, but Gaynor is always a total professional. Nothing phases her at all."
Gaynor said: "I am absolutely over the moon to have won.
"A good support worker needs to be caring, patient, imaginative and excellent at communicating. Being in the Navy was excellent preparation as I leaned organisation skills, problem solving and logistics, all of which are also important in health and social care roles."
Cedar House, on Pinchbeck Road, provides short term respite care for up to seven people at a time. Thirty-three adults with physical disabilities, autism and learning difficulties use the service at different times of the year.
It was rated 'good' by social care watchdog Care Quality Commission (CQC) in August 2017.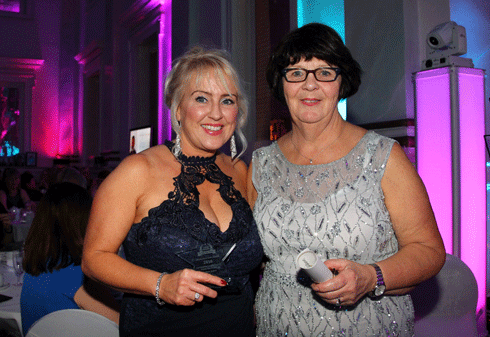 Kirton Church Fund
The March draw takes place on Sunday 24th and the winning numbers will be printed in the May magazine.
The April draw takes place on Sunday 28th and the winning numbers will be printed in the June magazine
The first four tickets drawn no longer take part so we had to draw again. Our winners have both won before. Congratulations to both of them!
How about joining us and seeing if you can win?
You could join the Kirton Church Fund (KCF) monthly draw and win. Anyone over 18 may take part. We have plenty of room for more members and there is a very good chance of winning in the Kirton Church Fund monthly draw. You can join at any time during the year and you can do it monthly if you wish at only £5 per month. (£50 if joining for the whole year and £28 for 6 months.) Registration forms are available in church or from Fay, please ring 01205 723529.
The prize fund each month is 1/4 of the money taken each month. (That is why the prize money can vary.) The rest of the money goes to the Kirton Church Fund. The more people that join the higher the prize fund and the more money we raise for the church.
A reminder on data protection. All information (name, address and phone number) of Kirton Church Fund members is held solely for the purpose of managing Kirton Church Fund and is not passed on to any other organisation or used for any other purpose.
For more information about Kirton Church Fund please give Fay a ring. (01205 723529)
February 2019 Winners
1st PRIZE - £40.17 - TICKET NUMBER: 67
2nd PRIZE - £13.39 - TICKET NUMBER: 41
Help for families in debt crisis
The CAP (Christians Against Poverty) Debt Centre in Boston is now taking on new referrals after the Christmas spending spree comes home to roost. Families with debt repayments will be supported and some will be nominated for a spring/summer holiday. To contact CAP call 0800 3280006. CAP Boston is based at the New Life Community Church, Wash Road, Kirton.