The Dave Booth Memorial Cycle Challenge raises vital funds for brain tumours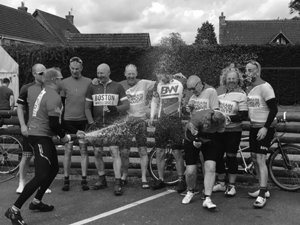 On 10th June 2017 over 100 people took to their saddles to cycle between 20 - 300 miles in just 24 hours around the local villages, to raise much needed funds for the Brain Tumour Charity, the UK's leading charity dedicated to fighting this devastating disease.
Dave Booth, local businessman of Swineshead near Boston, lost his fight to a brain tumour in November 2016 aged only 51 and his family and friends organised and took part in this challenge in his memory.
Anthony Luto of The Black Bull Kirton said: "I have known Dave for over 40 years and I was so proud to put on my cycling jersey to raise money in memory of my best friend. Dave was a larger than life character who would always be there at the end of the phone, and as a team we decided we wanted to give something back."
Despite the wind on the day, 10 extremely dedicated cyclists completed the incredible 300 miles in less than 24 hours. Jack Holgate, one of 300 mile team said "It was the hardest yet most rewarding challenge I have ever had to face, both physically and emotionally. At 4am on the Sunday morning after having been cycling for 18 hours, remembering why we were taking part gave us the motivation, as a team to carry on."
To add to the ever-increasing total, the young Boston Wheelers also covered the full 300 miles between them around the track at the PRSA Sports Arena.
After all of the funds were collected and counted, St. James's Place Wealth Management generously added a further 50% to the total raised meaning a phenomenal £46,892.46 was presented to The Brain Tumour Charity on 22nd September. St. James's Place then matched this incredible figure to award the same amount to the SJP Foundation going to equally deserving causes.
Geraldine Pipping, The Charity's Head of Fundraising, said: "We are grateful for all the efforts made by our incredible fundraisers and thank them for taking part in The Dave Booth Memorial Cycle Challenge – we hope they're now enjoying a well-earned rest!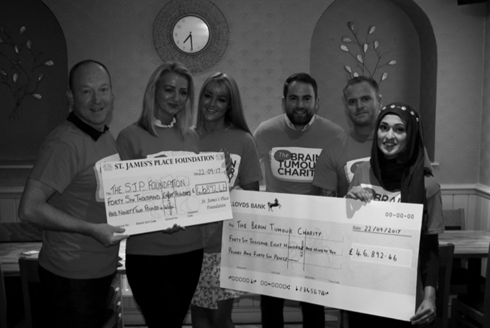 The Kirton Church Fund
A first time winner again this month! Congratulations to both our winners.
There is still time to join the Kirton Church Fund monthly draw in time for Christmas. Wouldn't a Christmas win come in handy? We have plenty of room for new members and there is a very good chance of winning. Anyone over 18 may take part. Just give Fay a ring for a registration form (01205 723529) or call in Kirton Church.
You can do it monthly if you wish at only £5 per month. (£50 if joining for the whole year and £28 for 6 months.)
The prize fund each month is 1/4 of the money taken each month. The rest of the money goes to the Kirton Church Fund.
The more people that join the higher the prize fund and the more money we raise for the church.
The November draw winning numbers will be printed in the next Kirton News magazine in February.
The December draw takes place on Sunday 17th as the normal drawing date will be Christmas Eve! The winning numbers for December will also be printed in the February magazine.
Talking of Christmas, I would like to wish you all a very happy one and also my very best wishes for a happy, healthy and especially lucky 2018.
For more information about Kirton Church Fund please ring Fay on 01205 723529
October 2017 Winners
1st PRIZE - £40.24 - TICKET NUMBER: 41
2nd PRIZE - £13.41 - TICKET NUMBER: 22
Swineshead Children's Centre Activities
Sessions & Activities for 0-5 years – No Booking Required & Free unless stated

MONDAY'S
Little Explorers 9.30 to 10:30 A sensory & messy play session. (0-5 yrs)

TUESDAY's
Top Tips 3-4 months 11.30 to 12.30 Any worries or concerns about your baby come along to see the NHS Team here at the centre on the first Tuesday of the month. Contact the Children's Centre on 01205 829331 for more details and to book a place also ask about the new parents self-weighing time.

WEDNESDAY'S
Early Explorers 1-2 A sensory & messy play session (Under 1's or non-walking)

THURSDAY'S
Learning Through Play 10.00 to 11.00 Drop in session with variety of play activities (0-5yrs) exploring & supporting children's needs, interests, confidence & social skills. Baby Massage 1.30 to 2.30 Come and learn how to massage your baby (Fee Payable). Contact Annette at 'The Village Midwives' on 07790 443629 for more details or book online at the village midwives.co.uk
FRIDAY'S
Movers & Shakers 9:30 to 10:30, Fun interactive group of music, songs and dance for the 0-5 yrs. Health Visitor 11.00 to 3.45 Appointments are sent to parents directly by the NHS. Just come along! Sessions run all year round unless otherwise stated and are free unless stated. Please contact us for details of 'What's on' at other Centre's in the Boston area.

Taster Sessions in Boston & South Holland area - Baby Sensory Precious Early Learning for Babies all sessions are different Ring Mallissa on 07541801984 or email: outhlincs@babysensory.co.ufor more detailsOpening Hours: 8.30am - 4.30pm, Monday-Thursday / 8.30am - 4.00pm Friday

St Marys School, Abbey Road, Swineshead PE20 3EN
Telephone: 01205 820331 or email: BostonEnquiriesCCNetwork@lincolnshire.gov.uk
Sessions may be subject to change so please check. Also keep up to date on our activities on Facebook: @bostonsouthchildrenscentres or visit the website at: www.lincolnshire/childrenscentres