Looking After The Pets Of Kirton
For Over 40 Years
There has been a Veterinary Surgery in Kirton since the early 1970's, when Mr David Eckford and his wife Jenny first opened the doors of their newly built premises, adjacent to Culham House where they lived.
In 1985 Mr Stephen Elwood came to work for David and eventually became a partner in the practice to become Eckford and Elwood Veterinary Surgery. At this time they dealt with pets and also farm animals and horses . In 1987 Steve acheived his Certicate in Small Animal Orthopaedics . A few years later David retired leaving Steve as the sole partner . Over the 1990's the practice grew, taking on more vets and nurses to cope with the increased workload. Steve built up his very successful Orthopaedic Referral Service, taking on referral cases from vets all over Lincolnshire.At this point some extensions were added to the buildings to add extra rooms for operating, xrays and laboratory.
In 2002 Miss Maxine Briggs became a partner in the practice after having started working as an assistant vet with Steve in 1993. The surgery became Elwood and Briggs . The practice continued to grow with increased demand on the small animal side (dogs, cats, rabbits, guinea pigs etc). At this time the difficult decision was taken to no longer deal with farm animals and horses. The reason for this was that there were very few livestock farms left after the Foot and Mouth outbreak in 2001 and it became very difficult to maintain all the drugs and skills needed to provide a good service to the large animal cases.
In 2006 the property next door to the surgery was acquired.This became the Dispensary and Retail area, extra consulting room, office and extra car park spaces.
In 2012 Mr Nigel Turner became a partner after joining the practice as an assistant vet in 2000. The practice then became Elwood, Briggs and Turner.
Veterinary Medicine has changed immensely in the last 40 years. Due to the success of pet vaccines we thankfully do not see the awful infectious diseases that were so common in the 1970's and 80's (eg Parvo Virus and Distemper).
We can now diagnose and treat illnesses much more effectively due to improved facilities ( digital xrays, ultrasound scans, inhouse blood testing machines).
Modern medicines enable conditions to be treated more safely and effectively.
Modern anaesthetics mean operations are safer and recovery times quicker.
Pets are now, like people living longer so we are seeing many more "senior pets". Like older people they will have more complex medical issues, however we have many options open to us to maintain their quality of life and keep them happy in their senior years.
Preventative Healthcare is now one of our main goals. This aims to keep your pet well . We advise an Annual Health Check for your dog and cat.At this appointment they receive a full clinical examination by the vet, and appropriate booster vaccination depending on lifestyle. We would advise preventative treatments for parasites depending on lifestyle of your pet (fleas,worms,ticks, lungworm). Parasite infections can be a risk to human health( in the case of round worms) and can be debilitating for the pet or even life-threatening in some cases.
We can now also offer a Well Pet Blood Test at the time of the Annual Health Check (this checks the blood cell counts, liver and kidney function and electrolyte and protein levels in the blood). In some cases problems can be detected at an early stage before external signs are apparent. This can enable treatments to be started early, or changes in diet, exercise etc.
Times may have changed but the underlying aim is still the same – to give the best care to you and your pet.
We have a friendly team of vets, nurses, receptionists and support staff.
"A dedicated team committed to the welfare of your pet".
Our vets – Steve Elwood, Maxine Briggs , Nigel Turner, Sue Allen,Norma Hunter, Derrick Carpenter , Liz Hele, Gosia Szczepanska, Marta Marcos. We do our own 24hour Emergency Call Out Service.
For all enquiries telephone: 01205 722696.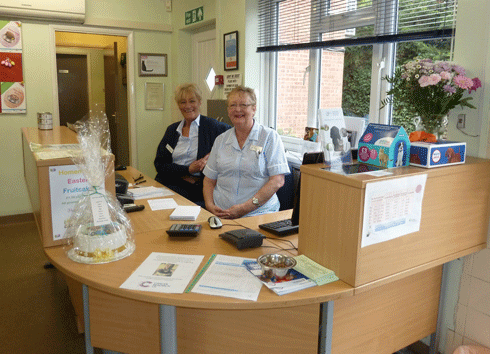 Receptionists Julie and Sue welcome you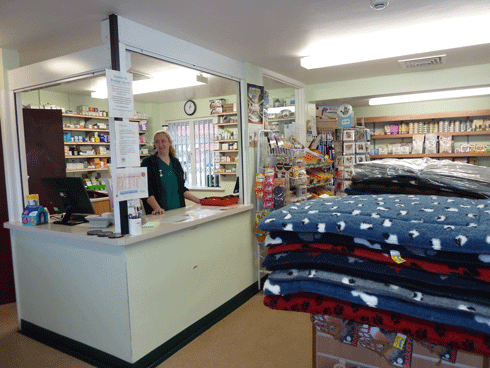 Nurse Kate in the Dispensary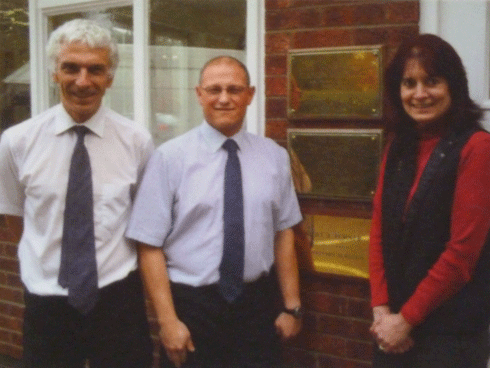 Steve Elwood, Nigel Turner, Maxine Briggs the partners of the practice.
Charity Bicycle Ride to take place in June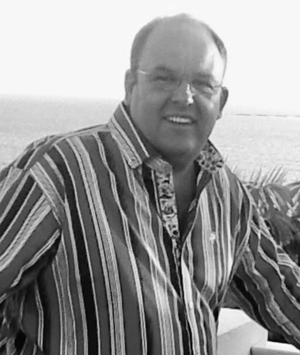 In memory of local business man, Dave Booth a mamoth cycle ride is planned to take place from 10am Saturday June 10th over 24 hours.

Out of the blue in June of 2016 Dave Booth was diagnosed with a brain tumour which proved so agressive that, in spite of every effort by friends and family and every available treatment he passed away in the November of that year. A seemingly healthy 51 year old with a loving family cruelly struck down in such a short space of time.

As with many such conditions one never knows just what is on the cards for any of us. Brain tumours can be especially devastating, No physical signs until the moment strikes.

On Saturday 10th June 2017 Dave's friends and family will be undergoing a cycling trial to raise much needed funds for the Brain Tumour Charity.
The aim is to challenge themselves... each cycling from 20 to 300 miles in a 24 hour period.
They will all be wearing red (mainly lycra!!!) to support the charity, as they cycle the twenty mile route around places of interest to Dave.

The group would love your support in this! Here's how you can get involved:
Come along and support them on the day! they will be setting off from the Black Bull, Kirton at 10AM on Saturday 10th June 2017; and people will be returning back to the pub as they finish their rides throughout the next 24 hours. Come and see them set off, and return! When the last riders come in at 10AM on Sunday, they'll be welcomed back with a BBQ.

Donate! If you'd like to donate to the event, please go to the JustGiving site at: www.justgiving.com/teams/DBMCC

Join them and challenge yourself! If you'd like to ride, please contact Antony Luto at the black Bull on 01205 722530.

The Brain Tumour Charity is at the forefront of the fight to defeat brain tumours, making a difference every day to the lives of people, and their families affected by this terrible disease.

The Charity is committed to having the biggest possible impact for everyone affected by a brain tumour, to defending the most amazing part of the human body, so that the diagnosis is no longer a death sentence.

Dave's family and friends thank you in advance for your support, your donation is greatly appreciated and will be used towards helping fund world class research.
For further details on how your generosity will help, please visit: https://www.thebraintumourcharity.org
Photo courtesy of Boston Standard
The Kirton Church Fund
The April draw takes place on Sunday 23rd and the winning numbers will be printed in the June magazine.
The May draw takes place on Sunday 28th and the winning numbers will be printed in the July magazine
No first time winners this month – both our lucky winners have won before. Well done number 40, who has now won 5 times and number 60 on his second win.
It will soon be five years since we started the Kirton Church Fund (how fast time is flying by!) and we have given away a lot of prize money (around £2700!) Why don't you come and join us? You too could win! Anyone over 18 may take part.
We welcome two new members who have joined us this month but we still have plenty of room for more members and there is a very good chance of winning in the Kirton Church Fund monthly draw.
The prize fund each month is 1/4 of the money taken each month. The rest of the money goes to the Kirton Church Fund.
The more people that join the higher the prize fund and the more money we raise for the church.
Registration forms are available from Fay, please ring 01205 723529, or for more information about Kirton Church Fund please give Fay a ring.
March 2017 Winners
1st PRIZE - £38.68 - TICKET NUMBER: 40
2nd PRIZE - £12.89 - TICKET NUMBER: 60
Swineshead Children's Centre Activities
MONDAYS: Little Explorers, 9.30am to 11.00am. (Free & No Booking)
TUESDAYS: Baby Sensory 9.45am to 10.30am (Precious Early Learning for Babies Fee Payable) Ring Mallissa on 07541801984
or email: southlincs@babysensory.co.uk to book.
WEDNESDAYS: Come and Play, 1.30pm to 2.30pm (Free & No Booking)
THURSDAYS: Learning Family 10.00am-11.30am 1pm-2.30pm (Free - Term Time Only)
FRIDAYS: Movers & Shakers 9.30am to 10.30am. (Free & No booking)
HEALTH VISITOR: 11:00am to 3.45pm (Appointments are sent to parents)
Just come along! Sessions run all year round unless otherwise stated and free unless stated.
Now taking bookings for Adult Learning Courses eg: Emergency Paediatic First Aid, ESOL, Healthy Eating, Money Management, CV Workshop and more so please call the centre for more details.
Mum, Dad, Carers and Grandparents are welcome to all session's. Sessions may be subject to change so please check with us by giving us a ring or dropping in.
ALL SESSIONS ARE FREE & NO BOOKING IS REQUIRED
Opening Hours: 8.30am - 4.30pm, Monday-Thursday / 8.30am - 4.00pm Friday
St Marys School, Abbey Road, Swineshead PE20 3EN
Telephone: 01205 820331 or email: BostonEnquiriesCCNetwork@lincolnshire.gov.uk
Keep up to date with our events and activities by visiting:
www.lincolnshire.gov.uk/parents/childrens-centres/sutterton-swineshead
www.lincolnshire.gov.uk/parents/childrens-centres/boston-carlton-road-fishtoft-rd-old-leake-st-christophers/
We are now on Facebook: Like us and follow us!

Get on-line with Barn Owl
Having lived in Algarkirk for 10 years, I'm struck by the number of local businesses that don't yet have a website. Talking to people, it isn't that they don't want one, in fact many had tried and been put off by the experience.
From yellow-pages type ads to full e-commerce solutions, I want to show that you can have an affordable, customer attracting, legally compliant website. It will be fully owned by you, you can update it yourself at any time or, if you prefer, you can leave that to me.
With a free initial consultation I can put together some ideas for you. Once your website is ready I can host it for you, making sure it reaches as many potential customers as possible, and is kept secure from hacking and viruses. I'll also be available to help you if you get stuck with anything.
Please see my website for a portfolio of local businesses whose websites I have developed and look after:-