Walk This May !
Organisers of the Lincolnshire Wolds Walking Festival are providing plenty of good reasons for everyone to get walking this May!
There are lots of good reasons to take part in the Lincolnshire Wolds Walking Festival this year, which runs from Saturday 19 May to Sunday 3 June. Walking is proven to be one of the best types of exercise, improving heart health, speeding up metabolism and improving your mood.
National Walking Month, promoted by Living Streets charity, takes place each May aimed at reminding all of us to build more walking into our daily lives. They recommend that just 20 minutes every day can make a positive difference.
Closer to home, the Lincolnshire Wolds Walking Festival is supported by Lincolnshire County Council's Access Lincoln initiative; supporting people to use walking and cycling for shorter journeys, which in turn reduces congestion in built-up areas.
Festival Co-ordinator, Natalie Lunt, said:
"This year, there are over 100 walks on offer. You can discover the history of an area with a guided talking walk, try something new with a themed walk, enjoy an energetic ramble, relax with a short stroll, or experience the Wolds in a different light with one of the night walks on offer. Whatever your age and ability pull on your walking boots and join in the fun, there really is something for everyone!"
Those who fancy a challenge can sign up to the 'Great Walk', the biggest walk of the festival! This is your chance to walk the Lincs Wolds Way, a 76 miles circular walk in 6 manageable stages, with a rest day in-between.
Along with the challenging walks there are over 40 'easy' walks which are suitable for most levels of fitness. The packed programme also feature routes suitable for wheelchair users and accessible with pushchairs.
Many walks are family friendly and feature fun activities such as shelter building, bushcraft, treasure trails, bug hunts and more, so there's plenty to keep the little ones busy during the May half term.
For more information about how to take part go to www.woldswalkingfestival.co.uk, check out social media (facebook: @lincswoldswalkingfestival) or pick up a brochure from tourist venues and libraries across the county.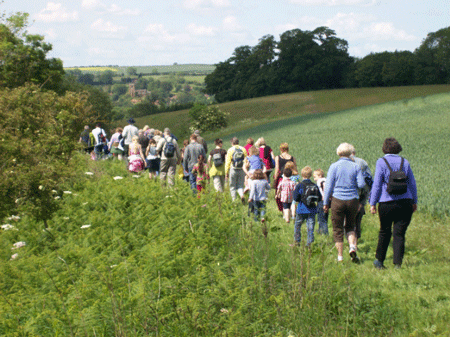 Flowers bloom at Kirton Parish Church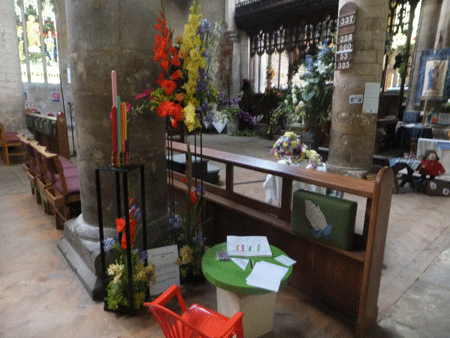 Preparations are already in full swing at Kirton Parish Church as members of the fundraising team get ready for the church annual Flower Festival which is being held the last weekend in June. Festivities start on Friday 29th June at 7pm with Sung Eucharist to celebrate our Patronal Festival. This is followed by a preview of the flower displays and light refreshments.
"As usual it has been a very busy few weeks for us," commented church warden, Fay Houltby. "This is now our fourth Flower Festival after quite a few years break and each year we to make it even better than before. There will be lots of beautiful displays representing local businesses and groups as well as the schools in Kirton and the nursery. Our theme this year is Childhood Memories.
The Flower Festival continues on Saturday (30th 11am-4pm) Sunday (1st July 1pm -4pm) and Monday (2nd July 12 -4pm). There will be homemade refreshments served throughout the festival and on Saturday, classic cars will be on display in the churchyard along with stalls including tombola and games for the children and of course the flower displays inside so lots to see.
We have our Grand Prize draw again this year with a 1st prize of £250, 2nd prize £100 and lots of other prizes including vouchers. Tickets are only £2.50 a book and are on sale throughout the festival. "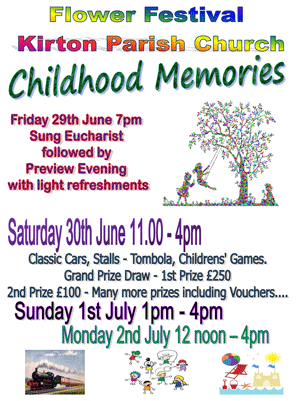 The Kirton Church Fund
The May draw takes place on Sunday 27th and the winning numbers will be printed in the July/August magazine.
The June draw takes place on Sunday 24th and the winning numbers will be printed in the September magazine.
No first time winners again this month – both our lucky winners have won before. Congratulations to you both.
Prize money has sadly gone down again this month with the loss of 3 members. The prize fund each month is 1/4 of the money taken each month. The rest of the money goes to Kirton Church. (Over £580 raised so far this year! Well done everyone.) The money is used to maintain our beautiful church and with work needing to be done to repair the roof we need to raise as much as we can. Can you help and enjoy a flutter at the same time? There is plenty of room for more members and a very good chance of winning in the Kirton Church Fund.
The more people that join the higher the prize fund and the more money we raise for the church.
Could you be lucky in our monthly draw? You won't know unless you join in. Remember you have to be in it to win it! Anyone over 18 may take part. Do come and join us.
You can join at any time during the year and you can do it monthly if you wish at only £5 per month. (£50 if joining for the whole year and £28 for 6 months.)
Registration forms are available at the back of church or from Fay, please ring 01205 723529, or for more information about Kirton Church Fund please give Fay a ring.
Data protection. All information (name, address and phone number) of Kirton Church Fund members is held solely for the purpose of managing Kirton Church Fund and is not passed on to any other organisation or used for any other purpose
April 2018 Winners
1st PRIZE - £35.08- TICKET NUMBER: 1
2nd PRIZE - £11.70- TICKET NUMBER:54
Swineshead Children's Centre Activities
Sessions & Activities for 0-5 years – No Booking Required & Free unless stated

MONDAY'S
Little Explorers 9.30 to 10:30 A sensory & messy play session. (0-5 yrs)

TUESDAY's
Top Tips 3-4 months 11.30 to 12.30 Any worries or concerns about your baby come along to see the NHS Team here at the centre on the first Tuesday of the month. Contact the Children's Centre on 01205 829331 for more details and to book a place also ask about the new parents self-weighing time.

WEDNESDAY'S
Early Explorers 1-2 A sensory & messy play session (Under 1's or non-walking)

THURSDAY'S
Learning Through Play 10.00 to 11.00 Drop in session with variety of play activities (0-5yrs) exploring & supporting children's needs, interests, confidence & social skills. Baby Massage 1.30 to 2.30 Come and learn how to massage your baby (Fee Payable). Contact Annette at 'The Village Midwives' on 07790 443629 for more details or book online at the village midwives.co.uk
FRIDAY'S
Movers & Shakers 9:30 to 10:30, Fun interactive group of music, songs and dance for the 0-5 yrs. Health Visitor 11.00 to 3.45 Appointments are sent to parents directly by the NHS. Just come along! Sessions run all year round unless otherwise stated and are free unless stated. Please contact us for details of 'What's on' at other Centre's in the Boston area.

Taster Sessions in Boston & South Holland area - Baby Sensory Precious Early Learning for Babies all sessions are different Ring Mallissa on 07541801984 or email: outhlincs@babysensory.co.ufor more detailsOpening Hours: 8.30am - 4.30pm, Monday-Thursday / 8.30am - 4.00pm Friday

St Marys School, Abbey Road, Swineshead PE20 3EN
Telephone: 01205 820331 or email: BostonEnquiriesCCNetwork@lincolnshire.gov.uk
Sessions may be subject to change so please check. Also keep up to date on our activities on Facebook: @bostonsouthchildrenscentres or visit the website at: www.lincolnshire/childrenscentres