Meet The Locals
This issue, we're talking to Jo Kaberry, owner of At Your Fingertips, a beauty business she runs from her home
in the village.

1) When did you start your business?
I started my business in July 2015.
2) What training had you completed beforehand?
I completed 2 years worth of training as a massage therapist and nail technician, to start my business. I then trained to become a beauty therapist and recently I've qualified as an eyelash technician.
3) What have been the ups and downs of having your own business?
The positives of having my own business is being my own boss and having the ability to set my hours around being a full time mum to 3 children. Also, making my clients smile when they see their new set of nails, relieving their aches and pains and also being an agony aunt, makes me happy. When I think about it there aren't really any downs, my job affords me the ability to be as busy as I want to be.
4) What's the most popular treatment you offer?
By far, nails are my most popular treatment. I love doing them.
5) Any plans to expand your business in the future?
I've recently had my garage converted to give me a home salon, which is fantastic. I'm always looking to do more courses and offer more treatments.
6.) How can people contact you to book an appointment?
Contact me on Facebook or my mobile. Facebook: @atyourfingertips2015 Mobile: 07849 125695.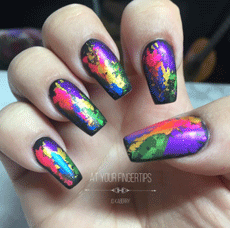 Kirton Church Fund
Well done to all our winners but especially to number 82 who joined us in June. Looking back to last year number 32 won last June as well – it must be a lucky time of the year for them.
You may have noticed that the prize fund has gone up again since the May draw, that is because we have three new numbers taking part. Welcome aboard and good luck to them.
The prize fund each month is 1/4 of the money taken each month. (That is why the prize money can vary.) The rest of the money goes to the Kirton Church Fund. The more people that join the higher the prize fund and the more money we raise for the church. There is plenty of room for more members and a very good chance of winning in the Kirton Church Fund monthly draw.
Not already a member? Then why don't you come and join us? You too could win! Anyone over 18 may take part. You can join at any time during the year and you can do it monthly if you wish at only £5 per month. (£50 if joining for the whole year and £28 for 6 months.)
Registration forms are available at the back of church, from Kirton Library, Paula's Gifts at the bottom of Station Road or from Fay, please ring 01205 723529, or for more information about Kirton Church Fund please give Fay a ring.
The August winning numbers will be printed in the October magazine.
The September draw takes place on Sunday 23th and the winning numbers will be printed in the November magazine.
Data protection. All information (name, address and phone number) of Kirton Church Fund members is held solely for the purpose of managing Kirton Church Fund and is not passed on to any other organisation or used for any other purpose.
June 2019 Winners
1st PRIZE - £41.87 - TICKET NUMBER: 42
2nd PRIZE - £13.95 - TICKET NUMBER: 32
July 2019 Winners
1st PRIZE - £41.87 - TICKET NUMBER: 77
2nd PRIZE - £13.95 - TICKET NUMBER: 82
Lincolnshire's Huge Heritage Festival Returns for its 25th Anniversary
Hundreds of volunteers across the county are hard at work preparing for Lincolnshire's biggest festival of history and local culture. Lincolnshire Heritage Open Days returns for a massive ten day festival with over 190 exciting events, and all completely free of charge. The festival will run from 13th-22nd September with a theme of 'Lincolnshire Learning, Wisdom and Folklore'. It aims to celebrate learning in its widest possible sense, from skills sharing to folklore, and academic heritage to military training.
Tours of historic buildings that are rarely open to the public are already filling up fast, so head to the Heritage Lincolnshire website to plan your days out. https://www.heritagelincolnshire.org/heritage-open-days Free festival brochures are also available from local libraries and tourist information centres.
Hannah Thompson, Business Manager of the charity Heritage Lincolnshire, said:
"Heritage Lincolnshire are proud to steer this county wide festival that enables so many different people to come along and explore some of our beautiful heritage. It keeps growing year on year and we look forward to welcoming thousands of new and old visitors to 2019's festival to over 190 events."
Charlotte Davey, who co-ordinates the festival with volunteer Ray Knight, both also from Heritage Lincolnshire, said: "This is such a wonderful opportunity for members of the public to engage with their local heritage, experiencing and learning from the fantastic events on offer. It's an affordable way to spend time with family and friends, and discover something new! Because the events are free I would encourage visitors to plan their weekends early, as those with limited places are already starting to book up."
In central Lincolnshire, there are a series of wonderful events from walks to museums, and churches to exhibitions. In North Hykeham you can visit the Lincolnshire Road Transport Museum, with a free classic bus service from Lincoln City Centre. If you'd prefer to get out and walk, then there are several walking events, including a 3 mile guided walk to discover the History of Hartsholme Country Park.
Lincoln is a hive of activity where visitors can enjoy some amazing behind-the scenes events, including a tour of the University of Lincoln's Conservation Department. Lincoln Christ's Hospital School will regale you with tales of legendary teachers, learners, alumni and alumnae, this year focussing on 1939-1945 records for the first time.
In Grantham you can experience a Latin lesson and discover the Old King's School school where Isaac Newton and Lord Burghley were taught. Top it off with a visit to ChristChurch where Victorian history will be bought to life.
Barton-upon-Humber is hosting more events this year than ever before, and visitors can truly experience the towns rich history, nature and folklore as they explore the multitude of experiences on offer.
The darker side of Stamford will be uncovered with an adults-only evening talk by respected local historian Chris Hunt on some very mature themes.
For visitors looking to embrace history in a new way, then try something new at some of the more unusual events. Don't just read the history but role-play it too as you learn how to play Dungeons and Dragons at Temple Bruer. Alternatively you can discover the art of Storytelling as you take a walk around Harlaxton with a narrative twist. In Spalding you can learn about the skills and heritage involved in Stained Glass work, a heritage craft which has evolved over hundreds of years.
The festival is a great time to try something new or take the family on a budget friendly day out. Over sixty events have family-friendly activities and four of the National Trust's sites in the county are also taking part, including Tattershall Castle, Belton House, Grantham House and Woolsthorpe Manor with their amazing science centre.
Heritage Lincolnshire would also like to take this opportunity to thank the local authorities of Greater Lincolnshire who have contributed to funding the festival brochure, and the 600+ volunteers and staff who organise events across the county.