Meet The Locals
This month we're talking to local artist Karin Christensen:
1) Have you always been creative or did your love of art start later in life?

I grew up in a small town inside the fjords of western Norway and after school I could sit for hours in my room drawing all sorts of subjects, including people and landscapes. I later trained more formally in drawing skills, but life took other directions and with work and children time was limited. After moving to the UK 25 years ago I started painting again. For many years this was a hobby but it is now what I do.

2) What are your favourite things to paint/sketch ie. landscapes or still life?

I really like sketching outside, sitting in front of a beautiful landscape or boats and harbour scenes. I have spent time in Cornwall, Suffolk, Boston and other locations, finding inspiration for paintings. I also find Frampton Nature Reserve very inspiring. These sketches can be good starters for larger paintings in my garden studio in Kirton.

3) How often do you paint/sketch? Every day?

My main materials are ink and watercolour, and I am a member of the Kirton and Boston art groups. We normally meet every week, and I find both groups very friendly and supportive. Belonging to a group has made sure I always keep up the painting, and I often paint in my studio as well, particularly if I have an exhibition coming up. I also exhibit with the Lincolnshire Artist Society in Lincoln and find working with other artists very inspiring.

4) What do you teach and do you have any classes coming up?

I teach sketching on location, and also ink and watercolour classes. There is a new watercolour class starting in Kirton in early September, and I very much look forward to meeting everyone.

5) How can people get in contact with you?

It's easy to contact me using email: art@karinchristensen.com. You can see my work here: www.karinchristensen.com. You can follow my sketching on Instagram: karin.sketching.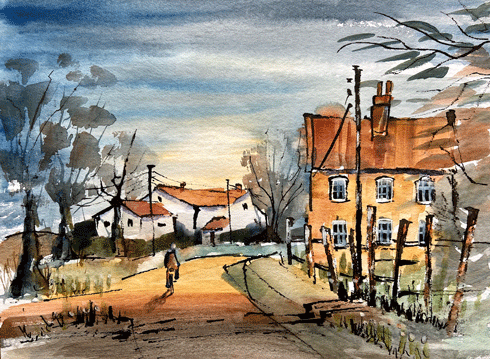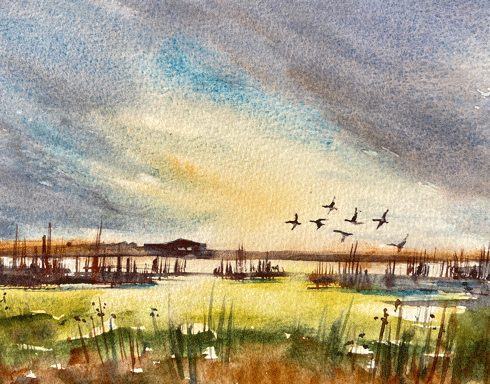 Kirton Church Fund
August winning numbers will be printed in the October magazine.

The September draw takes place on Sunday 26th September and the winning numbers will be printed in the November magazine.

Well done to all our winners all of whom have won before.

In July two members dropped out but as you will see the prize money stayed the same as we welcomed two new people to join us. We therefore continue to have only 45 numbers taking part. There really is a very good chance of winning the Kirton Church Fund.

You too could be lucky in the KCF monthly draw but you have to be in it to win it! We have plenty of room for more members. Why don't you join us? You too could win! Anyone over 18 may take part.

You can join at any time during the year at £5 a number per month and therefore £60 annually, £30 for 6 months and £15 for 3 months. You can of course pay the £5 monthly if you wish. You can also have more than one number.

The prize fund each month is 1/4 of the money taken each month. The rest of the money goes to the up- keep of Kirton Church. The more people that join the higher the prize fund and the more money we raise for the church.

Not already a member? Do come and join us?

Registration forms are available from Fay, please ring 01205 723529 or for more information about Kirton Church Fund please give Fay a ring.
June 2021 Winners
1st PRIZE - £42.19 - TICKET NUMBER: 491
2nd PRIZE - £14.06 - TICKET NUMBER: 77
July 2021 Winners
1st PRIZE - £42.19 - TICKET NUMBER: 30
2nd PRIZE - £14.06 - TICKET NUMBER:78
Data protection. All information (name, address and phone number) of Kirton Church Fund members is held solely for the purpose of managing Kirton Church Fund and is not passed on to any other organisation or used for any other purpose.