The treasures beneath our feet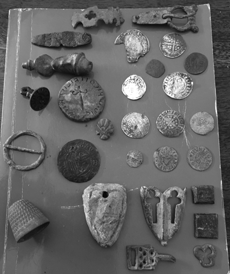 Many of you may know Marc Sands. A local boy born and bred he is a popular character in these parts.
Many of you may also know of Marc's hobby (almost ruling passion) – Metal Detecting.
For over twenty years he has been roaming the fields locally, and further, turning up the lost and left over evidence of the lives of ordinary people from Roman times to the present day.
Jewellery and adornments; coins, shoe buckles and buttons; door hinges and locks – even a set of "Snap-On" spanners [temporarily] lost by a local farmer. But collectively this sort of 'treasure' gives us a direct connection to those spectres looking over our shoulders from centuries past.
Marc is aware, as many of you, of the rich, varied and, at times, nationally important history of Kirton and its environs and he would like to know even more. So he has planned out a project for himself; to piece together as much knowledge as he can about the everyday lives of local people from Domesday, through the Middle Ages and beyond using the stuff they left behind, often just inches under the surface.
But to do that he needs to walk the fields – and gardens – where that evidence lies buried.
Marc is, as I say, very much a local lad. He knows the Country Code and is as respectful of others property, land, livestock and crops as he would be of his own.
He carries personal liability insurance against accidents, damage, etcetera and, on top of that, he's a good guy to know, easy to get on with and loves a good chinwag.
As a true 'Metal Detective' his primary concern is with the past; the History. We have all heard stories of 'hoards' turning up worth millions and there are folks out there to whom fortune is their primary concern. Marc is in it for The History. The long term aim (and dream) is, if enough 'stuff' is found, to identify and label it and have display cabinets available for the public as an educational outlet. He envisages permanent displays in Kirton Church or even at the old Kings Head when Lincolnshire Heritage have completed the renovations.
Either way the plan is to show us locally the fascinating and diverse 'riches' of Kirton which may be, quite literally, in our back yards.
So if any of you reading this would be intrigued enough to let Marc on to your field, back garden, allotment or any plot – which may have lain undisturbed by deep groundwork or major intrusion over the years – then he would love to hear from you.
Contact Marc by email at: marcsands1601@icloud.com
The Kirton Church Fund
The March draw takes place on Sunday 26th and the winning numbers will be printed in the May magazine.
The April draw takes place on Sunday 23th and the winning numbers will be printed in the June magazine
Well would you believe it? Our February second prize winner also won second prize in February last year. It must be a lucky month for her! Our first prize winner could hardly believe her luck as she has now won first prize four times. Well done to both our winners! How about joining us and seeing if you are lucky in our next draw? You could join the Kirton Church Fund (KCF) monthly draw and win. Anyone over 18 may take part.
We have a new member joined us this month but we still have plenty of room for more members and there is a very good chance of winning in the Kirton Church Fund monthly draw.
The prize fund each month is 1/4 of the money taken each month. The rest of the money goes to the Kirton Church Fund.
The more people that join the higher the prize fund and the more money we raise for the church.
Registration forms are available from Fay, please ring 01205 723529, or for more information about Kirton Church Fund please give Fay a ring.
February 2017 Winners
1st PRIZE - £38.75 - TICKET NUMBER: 34
2nd PRIZE - £12.91 - TICKET NUMBER: 61
Swineshead Children's Centre Activities
MONDAYS: Little Explorers 9.30am to 11.00am. (Free & No Booking)
TUESDAYS: Musical Minis 10:00am – 11:00am Pre-school group of fun time music for babies & toddlers – Contact Hazel on 07752 270700 to book or phone the centre as we are running a waiting list of interested (Fee Paying)
WEDNESDAYS: Come and Play 1.30pm – 2.30pm (Free & No Booking)
THURSDAYS: Learning Together Family 10.00am – 11.30am 1pm to 2.30pm.
(Term Time Only – Free & No Booking)
FRIDAYS: Movers and Shakers 9.30am – 10.30am. (Free & No booking)
Health Visitor 1.00pm - 3.45pm Appointments will be sent to parents
Just come along! Sessions run all year round unless otherwise stated.
New Adult Learning Courses: First Aid, Reiki, Food Safety, ESOL, and more; please call the centre.
Mum, Dad, Carers and Grandparents are welcome to every session.
ALL SESSIONS ARE FREE & NO BOOKING IS REQUIRED
Opening Hours: 8.30am - 4.30pm, Monday-Thursday / 8.30am - 4.00pm Friday
St Marys School, Abbey Road, Swineshead PE20 3EN
Telephone: 01205 820331 or email: BostonEnquiriesCCNetwork@lincolnshire.gov.uk
Keep up to date with our events and activities by visiting:
www.lincolnshire.gov.uk/parents/childrens-centres/sutterton-swineshead
www.lincolnshire.gov.uk/parents/childrens-centres/boston-carlton-road-fishtoft-rd-old-leake-st-christophers/
We are now on Facebook: Like us and follow us!

Church of Jesus Christ
of Latter Day Saints
Dear Readers, The Church of Jesus Christ of Latter Day Saints has a special fund set aside to help refugees fleeing from war torn countries. We help all refugees from any country. Men, women and children. As you will be aware, many thousands are struggling to survive, living in tents or on the streets in sub zero temperatures.
We are particularly keen to help the worryingly large amount of unaccompanied children by providing them with warm clothing, sleeping bags and boots etc. For the past year we have collected a van load of aid a month and sent it directly to the warehouse in Calais where it is immediately distributed to those who are in dire need.
My sister Jean volunteers in the camps in and around Dunkirk and she keeps us up to date with what is needed for whom and where. If anyone would like to contribute to our next consignment of aid leaving on March 12th we would be most grateful for any of the items listed at the end of this message. Even if you can provide only one of the items I will gladly collect it from your home, alternatively, you are welcome to leave it at my house 30 London Road, Kirton. Directly opposite the Black Bull. My phone number is 07863 069162 . Please rest assured that every single item goes directly to people who are desperately trying to keep warm.
These are the items that we are most in need of: Sleeping bags, blankets. Roll mats. Hot water bottles. Warm coats for men and women. No XL sizes. Warm coats for children. All sizes. Snow suits/ coats for babies. All sizes. Walking boots. Sturdy shoes. All sizes. Scarves, gloves and hats. All sizes. Socks ( please may these be new ) All sizes. Long johns / thermal underwear ( please may these be new ) £2 in ScoobyDoo, preferably dark colours. No XL sizes. Wind up torches. Hand warmers. Firelighters 50p box in Costcutter or Home Bargains.
This is a small example of what we send. If you would like a more detailed list, please let me know. Any help is greatly appreciated.
Liz Challis