Calling all runners & joggers in Boston and the surrounding villages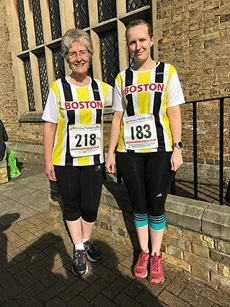 Boston Community Runners are a fun, friendly and informal running group for the Boston area catering for all abilities. With a mission to promote and encourage running within the local community and surrounding villages for everyone, from beginners who are new to running, to the more experienced and performance-based runner and by setting up regular meeting venues in Boston and the villages to bring people together to jog, run and enjoy great company within the community around them. Through fundraising ideas we hope to be able to promote and support local needy causes whilst keeping fit, healthy and happy. We have just held our first fund raising campaign to get the final few hundred pounds needed to purchase a defibrillator for Boston parkrun. You may have seen our flyers on social media. It feels great to be able to help out as a group, and all those that walked, jogged and ran got themselves a fabulous bespoke medal too.
Our members love to run around this part of Lincolnshire but they also participate in a wide number of events such as organised races both locally and nationally, social get-together runs, charity runs and parkrun too. In Boston we are lucky to have our very own parkrun which is an invigorating way to start the weekend and a great way of meeting like minded folk. Many runners have started at parkrun by walking and steadily progressed from there. If you are thinking about getting fitter, want to lose a few pounds or even try something different then you will usually find some of us at parkrun and we will help you get started from a walk through to running....and that wont cost you a penny!!
Regular exercise takes motivation and after a hard days work, the first thing you want to do is sit down and the last thing is to go out running. Belonging to a group of similar minded people helps to give you that extra "push" to get out, and once you have done just that the most common statement is "I'm so glad I came out". The buzz you get is great.
Set up by friends who were bought together through running and jogging and who realised that the good folk of Boston and the surrounding villages did not have a dedicated club, or a community, where runners could come together. This area of Lincolnshire seems to have many runners, you will see them everyday on your travels and looking at social media there are many more people in areas such as Kirton, Wyberton, Fishtoft and Sibsey asking "Does Boston have a running club?"
There's no better feeling than that feeling of belonging. To wear a top with your home town on gives you a sense of pride and achievement. Boston is a fabulous town, our villages are traditional and friendly. Through running our aim is to get folk out and about, to help and take pride in the community around them, to raise awareness and promote the good that surrounds us whilst getting fit, making friends and loving life! Whether you are a seasoned runner, a speed king, a mile muncher, a jogger or a plodder, we'd love you to be part of the community.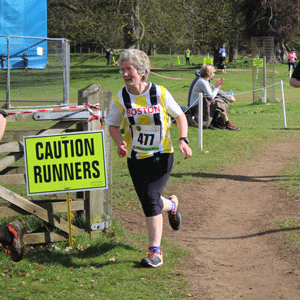 If you've been put off by running clubs, thinking they are too fast for you, or too regimental then worry no more. You've just found the relaxed, informal and fun enviroment of Boston Community Runners where we can show you its fun to run without the pressure!
So, if you are looking to start running, or whether you are looking to simply keep fit, meet new friends and have a bit of fun, run your first 5k/10k/half marathon or full marathon, improve personal performance or enter competitive races then why not join our laid back Community? We simply love to run, and never be afraid of being too slow or think you can't do the distance. You are never left behind.
Please take a look at our website and 'like' our social media pages to keep up to date and do drop us a message or email.
The Kirton Church Fund
The May draw takes place on Sunday 28th and the winning numbers will be printed in the July/August magazine.
The June draw takes place on Sunday 18th and the winning numbers will be printed in the September magazine.
Please note the earlier than usual date for the June draw – this is because of our Flower Festival the next weekend!
No first time winners again this month – both our lucky winners have won before, twice for number 13 and three times for number 3. Well done and congratulations to you both.
Prize money has now gone up with the two new members that joined last month. The prize fund each month is 1/4 of the money taken each month. The rest of the money goes to Kirton Church. (Over £650 raised so far this year! Well done everyone.)
The more people that join the higher the prize fund and the more money we raise for the church.
Could you be as lucky in our monthly draw? You won't know unless you join in. Remember you have to be in it to win it! Anyone over 18 may take part. There is plenty of room for more members (and a very good chance of winning).
Registration forms are available from Fay, please ring 01205 723529, or for more information about Kirton Church Fund please give Fay a ring.
April 2017 Winners
1st PRIZE - £40.24 - TICKET NUMBER: 13
2nd PRIZE - £13.41 - TICKET NUMBER: 3
Swineshead Children's Centre Activities
MONDAYS: Little Explorers, 9.30am to 11.00am. (Free & No Booking)
TUESDAYS: Baby Sensory 9.45am to 10.30am (Precious Early Learning for Babies Fee Payable) Ring Mallissa on 07541801984
or email: southlincs@babysensory.co.uk to book.
WEDNESDAYS: Come and Play, 1.30pm to 2.30pm (Free & No Booking)
THURSDAYS: Learning Family 10.00am-11.30am 1pm-2.30pm (Free - Term Time Only)
FRIDAYS: Movers & Shakers 9.30am to 10.30am. (Free & No booking)
HEALTH VISITOR: 11:00am to 3.45pm (Appointments are sent to parents)
Just come along! Sessions run all year round unless otherwise stated and free unless stated.
Now taking bookings for Adult Learning Courses eg: Emergency Paediatic First Aid, ESOL, Healthy Eating, Money Management, CV Workshop and more so please call the centre for more details.
Mum, Dad, Carers and Grandparents are welcome to all session's. Sessions may be subject to change so please check with us by giving us a ring or dropping in.
ALL SESSIONS ARE FREE & NO BOOKING IS REQUIRED
Opening Hours: 8.30am - 4.30pm, Monday-Thursday / 8.30am - 4.00pm Friday
St Marys School, Abbey Road, Swineshead PE20 3EN
Telephone: 01205 820331 or email: BostonEnquiriesCCNetwork@lincolnshire.gov.uk
Keep up to date with our events and activities by visiting:
www.lincolnshire.gov.uk/parents/childrens-centres/sutterton-swineshead
www.lincolnshire.gov.uk/parents/childrens-centres/boston-carlton-road-fishtoft-rd-old-leake-st-christophers/
We are now on Facebook: Like us and follow us!