Kirton Primary School Achieves
Two National Awards
Kirton Primary School was thrilled to be short listed, and ultimately win, two categories in the national Children and Young People Now Awards. The ceremony was held at the Hurlingham Club in London and honours the very best in the public sector.
In the Learning category, our village school's little, children-run Parliament Bank was up against the likes of the London Institute of Banking and Finance, so the school was astonished simply to have been short listed - let alone beat off the competition!
In the Guidance and Advice category, Kirton Primary School shared the short list with Sheffield City Council. Again, who would have expected our village school to win?
Congratulations Kirton Primary School!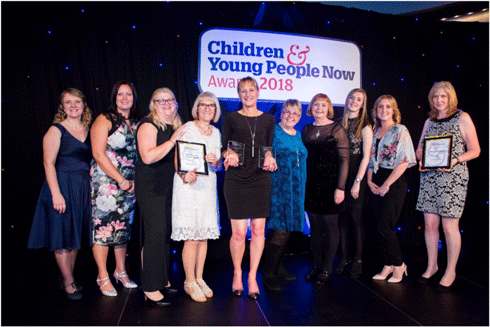 Add your Child to the Kirton Nursery School Register - Not the Waiting List
If your child's birthday falls between 1st September 2015 and 31st August 2016, they are eligible to start Kirton Primary School's Nursery this September. Ensure your child receives a head start for school by enrolling them now.
Kirton Primary School's Nursery introduces children to all the skills they need for Reception, such as phonics, number skills, and early reading and writing skills – and all this is provided by a fully qualified, school teacher who is supported by highly qualified teaching assistants.
In December 2018, Ofsted said of Kirton Nursery School: Children in the Nursery Year settle quickly and make a good start to their school life. Staff build effective relationships with parents to meet children's learning and care needs well. Relationships between adults and children throughout the early years are nurturing and positive. Well-structured routines and procedures mean that children enjoy their time in school and are kept safe. They cooperate with each other and behave well.
Children are entitled to 15 hours of Nursery education absolutely free but, should you require more, additional sessions may also be purchased where available at a current rate of £11.50 for 3 hours. You will find this to be extremely competitive. We are flexible about provision, so please speak to us about options. Lunch provision is also available if required. Don't leave it too late. The Nursery fills up quickly!
For further information and admission forms, or to book a visit, call in at the school office or contact the school on 01205 722236.
Kirton Church Fund
Congratulations to our winners and especially number 10 who is a first time winner and who has just come back to KCF after moving back to the area.
With over £1830 being raised by the KCF for Kirton parish church in 2018 and over £11,300 since we started in June 2012 it's a massive thank you to everyone who continues to support us and a happy and prosperous new year to you all!
We have plenty of room for more members. Currently we have only 50 members so there is a very good chance of winning in the Kirton Church Fund monthly draw.
The prize fund each month is 1/4 of the money taken each month. The rest of the money goes to the Kirton Church Fund. The more people that join the higher the prize fund and the more money we raise for the church. Currently very costly repairs are necessary to the roof of both side aisles and the cancel roof of our beautiful church, which are all leaking quite badly.
You too could join the Kirton Church Fund (KCF) monthly draw and win! Anyone over 18 may take part. Registration forms are available from Fay, (01205 723529), or call in Kirton Church.
If you would like more information about Kirton Church Fund please give Fay a ring.
The January draw takes place on Sunday 27th and the winning numbers will be printed in the March magazine.
The February draw takes place on Sunday 24th and the winning numbers will be printed in the April magazine.
November 2018 Winners
1st PRIZE - £39.92 - TICKET NUMBER:71
2nd PRIZE - £13.31 - TICKET NUMBER:6
December 2018 Winners
1st PRIZE - £40.17 - TICKET NUMBER:10
2nd PRIZE - £13.39 - TICKET NUMBER:17
Swineshead Children's Centre Activities
MONDAY'S
9.30 – 10.30 Little Explorers -- Sensory & messy play session for those 0-5yrs.
11.30 – 12.30 Baby Massage -- Come and learn how to 'Massage' your baby & meet other mums (Fee Payable £30 for 6 sessions).
Contact Annette at 'The Village Midwives' on 07790 443629 for details or book at thevillagemidwives.co.uk
TUESDAY'S
9.30-10.30 Top Tips for Babies (10 weeks to 8 months) -- Any worries or concerns about your baby. Come along and see the Health Team on the first Tuesday of the month - just give us a call on 01205 820331 to book a place. You can come more than once. 10.30 – 1.00
Antenatal Weight Management – Appointment only. 1.00 – 2.30 Breast Feeding Group - A
weekly drop in session where you can meet other mums and chat to the Health Visitor.
WEDNESDAY'S
1.00 – 2.00 Early Explorers -- Sensory & messy play session for who are under 1's or who are not yet walking.
THURSDAY'S
10.00 – 11.00 Learning Through Play -- Drop in session with variety of play
activities for those aged 0-5yrs. exploring & supporting children's needs, confidence, social and learning skills.
FRIDAY'S
9.30 – 10.30 Movers & Shakers -- Fun interactive group with music, songs & dance for those aged 0-5 years. 11.00 – 3.45 Health Visitor -- Have your appointments & assessments with the Health Visitor here at the children's centre. Come and enjoy a relaxed atmosphere with loads of toys for your little one to play with while you speak to them. To book just call 01522 843000.
St Marys School, Abbey Road, Swineshead PE20 3EN Tel: 01205 820331
or email SwinesheadCC@lincolnshire.gov.uk
Sessions & Activities for children aged 0-5 yrs (0-8 yrs in school holidays) No Booking Required & FREE unless stated. Please contact us if you have any questions about the centre or about what is on in the other centre's in the Boston/South Holland area.
Sessions may be subject to change so please check with us by giving us a ring on 01205 820331.

Keep up to date all our activities on Facebook: bostonsouthchildrenscentres
or visit the website at: www.lincolnshire.gov.uk/childrenscentre