It's so much more than (Cottage)
Pie in the sky!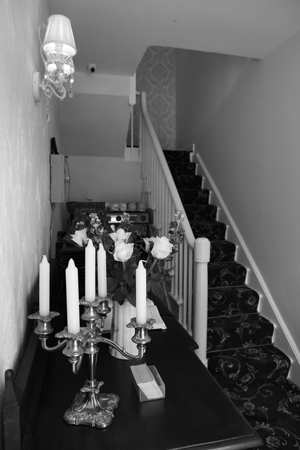 I'm sure many have been aware of the months of hard work that have been put in to the former Villager fruit and flower shop on Kirton High Street. All sterling efforts finally came to fruition on Monday June 26th when a new restaurant opened in the village.
Kirton Cottage, the creation of proprietor Ambrish Chandarana, serves traditional English cuisine in a superbly appointed bijou restaurant benefiting from locally sourced, fresh produce.
His dedicated team is intent on providing first-rate dining in a comfortable and tranquil milieu.
Ambrish declared "We feel that the cottage setting offers unique surroundings in which to enjoy quality local food, fine wines and drinks from around the world – and just "up the road" as we also stock a range of fine bottled ales from local brewer, 'Fuddy Duck'.
"We hope that our varied menu will appeal to everyone whatever their tastes or preferences. Our dream is that you will find the perfect dish you can enjoy as a fine dining experience. It has been an epic journey bringing the building back to its former glory and our reward will be that you enjoy it as much as we will.
"We had a vision to open a restaurant in the area and came across the cottage when we started our adventure. We want to make this a success for the benefit of the community as much as anything. We already have planning permission to extend the building creating a traditional bar area to complete the restaurant.
"We appreciate that Kirton is one of the busier villages on the outskirts of Boston but has suffered over recent years from a decline in traditional local business. It would be good, in some small way, to re-engage people and bring back the vibrancy to put Kirton well and truly 'back on the map'.
Our full menu is available to view at our website, www.kirton-cottage.co.uk"
Kirton Cottage is situated opposite the war memorial in the village centre.
Their number is 01205 722311 with further information available at www.kirton-cottage.co.uk

The Kirton Church Fund
The June draw takes will now take place on Sunday 2nd July due to the Flower Festival the week before and the winning numbers will be printed in the September magazine.
The July draw takes place on Sunday 23rd and the winning numbers will also be printed in the September magazine. The first ticket drawn this month no longer takes part so we drew again.
So our first prize winner, number 12, part of our luckiest husband and wife team, has now won 3 times! The second prize winner is a first time winner. Well done to them!
June marks the start of our sixth year of the Kirton Church Fund monthly draw and I can't believe how quickly the time has gone. (I can't believe how quickly this year is going, too!)
In this time we have raised over £8400 for Kirton Church, so a very big thank you to all our members!
Now is the time for many people to renew their membership and it does pay to keep in there! Ask number 12! After all, if you're not in it you can't win it! (Don't worry I will give you a call if it's time to renew.)
Not already a member? Then why don't you come and join us? You too could win! Anyone over 18 may take part. You can join at any time during the year and you can do it monthly if you wish. £5each month for monthly payments or if you wish to sign up for a year £50 and £28 for 6 months.
We still have plenty of room for more members and there is a very good chance of winning.
The prize fund each month is 1/4 of the money taken each month. The rest of the money goes to the Kirton Church Fund. The more people that join the higher the prize fund and the more money we raise for the church.
Registration forms are available in church or from Fay, please ring 01205 723529, or for more information about Kirton Church Fund please give Fay a ring.
May 2017 Winners
1st PRIZE - £40.24 - TICKET NUMBER: 12
2nd PRIZE - £13.41 - TICKET NUMBER: 57
Fosdyke Vintage Tractor Run
- 7th May 2017
We would like to confirm that after a very successful day, the event raised £3381.20 for Macmillan Cancer Support. We would like to thank everyone who helped and supported this local event.

Russell Nicol
Swineshead Children's Centre Activities
MONDAYS: Little Explorers, 9.30am to 11.00am. (Free & No Booking)
TUESDAYS: Baby Sensory 9.45am to 10.30am (Precious Early Learning for Babies Fee Payable) Ring Mallissa on 07541801984
or email: southlincs@babysensory.co.uk to book.
WEDNESDAYS: Come and Play, 1.30pm to 2.30pm (Free & No Booking)
THURSDAYS: Learning Family 10.00am-11.30am 1pm-2.30pm (Free - Term Time Only)
FRIDAYS: Movers & Shakers 9.30am to 10.30am. (Free & No booking)
HEALTH VISITOR: 11:00am to 3.45pm (Appointments are sent to parents)
Just come along! Sessions run all year round unless otherwise stated and free unless stated.
Now taking bookings for Adult Learning Courses eg: Emergency Paediatic First Aid, ESOL, Healthy Eating, Money Management, CV Workshop and more so please call the centre for more details.
Mum, Dad, Carers and Grandparents are welcome to all session's. Sessions may be subject to change so please check with us by giving us a ring or dropping in.
ALL SESSIONS ARE FREE & NO BOOKING IS REQUIRED
Opening Hours: 8.30am - 4.30pm, Monday-Thursday / 8.30am - 4.00pm Friday
St Marys School, Abbey Road, Swineshead PE20 3EN
Telephone: 01205 820331 or email: BostonEnquiriesCCNetwork@lincolnshire.gov.uk
Keep up to date with our events and activities by visiting:
www.lincolnshire.gov.uk/parents/childrens-centres/sutterton-swineshead
www.lincolnshire.gov.uk/parents/childrens-centres/boston-carlton-road-fishtoft-rd-old-leake-st-christophers/
We are now on Facebook: Like us and follow us!