Meet The Locals: This issue, we're talking to Jason from the Fuddy Duck Brewery in Kirton End.

1) Who came up with the idea of the brewery/Fuddy Duck name?
I came up with the name, I have had the name from a young age!
2) What products do you currently offer?
We sell a range of beers from Dark beers to pale ales. We also sell 8 flavoured Gins and Vodka. Mango Mayhem is a good selling beer. It's made from mango, kiwi and passion fruit.
3) Do you have a bestseller?
Our Toffee vodka and flavoured gins sell well.
4) Any plans for expanding your range in the future?
We are always making new beers and Gins to add to our range.
5) How can people order from you/visit you?
You can buy direct from the Brewery or the Black Sluice Riverside cafe. We are always looking for stockists to sell our Gins and beers. The brewery has a bar where people can drink on the premises. We also do brewery tours by appointment.
If you're interested in ordering, visit the Fuddy Duck website, their Facebook page or contact Jason directly on 07881 818875 www.thefuddyduckbrewery.co.uk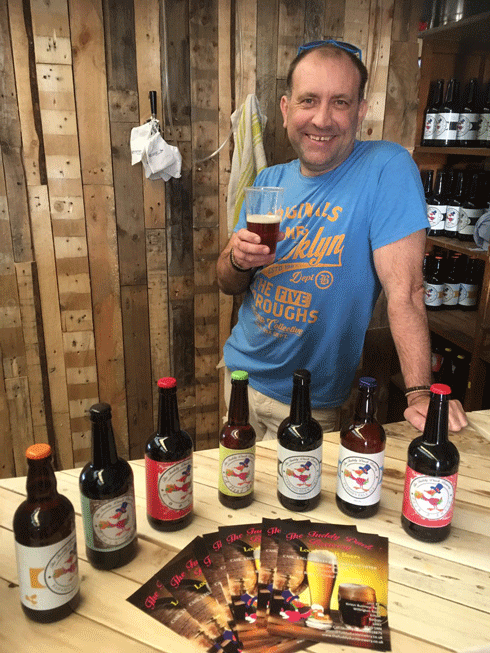 Kirton Church Fund
The June draw takes place on Sunday 22nd June, the July drawn takes place on Sunday 27th July and the winning numbers will be printed in the September magazine.
Our May winners have both won before. Congratulations to both of them!
June marks the start of our eighth year of the Kirton Church Fund monthly draw and I can't believe how quickly the time has gone. (I can't believe how quickly this year is going, too!)
In this time we have raised over £12,000 for Kirton Church, so a very big thank you to all our members and especially those who have stayed with us from the beginning.
Now is the time for many people to renew their membership and it does pay to keep in there! After all, if you're not in it you can't win it! (Don't worry I will give you a call if it's time to renew.)
Sadly two of our members have died during the year and their numbers run out this month which would mean the prize fund going down. The good news however is a new member has signed up for the June draw. Welcome aboard.
Also one member has taken on a second number so that June prize money should remain the same if all those due to renew are happy to continue.
Not already a member? Then why don't you come and join us? You too could win! Anyone over 18 may take part. You can join at any time during the year and you can do it monthly if you wish. £5each month for monthly payments or if you wish to sign up for a year £50 and £28 for 6 months.
We still have plenty of room for more members and there is a very good chance of winning in the Kirton Church Fund monthly draw.
The prize fund each month is 1/4 of the money taken each month. The rest of the money goes to the Kirton Church Fund. The more people that join the higher the prize fund and the more money we raise for the church.
My apologies to Paula of Paula's Gifts for giving the incorrect title of her shop in last month's magazine. Paula has very kindly agreed to have some of our registration forms available in her shop at the bottom of Station Road. So if you do pop in for form, have a look at her lovely selection of cards and gifts. They are very reasonably priced.
Registration forms are also available at the back of church, from Kirton Library or from Fay, please ring 01205 723529, or for more information about Kirton Church Fund please give Fay a ring.
Data protection. All information (name, address and phone number) of Kirton Church Fund members is held solely for the purpose of managing Kirton Church Fund and is not passed on to any other organisation or used for any other purpose.
May 2019 Winners
1st PRIZE - £39.98 - TICKET NUMBER:4
2nd PRIZE - £13.34 - TICKET NUMBER:41