Kirton artist exhibiting
at Blackfriars Art Centre in Boston
A member of the Kirton Art Group, Karin Christensen is showing her paintings and drawings for five weeks during the month of May at Blackfriars Art Centre in Boston. The exhibition is called "Streets of Boston"and features over 30 works of art from local street scenes and Lincolnshire landscapes.
Karin has been a member of the Kirton Art Group for many years. She mainly paints using watercolour, with strong elements of drawing and sketching, often giving a striking visual effect. She finds inspiration in the local area and has painted landscapes around Kirton as well as busy street scenes and architecture from Boston.
Karin is originally Norwegian, but having lived in the UK for over 20 years and in Kirton for more than half this time, she considers herself a local. Her work can be seen at www.karinchristensen.com
The exhibition runs from April 30th until June 2nd and is open daily, free entry.
Below: Down Drainside in ink and watercolour and is of Drainside Kirton.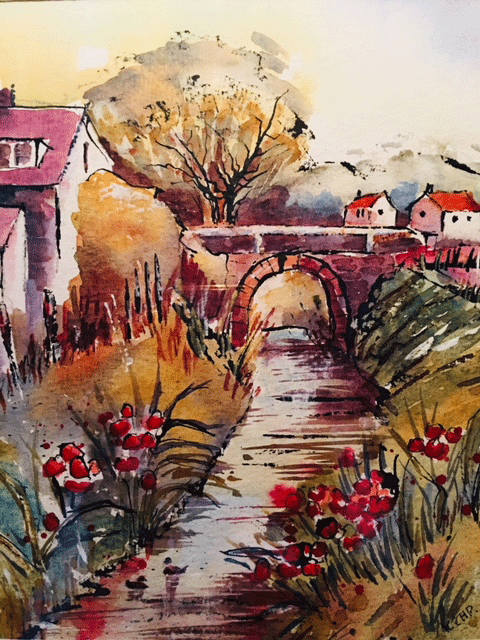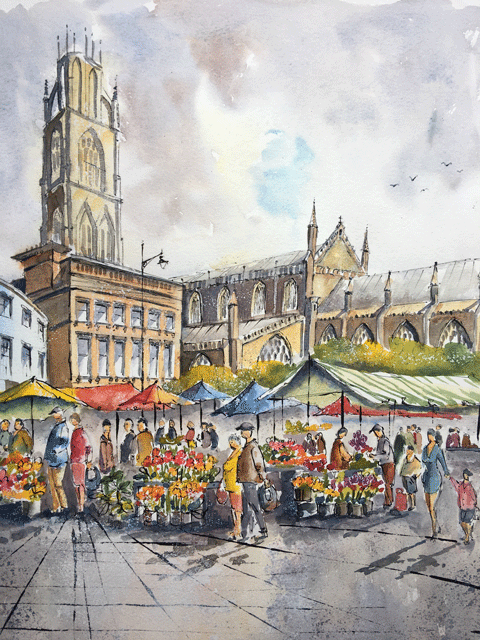 The Kirton Church Fund
The April draw takes place on Sunday 22nd and the winning numbers will be printed in the June magazine.
The May draw takes place on Sunday 27th and the winning numbers will be printed in the July magazine.
No first time winners again this month – both our lucky winners have won before. Congratulations to you both.
It will soon be six years since we started the Kirton Church Fund (how fast time is flying by!) and we have given away a lot of prize money (around £3,300!) Why don't you come and join us? You too could win! Anyone over 18 may take part.
We have plenty of room for more members and there is a very good chance of winning in the Kirton Church Fund monthly draw.
The prize fund each month is 1/4 of the money taken each month. The rest of the money goes to the Kirton Church Fund.
The more people that join the higher the prize fund and the more money we raise for the church.
Registration forms are available at the back of church or from Fay, please ring 01205 723529, or for more information about Kirton Church Fund please give Fay a ring.
Data protection. All information (name, address and phone number) of Kirton Church Fund members is held solely for the purpose of managing Kirton Church Fund and is not passed on to any other organisation or used for any other purpose.
March 2018 Winners
1st PRIZE - £36.56 - TICKET NUMBER: 3
2nd PRIZE - £12.18 - TICKET NUMBER:68
Swineshead Children's Centre Activities
Sessions & Activities for 0-5 years – No Booking Required & Free unless stated

MONDAY'S
Little Explorers 9.30 to 10:30 A sensory & messy play session. (0-5 yrs)

TUESDAY's
Top Tips 3-4 months 11.30 to 12.30 Any worries or concerns about your baby come along to see the NHS Team here at the centre on the first Tuesday of the month. Contact the Children's Centre on 01205 829331 for more details and to book a place also ask about the new parents self-weighing time.

WEDNESDAY'S
Early Explorers 1-2 A sensory & messy play session (Under 1's or non-walking)

THURSDAY'S
Learning Through Play 10.00 to 11.00 Drop in session with variety of play activities (0-5yrs) exploring & supporting children's needs, interests, confidence & social skills. Baby Massage 1.30 to 2.30 Come and learn how to massage your baby (Fee Payable). Contact Annette at 'The Village Midwives' on 07790 443629 for more details or book online at the village midwives.co.uk
FRIDAY'S
Movers & Shakers 9:30 to 10:30, Fun interactive group of music, songs and dance for the 0-5 yrs. Health Visitor 11.00 to 3.45 Appointments are sent to parents directly by the NHS. Just come along! Sessions run all year round unless otherwise stated and are free unless stated. Please contact us for details of 'What's on' at other Centre's in the Boston area.

Taster Sessions in Boston & South Holland area - Baby Sensory Precious Early Learning for Babies all sessions are different Ring Mallissa on 07541801984 or email: outhlincs@babysensory.co.ufor more detailsOpening Hours: 8.30am - 4.30pm, Monday-Thursday / 8.30am - 4.00pm Friday

St Marys School, Abbey Road, Swineshead PE20 3EN
Telephone: 01205 820331 or email: BostonEnquiriesCCNetwork@lincolnshire.gov.uk
Sessions may be subject to change so please check. Also keep up to date on our activities on Facebook: @bostonsouthchildrenscentres or visit the website at: www.lincolnshire/childrenscentres