©Kirton News 2018
Personal Messages
New to Kirton News. If you would like to send a happy birthday/anniversary message to someone you know. Now you can.
All you need to do is write your message: e.g. 'Happy 10th birthday to Joshua Smith on the 5th June, lots of love Mum and Dad' or Happy Mothers or Fathers Day. Pop it to Fossitts 'The Green' or 38 Edinburgh Drive with £1 and we will print it for you. Please remember if you wish your message to be in the next issue we need it by the deadline date.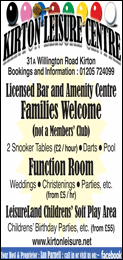 Vi & Keith Gomm
Golden Wedding Anniversary
- 26th August
Vi & Keith moved to Kirton in January 2002 they spent their first night together in their new home sleeping on the floor whilst they waited for their household goods to arrive following their move from Chesham Buckinghamshire.
Prior to their retirement Vi and Keith both worked in the printing industry for a small family printers called Greens; who since they were founded have printed everything from ration books during the war to simple stationary for local businesses and the community.
During this time Keith worked as the foreman and was responsible to ensure that printing to fulfil the orders was produced on time and Vi worked alongside him collating the printing jobs as necessary.
After Keith reached his normal retirement age he continued to work on for a further 5 years up until Vi took early retirement, throughout this time their previous roles were reversed and therefore Keith then worked for Vi.
Since moving to Kirton they have taken the community into their hearts; met new friends; took up bowls and became members of the Kirton Bowls Club and Vi joined the ladies keep fit club.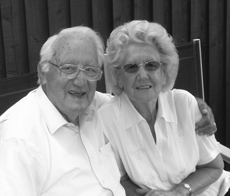 Married now for Fifty Years,
a couple special in every way,
When you said your Wedding vows
they were meant to stay,
So may each year together,
be even happier than the last,
And enjoy each and every moment, while still remembering the past.
Happy Golden Wedding Anniversary
Lots of Love
Julie, Neil and family,
Gina Tony and family
Emilia, Carla and Jamie.