Very Easy Tea Loaf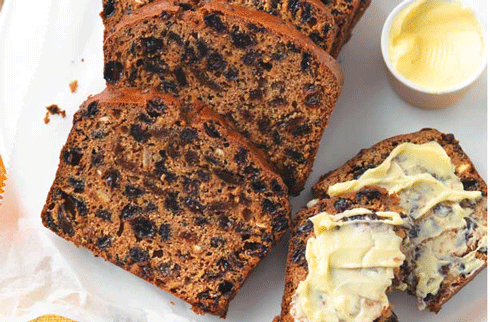 Prep: 15 minutes
Cook: 1 hour At least 1 hour's soaking time
12 slices approx.
Ingredients: 160g/1 cup dried fruit (currents & cranberries work well together)
250 ml / 1 cup tea (I like to use Earl Grey)
250g / 1 cup caster sugar
250g / 2 cups self-raising flour
(optional) 1 tsp ground ginger
Method: Put the dried fruit and tea in a bowl and leave to soak for a few hours. I usually do this the night before or in the morning before work.
Pre-heat the oven to 150°C, or 180°C if your are not using a fan assisted oven.
Add the sugar and flour to the tea and fruit mix, and the ground ginger if you choose to include it. Stir well until thoroughly combined.
Scoop the mixture into a greased 2lb loaf tin and bake for 45 minutes to an hour.
If you prick the cake with a cocktail stick and it comes out clean, it is ready. Leave the loaf to cool in the tin for at least 20 minutes. After that, run a knife along the outer edge of the loaf to loosen it and tip it onto a cooling rack.