April 2009
The Editors Letter
Well spring is finally here!!
I would like to wish Father David Carney and Jean all the best on his retirement. I know a lot of people will be sad to see him go. However times change. Or do they Kirton church clock doesn't seem to be. Have a look inside at the poem. We have two poems sent in this month from readers and an Easter wordsearch.
There is also a competition where you could win a 3 course Sunday lunch for 2. Why not have a go you might win. Easter is just around the corner enjoy your chocolate eggs but remember a moment on the lips and a lifetime on the hips.

Take care everyone
Catrina Smith
Knit your own 'Shrug'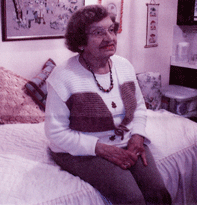 I felt it a cruel blow when I became partially sighted 4 years ago. Before that I spent most of my spare time dressmaking and doing various forms of needle work. I can no longer do any of these pastimes.
However with my limited sight I can do plain knitting, although I'm in deep trouble if I drop a stitch. I have made numerous blankets squares, scarves and simple children's jumpers for Oxfam.
Then I heard that the latest fashion was shrugs, ideal for keeping your shoulders warm. Without having seen one I designed and made my own version. I would like to share my idea with other readers who like knitting. Here is the pattern for size 16-18
You will need: 100g double knitting wool (more if you make it longer)
Knitting needles size 3 ¼ and 6mm
Always slip the first stitch of every row to make a neat edge
Only garter stitch is used.
Pattern: Starting at the lower back with 3 ¼ needles cast on 66 stitches
Knit 12 rows
Change to no6 needles and knit until work measures 15 inches (or length required)
Next row knit 27 stitches cast off 12 stitches for neck
Knit 27 stitches
Continue on these 27 stitches for 6 inches
This will be the left front
Next row starting at the centre front edge increase 1 stitch at beginning of row
Knit 3 rows
Repeat last 4 rows 5times (33 stitches)
Knit straight for 3 inches
(see alternate method for ties at the end of the pattern)
Ties: Starting at the centre front edge and 3 ¼ needles cast on 50 stitches
Turn and cast off 5o stitches
With size 6 needles continue straight until same length as back after knitting the last 12 rows on 3 ¼ needles cast off
Join wool at neck and knit right front the same as the left
Stitch the sides up with a flat seam as far as you wish up to the armhole.
Alternative ties: Carry on knitting straight until the change to 3 ¼ needles. At the centre from edge cast on 30 stitches knit 12 rows on these 63 stitches cast off.
Good luck and if you have queries please telephone 01205 722548.
Ena Hemington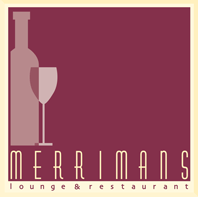 The Merrimans
Natalie McGuire & Lee Dorey purchased the business what was known as 'The Ruddy Duck' in December 2007 and re-named the business 'Merrimans Lounge & Restaurant' in March 2008.
The Merrimans Head Chef & co-owner Lee is originally from Loughborough, Leicestershire. He has 17 years experience within the hospitality industry by working on various levels of cooking and travelling the world to broaden his horizons in food. Jointly managing the business is Natalie, who's role is to have executive responsibility for commercial management and Front of House, she also has 14 years hospitality experience from managing Hotels to running Restaurants and Conference & Event management. Natalie was born in Boston and grew up and attended schools in the Kirton area.
The Merrimans Bar/Lounge offers a relaxed & warm atmosphere with a choice of comfortable sofas where guests can enjoy a selection of fine wines, champagnes or a soft drink prior to perusing the extensive traditional menu. The recently refurbished Restaurant is designed to offer a seating capacity of up to 60 guests.
From intimate Dinners to Business Lunches or celebration functions. The 'Merrimans' has something to offer everyone. Disabled access & facilities are also available. Children are also welcome, menu available for up to 12 years. Between 6.00 pm & 7.30 pm Tuesday to Friday, they offer an Early Bird Menu with a selection of main courses and desserts at good value for money.
Lunchtime Menu: 11.30am - 2.30pm Tues - Sat.
Early Bird Menu: (Evenings) Tues - Frid 6.00pm - 7.30pm.
A'la Carte Menu: (Evenings) Tues - Frid 6.00pm - 9.30pm. Sat & Sun 6.30pm - 9.30pm.
Sunday Lunch menu also available: 12 noon - 3.00pm
What's on?
Friday 24 April 2009: Dinner Dance with Silver Dollar Disco
Friday 15 May 2009: Murder Mystery Evening - presented by 'The Frampton Fen Follies' helping to raise funds for the 'Butterfly Hospice'. For more information or to enquire about a booking please contact us on 01205 362378 - booking early is advisable.
Here are a few more items taken from a scrapbook of newspaper clippings collected by Mrs Eliza Tunnard, (b.1864-d.1925,) with 'education' as the theme.
Education is a major part of Kirton Village life, with both 'Primary' and 'Comprehensive' schools within its boundary. However, adults are not so well catered for and this may be because subjects given precedence, in the early twentieth century, would not be of much use in todays society.
Lectures were one way of socialising and getting some education that adults could partake of. This undated article is typical and topical, considering the closeness of the rivers Witham and Welland.
An original and interesting lecture was given on Tuesday night in the Primitive Methodist Chapel by the Rev. T. W. Morgan. An excellent tea had been held in the afternoon and a very good audience gathered for the lecture. "The Life on a Trawler," was well described, as well as the character, superstitions and religion of the fishermen. The thanks stated that, 'the lecture had given information which was a real gain.'
Attendees were no doubt caught in the lecturers net and were unable to wriggle free. Dated April 1910, this cutting makes the reader wonder, is the title rhetorical or did chickens play such a big part in village life?
Lecture: On Monday Mr Bean of Spalding, gave a lecture in the Primitive Methodist Church, entitled "When chickens come home to roost." The lecture, which was highly interesting and instructive, was attentively listened to by a large company. The proceeds amounted to 15s.
Perhaps the 'yolk' is on the audience, and the lecturer was the original 'Rowan Atkinson' of pre-television fame! Now, while adults had to make do, scholars appear to have had a better time of it, as this item from August 1906 demonstrates.
Kirton Grammar School: The laboratory connected with the school is probably one of the finest in the county, and we understand that next term special attention is to be given to agricultural chemistry, and the science of agriculture generally.
A thoroughly qualified teacher, who has had several years at Cambridge, having been engaged.
Things don't seem to change that much do they? Today we have similar announcements, though the subject is 'Sport,' from the comprehensive school.
Finally a couple of pieces of humour from the period: A preacher had been giving a lesson, a Sunday or two ago, to a class of small children about Martha and Mary. He had told them that Mary had a mild temper, and Martha a very strong temper. When he had finished telling the story he asked the children what it was Mary had, and a small boy said, "Please Sir, Mary had a little lamb."
Bill: "Going up to hear that lecture on appendicitis today?"
Harry: "Naw, I'm tired of these organ recitals."
Letters to the Editor
Dear Mrs. Smith, I found the Kirton News and its archive issues of real interest while writing an article about my maternal great grandfather, Zachariah Sutton, who was christened at Sts. Peter & Paul Church on 25 July 1830.
He and his brother, sons of Richard & Rebecca Kew Sutton, came to the USA in 1858, settling in Brighton, Livingston County, Michigan, not far from where I live.
I'm a semi-retired Anglican priest and I was especially interested in the long history of the parish and of course in its present challenges.
Saint Luke's Parish here in Ypsilanti, Michigan (near Ann Arbor and about 40 miles west of Detroit) was founded the year Zachariah was born. Michigan was not yet a state at that time and while Roman Catholic explorers and missionaries had come in to the terriroty by about 1615, non-Roman only came after the British forces had left in 1796.
Michigan, surrounded by the Great Lakes, while new to Europeans, was inhabited by very early natives peoples for thousands of years.
In any event, I will continue to read and watch for the Kirton News with pleasure.
The Reverend Jasper Green Pennington, Ypsilanti, Michigan.
Around the Homes - News from The Chestnuts
At long last peace reigns at The Chestnuts. No more hammer drilling,-painters, floor layers or closing off of large sections of the building.
It is only fair to say that with the possible exception of one young painter all the tradesmen were excellent. Not only were they first class workers, but they were all friendly, kind and considerate to we older folks. They made a minimum of mess and cleaned up after themselves.
Joan Haw had a birthday in February, and we all wish her good luck and good health throughout the coming year.
Spring is indeed just around the corner, it was so nice to see the snowdrops and crocus flowering after a week or two of snow and ice. We must try to remember to plant plenty of orange crocuses where they will be viewed from our large number of windows overlooking the patio area.
Carol Brinkley joined us around the middle of the month, and is now settled in. We all wish her many many happy times at The Chestnuts.
Sarah Ashworth came on the 24th With a very good selection of ladies clothing at reasonable prices. This was much appreciated.
In spite of all the noise and upset that has occurred during the past year, it is interesting to note that the moles are still with us. Unfortunately!

Tony Mathieson.
Kirton Kids Club
We have had a very busy month with the most amazing arts, crafts and making for the children. Our 'Helpers' who come into the club as volunteers have brought with them some really useful skills and they enjoy working with the children and the children with them!
Making art fun and exciting encourages the children not only to take part but along with this they exercise many useful skills of their own – socialising and scaring as well as both fine and gross motor skills. It is a fact – children really do learn through play!
We took the children out in the fresh snow one after school session, which they really enjoyed – in fact we ended up with parents out there 'playing' in it too.
Now though the weather is getting a bit better and more spring like and we have had the children running around in the fresh air and we all look forward to the long summer days when our club activities can be transferred to the outside play area.
The tables and benches outside are in the process of being refurbished – the work being carried out by one of our parents.
I would like to thank him in advance for all his enthusiasm and hard work in helping the club. It is really nice to have parents and helpers that give their time so freely.
The club is open for the first week of the Easter Holidays and my planning for this is now complete. We have been offered the chance to use certain facilities at the Middlecott School during the holiday sessions and are really looking forward to taking the children there and involving them in the new activities.
If you wish to book your child/children into the club for either before, after school or any of the holiday sessions – please phone 722426 in club hours (7.30am to school – after school to 5.45pm) and ask for more details.
The Mothers Union
Our meeting in April is on Wednesday 15th at 7.15pm in the Methodist Church Hall. We look forward to having Paula Davies and Anne Booth talking to us and telling us about their experience of 'Care in the Community' in this part of Lincolnshire. All are welcome to join us for this meeting.
Also, we wish Father David & Jean Carney a very happy and peaceful retirement. We will miss them greatly as members of our branch.

Helen Airey - Branch Leader
Parkinson's Awareness Week - 20th - 26th April 2009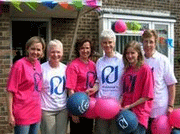 Each year, the Parkinson's Disease Society holds an Awareness Week. It's a fantastic opportunity to tell more people about what we do and raise awareness of Parkinson's disease.
Parkinson's Awareness Week 2009 will take place from Monday 20 April to Sunday 26 April. PLEASE Support us during Parkinson's Awareness Week
The Boston Branch will be getting involved by holding an Information and Coffee Morning on Saturday 18th April at Pensioners Hall, Boston (behind Marks & Spencers) 10-12noon. We will use it as a way of sharing information about Parkinson's, as we are hoping to increase understanding of Parkinson's, raise vital funds for research into the causes and most effective treatments, and give support for those living day-to-day with this condition.
The Boston branch meet the 3rd Thursday of the month in the Luncheon Room, Centenery Methodist Church, Red Lion Street, Boston 7.30pm.
Everyone is welcome to this friendly gathering, sufferer, carers or even people just wanting to support us. We usually have a speaker, hold a small raffle and have a chat with a cup of tea.
If you would like more information about the group, please call Ray Lindley on 01775 841092 or Helen Pratt on 01205 360710.
A letter from Father David
Dear Friend, As you know by now, I am retiring at the end of March, and Jean and I will be leaving Kirton sometime in April. We are not leaving the Diocese however, for we are going to live in Bourne. For 30 years I have been a priest and the time has now come for me to hang up my "cassock".
I have been the vicar of Kirton, Algarkirk and Fosdyke for almost four years, and I want to thank you for allowing me to share in your life. In your joys, in your sorrows, and for your friendship and kindness to both Jean and I.
It has been a privilege being your parish priest. God bless you - With love and prayers
Father David and Jean
Kirton Town Hall Village Day
Calling all gardeners and crafters. Young, old and all those in between. Kirton Town Hall is going to holding an Agricultural Fair on 19th September.
We will notify you nearer the time about the various classes there will be. You can also have your say, in what you would like to see there: longest beans, lightest Victoria sponge, handmade bookmark? There will be a Children's section with classes for all age groups! Maybe best scarecrow, largest sunflower or miniature garden. Or perhaps a dog show?
Your ideas are most welcome, just e-mail them to: paul_loraine@hotmail.com or to hjb410@hotmail.com
Well hopefully that will have given you some food for thought and planted a seed for some good ideas. We look forward to hearing from you! Happy planting & crafting!
Loraine Fielder and Hillary Davis-Ballard
Kirton Annual Parish Meeting - Thurs 16th April 2009 at 7pm in Kirton Town Hall (Upsall Room)
This is the annual meeting for all Electors of the Parish to raise any relevant matters of concern in the parish. The meeting is chaired by the Parish Council Chairman and those present will include the Clerk and Members of the Parish Council.
Reports from the Parish Council will be on the agenda as will reports from various other organizations in the village interested in sending their representatives. A meeting of the Parish Council will follow.
Chimes, Old and New in Kirton Town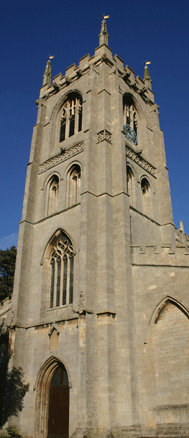 In Kirton Town, yes in Kirton Town
The old church tower once looked down
Upon a sight aye! The remaining stump
Of the old buttercross and the village pump
Well that was yesterday and as we all know
Those landmarks disappeared several years ago
However it seems the pace of life today is even slower
Cos for some time now the clocks been a no goer
Yes though i've looked up when passing by
And those church tower clock hands i do espy
I've had to say to myself it is no help to you
Hands long at ten past are noe stuck at twenty to two
So whether am or pm that's morning or night
They're obviously still motionless and far from right
However ine thing here that does seem certain
Is that time now stands still in the middle of kirton
What all this forebodes i really cannot say
Cept that our old world seems in turmois today
Thus setting up a nostalgic yearning now i fear
For the fondly remembered happier days of yester year.
A Spring Poem by Margaret Creek
I feel that spring is on its way
Because it's been a much better day
The flowers are beginning to show,
So I hope there will be no more snow.
The birds will soon be building their nests.
So now we hope things will be at their best.
To say goodbye to snow, wind and rain
When the sun shines all day long again
All the lovely lasting hues,
To say farewell to winter blues.
Local Policing - Anti Social Behaviour
There have been 14 reports of anti Social Behaviour in Kirton for February 2009. These are as follows:

• 9 reports of inconsiderate behaviour
• 1 reports of vehicle nuisance
• 4 report of throwing things

Although anti social behaviour has risen compared to January, there are still incidents that are not being reported as they are happening. As a neighbourhood policing team we want to encourage you to report incidents of anti social behaviour as they are happening. You can do this by either calling 01205 366222 or 999 in an emergency; your call will then be dealt with accordingly. If you do not wish for an officer to attend your home, please say so when reporting.
By reporting incidents we will endeavour to be in the areas affected, at times when there is an increase in anti social behaviour.
The neighbourhood policing team will be at 'Get Out, Get Involved' at Kirton Middlecott on the 16th April 2009. Please do not hesitate to come and talk to us regarding any issues that you may have.

If anyone has any issues or concerns, please do not hesitate to contact me at: Kirton Police Station, Station Road on 01205 722002 or alternatively you can e-mail me at adam.eden@lincs.pnn.police.uk
PCSO Adam Eden - Boston Neighbourhood Policing Team - South Rural
Donations
The magazine committee wish to say 'Thank-you' for the following donations which are much appreciated:-
Anonymous..............................................£10
Anonymous..............................................50p
Community Coffee Mornings....................£100
Royal British Legion - Women's Section...£50
Kirton mothers union................................£5
Donations for the magazine may be taken into Fossitt & Thorne (The Green), enclosed in an envelope.