April 2017

The Editors Letter

"I dreamed that, as I wandered by the way, Bare Winter suddenly was changed to Spring, And gentle odours led my steps astray, Mixed with a sound of water's murmuring..."

No need to rely on the 'dreams' of Percy Shelly as Spring is finally here. Hurrah!

Let's hope that murmurings turn into roars for the 'new' business outlets recently arrived, expanding or about to come into the village – Land Rover/Jaguar: The Shed: Florists: the re-vitalized Monk: Kirton Cafe and the soon to open Bistro next to Jessops, apologies if I have missed anyone – and look forward to warmer days, lighter nights and happier, more prosperous futures.

Look forward also to cleaner streets: more respectful, more careful and slower drivers going through the village: more local shoppers: better attended classes, concerts and public events: generally more respect and involvement in all walks of life.

With reference to that famously mis-interpreted TV show TOWIE (The Only Way is Ethics) and my old mate Immanuel Kant (and I spelt HIS name correctly Steve, so don't bother checking) "humans are bound, from a knowledge of their duty as rational beings, to obey the categorical imperative to respect other rational beings."

That leads me rather nicely to one of my favourite humorous line from Barry Humphries "I used to study Kant, but I failed the practical".

Has anyone guessed by now that I don't have much to rant about this month?

But I bet there aren't many villages mags that expose their readers to Kant and Shelly as a matter of course! Get that culture.

Kirton News – all things to all people.

A couple of things I would like to mention: wishing a peaceful journey to "Little" Billy Hubbard surrounded by celestial budgerigars. Another local character that has sadly left us. And apologies to Joe Parker, the photo will be in for May. We ran out of room.

I hope you enjoy April's contribution. It's not really "the cruelest month..". but lilacs will come (See, more culture... T.S. Eliot this time!)

I hope there's something in it for many of you. And a quick heads up for the annual Beer Festival at Kirton Leisure - now making its sixth appearance over Friday, Saturday, Sunday and Monday of the Easter Weekend.

Salut to you all, T.T.F.N.

Sam

The treasures beneath our feet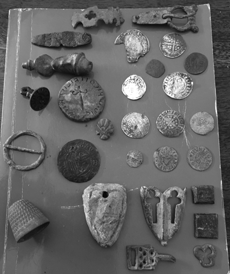 Many of you may know Marc Sands. A local boy born and bred he is a popular character in these parts.
Many of you may also know of Marc's hobby (almost ruling passion) – Metal Detecting.
For over twenty years he has been roaming the fields locally, and further, turning up the lost and left over evidence of the lives of ordinary people from Roman times to the present day.
Jewellery and adornments; coins, shoe buckles and buttons; door hinges and locks – even a set of "Snap-On" spanners [temporarily] lost by a local farmer. But collectively this sort of 'treasure' gives us a direct connection to those spectres looking over our shoulders from centuries past.
Marc is aware, as many of you, of the rich, varied and, at times, nationally important history of Kirton and its environs and he would like to know even more. So he has planned out a project for himself; to piece together as much knowledge as he can about the everyday lives of local people from Domesday, through the Middle Ages and beyond using the stuff they left behind, often just inches under the surface.
But to do that he needs to walk the fields – and gardens – where that evidence lies buried.
Marc is, as I say, very much a local lad. He knows the Country Code and is as respectful of others property, land, livestock and crops as he would be of his own.
He carries personal liability insurance against accidents, damage, etcetera and, on top of that, he's a good guy to know, easy to get on with and loves a good chinwag.
As a true 'Metal Detective' his primary concern is with the past; the History. We have all heard stories of 'hoards' turning up worth millions and there are folks out there to whom fortune is their primary concern. Marc is in it for The History. The long term aim (and dream) is, if enough 'stuff' is found, to identify and label it and have display cabinets available for the public as an educational outlet. He envisages permanent displays in Kirton Church or even at the old Kings Head when Lincolnshire Heritage have completed the renovations.
Either way the plan is to show us locally the fascinating and diverse 'riches' of Kirton which may be, quite literally, in our back yards.
So if any of you reading this would be intrigued enough to let Marc on to your field, back garden, allotment or any plot – which may have lain undisturbed by deep groundwork or major intrusion over the years – then he would love to hear from you.
Contact Marc by email at: marcsands1601@icloud.com
The Kirton Church Fund
The March draw takes place on Sunday 26th and the winning numbers will be printed in the May magazine.
The April draw takes place on Sunday 23th and the winning numbers will be printed in the June magazine
Well would you believe it? Our February second prize winner also won second prize in February last year. It must be a lucky month for her! Our first prize winner could hardly believe her luck as she has now won first prize four times. Well done to both our winners! How about joining us and seeing if you are lucky in our next draw? You could join the Kirton Church Fund (KCF) monthly draw and win. Anyone over 18 may take part.
We have a new member joined us this month but we still have plenty of room for more members and there is a very good chance of winning in the Kirton Church Fund monthly draw.
The prize fund each month is 1/4 of the money taken each month. The rest of the money goes to the Kirton Church Fund.
The more people that join the higher the prize fund and the more money we raise for the church.
Registration forms are available from Fay, please ring 01205 723529, or for more information about Kirton Church Fund please give Fay a ring.
February 2017 Winners
1st PRIZE - £38.75 - TICKET NUMBER: 34
2nd PRIZE - £12.91 - TICKET NUMBER: 61
Swineshead Children's Centre Activities
MONDAYS: Little Explorers 9.30am to 11.00am. (Free & No Booking)
TUESDAYS: Musical Minis 10:00am – 11:00am Pre-school group of fun time music for babies & toddlers – Contact Hazel on 07752 270700 to book or phone the centre as we are running a waiting list of interested (Fee Paying)
WEDNESDAYS: Come and Play 1.30pm – 2.30pm (Free & No Booking)
THURSDAYS: Learning Together Family 10.00am – 11.30am 1pm to 2.30pm.
(Term Time Only – Free & No Booking)
FRIDAYS: Movers and Shakers 9.30am – 10.30am. (Free & No booking)
Health Visitor 1.00pm - 3.45pm Appointments will be sent to parents
Just come along! Sessions run all year round unless otherwise stated.
New Adult Learning Courses: First Aid, Reiki, Food Safety, ESOL, and more; please call the centre.
Mum, Dad, Carers and Grandparents are welcome to every session.
ALL SESSIONS ARE FREE & NO BOOKING IS REQUIRED
Opening Hours: 8.30am - 4.30pm, Monday-Thursday / 8.30am - 4.00pm Friday
St Marys School, Abbey Road, Swineshead PE20 3EN
Telephone: 01205 820331 or email: BostonEnquiriesCCNetwork@lincolnshire.gov.uk
Keep up to date with our events and activities by visiting:
www.lincolnshire.gov.uk/parents/childrens-centres/sutterton-swineshead
www.lincolnshire.gov.uk/parents/childrens-centres/boston-carlton-road-fishtoft-rd-old-leake-st-christophers/
We are now on Facebook: Like us and follow us!
Church of Jesus Christ
of Latter Day Saints
Dear Readers, The Church of Jesus Christ of Latter Day Saints has a special fund set aside to help refugees fleeing from war torn countries. We help all refugees from any country. Men, women and children. As you will be aware, many thousands are struggling to survive, living in tents or on the streets in sub zero temperatures.
We are particularly keen to help the worryingly large amount of unaccompanied children by providing them with warm clothing, sleeping bags and boots etc. For the past year we have collected a van load of aid a month and sent it directly to the warehouse in Calais where it is immediately distributed to those who are in dire need.
My sister Jean volunteers in the camps in and around Dunkirk and she keeps us up to date with what is needed for whom and where. If anyone would like to contribute to our next consignment of aid leaving on March 12th we would be most grateful for any of the items listed at the end of this message. Even if you can provide only one of the items I will gladly collect it from your home, alternatively, you are welcome to leave it at my house 30 London Road, Kirton. Directly opposite the Black Bull. My phone number is 07863 069162 . Please rest assured that every single item goes directly to people who are desperately trying to keep warm.
These are the items that we are most in need of: Sleeping bags, blankets. Roll mats. Hot water bottles. Warm coats for men and women. No XL sizes. Warm coats for children. All sizes. Snow suits/ coats for babies. All sizes. Walking boots. Sturdy shoes. All sizes. Scarves, gloves and hats. All sizes. Socks ( please may these be new ) All sizes. Long johns / thermal underwear ( please may these be new ) £2 in ScoobyDoo, preferably dark colours. No XL sizes. Wind up torches. Hand warmers. Firelighters 50p box in Costcutter or Home Bargains.
This is a small example of what we send. If you would like a more detailed list, please let me know. Any help is greatly appreciated.
Liz Challis
Letters to the Editor
Dear Mr Chapman, I am writing to discuss the footpath which is part of the Windmills development on Boston Road and the comments with reference to this in the March edition of Kirton News.
The Parish Council did consult planners at the Highways department ref. it's position on the development. A site meeting with Highways officers and the developer took place. The Parish Council were told that the position of the footpath was decided purely for safety reasons ie. when members of the public cross the carriageway (including the blind pedestrians).
The new footpath was constructed on highway land and no part of it affected Parish Council land. As a Parish Council we have to respect the Highway Planner's decisions where public safety is concerned. The new footpath could also be used as a cycle path in the near future. We do not feel the visual effect on the cemetary is greatly changed by the construction of the new footpath.
The Parish Council maintain the area of grass at the front of the cemetary. This does not give us any right of ownership on that piece of land.
With regards
Cllr. Alan Lee - Cemetary Committee
Kirton Kids Club
How wonderful to finally be able to take the children outside to play again!
The snowdrops in the Church yard next to the Youth Centre – a reminder of what time of year we are at – SPRING.
The children love to be outside and the days when it is warm enough they have been able to take scooters, skateboards and balls out and enjoy fresh air and sunshine.
The astro turf and play area enough until the grass it cut and they will be able to use the whole space again.
Kirton Kids Club is an Ofsted registered charity that runs for parents and carers to use before and after school for their children.
We open at 7.30am to school and after school to 5.45 pm – enabling children to be well cared for, happy and content each end of the extended school day.
The children are involved in numerous activities, games and art.
They enjoy breakfast in the morning and a 'high tea' in the afternoon session – included in the price. Breakfast club £3.50 per child per session and after school £5.50 per child per session (with a 10% discount for related siblings attending the same session).
This term the children have both Easter and Mother's Day to look forward to when they get involved in lots of lovely arts and crafts that they get to take home.
The run up to Easter includes an Easter egg hunt – which is always so much fun and ends with lots of chocolate!
If you would like more information about sessions or would like a free 'taster' session for your child/children – please just call in or phone 07583 762072 and we will arrange for you to come in and stay with your children to see how much they enjoy the session.
Kirton Kids Club works in conjunction with Kirton Primary School – children are picked up and escorted to the school – key stage 1 children are picked up and delivered to their classrooms by club staff.
Website: kirtonkidsclub.co.uk
Email Address: kkc09@live.co.uk
Royal British Legion
Kirton and District Branch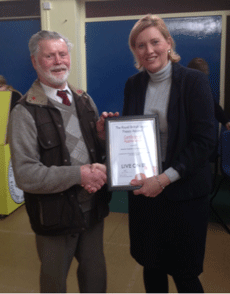 On Friday the 24th February, The Royal British Legion Kirton and District Branch were invited to the morning assembly at Sutterton Fourfields Primary School.
We were there to present a Certificate of Appreciation to the school from the head of the poppy appeal. This was in appreciation of the effort that the children put in, collecting for the poppy appeal over the last 16 years.
Afterwards it was a privilege to sit and watch the children receive certificates for their achievement over the week and how well they behaved. They also sang the school song and l am sure all of their parents must have been very proud of them.
How different to the days when l was at school, when we were called to the front of assembly it was usually to receive the cane for bad behave, how things have change and so much for the better.
Exam Invigilators Required
Hours as required during exam periods (peak time May & June), Zero hour contract.
No experience required as full training will be given, must be observant and willing to help set up and take down the exam room. Be flexible with availability to the working hours.
To apply please send in your CV with a covering letter to Mrs S Illingworth, Thomas Middlecott Academy, Edinburgh Drive, Kirton, Boston, Lincs. PE20 1JS or via email SIllingworth@thomasmiddlecott.co.uk
Successful Applicant will be subject to references and an enhanced DBS. Rate of pay above the minimum wage.
AGM of St. Peter & St. Pauls Church
The annual general meeting will take place in Church at 7pm on the 20th of April 2017. During which the Churchwardens, Treasurer, PCC members, readers and sidepersons will be elected for a one year period.
All members of the community are welcome to attend the meeting, to become one of the above people, or to ask questions, or air their views, after all, its your community Church, please support it. If you wish to put your names forward for any of the above posts please contact Mrs Fay Houltby on 723529 .
From our Local Correspondent
Hello, this month I'll be talking about the new attractions that have been brought to Kirton and the ones that will be coming. One of the places that have been built is the new Jaguar land Rover showroom. This showroom is quite the sight when you drive buy it, showcasing several thousand pounds of cars, this showroom has given Kirton a new look and it looks as though its going to be attracting quite a few people to buy from it. A place that is currently in the process of being built is the new Boston United stadium.
The Jakeman's stadium (York Street) has been home to Boston united since 1933 but as of recently plans have been confirmed to build a new stadium that boasts a new 3G pitch and capacity of up to 5,000. The construction of this stadium has caused a few disruptions but it has created up to 610 temporary construction jobs. This stadium will be very helpful for any Boston united fans in Kirton as the stadium is a lot closer than it was before.
Ukelele Band Concert
If you were Leaning on the Lamp Post outside the Kirton Methodist Chapel on the 18th of March you would have heard the distinctive sounds of Ukeleles being played with passion.
The concert presented by the church was a roaring success... Mr. Wu would have been proud.
The sell out event was enjoyed by everyone, even Auntie Maggie, and proved to be the perfect Remedy for even those Lime House Laundry Blues.
Raising some £500 for Chapel funds the organizers would like to Bless 'Em All who attended. and, clutching their Little Sticks of Blackpool Rock, they are already thinking about the next event.
Even the afternoon tea Turned Out Nice Again! It was certainly one for Val and Rob's Little Snapshot Album
ESOL Classes now in Kirton
With a grant from Lincolnshire County Council a new partnership has been formed in Kirton. The New Life Community Church (NLCC) and Bringing Learning into Communities (BLIC) are working together to offer English Classes at the NLCC Kirton.

BLIC already run classes in Boston and NLCC have classes running in Lincoln, together they can extend this service to the Kirton area and initially the classes will be held on Tuesday mornings from 10am – 12noon. The funding provides the opportunity to run 4 x 12 weekly sessions and any anyone who feels they would benefit is welcome to attend. The classes are not accredited but a certificate of achievement will be given at the end of the 12 weeks.

If you would like to improve your English in a relaxed and informal setting please join us on 4th April 2017. If you are not sure but would like further information please do not hesitate to contact either Neal at the church on 01205 724542 or Lorraine at BLIC on 01205 722726.
My Name is Rhaman Oyedele
Hello, my name is Rhaman Oyedele and I'll be writing a monthly article for you to read. This month I'll be telling you about the transfer embargo, that West Ham were facing with Dimitri Payet during the January transfer window.

For those of you that don't know Dimitri was west hams stand out player last season, but in a dramatic fall from grace, he refused to play for West ham and left for former team Marseille. West ham co-chairman David Gold said he was 'Hugely disappointed' by Payets' actions.

Constant bids from Marseille were made and west ham accepted, as they were more concerned about team morale than one player. The question on everyone's mind now is will west ham be able to cope without Payet?
Garden waste collections 2017/18
Do you want to be in with a chance of getting your garden waste taken away FOR FREE this coming growing season?
All who registered online for the past season's collection service will shortly receive an email with details of this year's arrangements... and the opportunity to qualify as one of ten winners of a completely free service (to the value of £30, equivalent to the annual collection charge for one bin) if they make a direct debit payment agreement.
If you didn't register online last year, or want the service as a new customer, you can still be included in the draw by sending your email address to gardenwaste@boston.gov.uk providing that you sign up by direct debit.
The incentive has been introduced to encourage more to use the easiest, quickest and most economic way for the council to register those who want to take advantage of the service for the coming growing season. Please note this offer is not open to Boston Borough Council employees or its elected members.
The council is keeping the charge for collection, with no increase in 2017 – at £30 for emptying a single bin plus £15 for emptying each additional bin. For those new to the service, or those requiring extra bins, there will be a one-off charge of £25 to buy each bin plus the service charge.
The service will start again on Tuesday, February 28, and run to the end of March, 2018, over 40 weeks (20 fortnightly collections) with a break over the winter period.
Cllr Michael Brookes, the council's portfolio holder for waste services, said: "This service is now well established and much appreciated and I want to thank all those who used the service last year. We are offering it again this year without any increase in cost.
"If you have a garden there are good reasons for requesting that the council makes a kerbside collection of your garden waste. While anyone can still take their own garden waste to the Slippery Gowt tip for no charge, the council's collection service means residents do not have to move dirty waste in their own vehicles.
You can also contribute to the borough's green ethos of recycling garden waste into environmentally-friendly compost."
You can find out more at: www.boston.gov.uk/gardenwaste
Last year's garden waste collections generated 5,000 tonnes of waste sent for recycling into compost.
Residents are reminded that they must not put garden waste in their green or blue bins. This will contaminate waste bound for the Energy from Waste plant near Lincoln or for recycling. Contaminated bins will not be emptied.
Parish Council News
Kirton Parish Council Meeting Minutes
- January 2017
Public Forum
Four residents attended. One Resident reported that the entrance to Dennis Estate floods quite considerably on both. The rain fall does not have to be heavy for this to happen. He also reported that vehicles such as workman's vans churn up the mud at the edges which makes more mud/sludge go into the drains at this point.
The same resident has also been researching the War heroes of the 2 Great Wars. He has, he says, found two new names which should be added to both the War Memorial plus the memorial in the Church.
One resident was concerned that the Persimmon Developers have put a footpath in which he says encroaches onto the grassed area in front of the Cemetery which he says belongs to the Parish Council, plus he said that the footpath has been made wider. Cllr Lee has already met with the developers and the Borough Council to discuss this matter. The grassed area in front of the Cemetery is in fact Highways Not Parish Land, the developer will grade the footpath and re seed it so that it is easier to cut the grass. The footpath is itself going to be extended in the future to the Bungley Lane entrance.
The same resident is concerned as 3 trees to the rear of the Church in the grounds of Rectory House have been hacked right back. Cllr Rylott will contact Matt Fisher at the Borough as the Borough still has responsibility for this area at the moment.
Chairman's comments
He informed members that following the council's complaint to the Police regarding the answering times plus the attitude to some of the call takers on 101, he had visited with Cllr Danby the headquarters in Nettleham. He described the procedures for calls being. All calls taken are answered by 4 operators only. Each call is actioned according to the resources available. There are only 40 Police Officers on duty at all times in Lincolnshire, and 3 of these are armed response based in Nettleham
Cllr Turner welcomed our new councillor, Peter Watson.
The dropped manhole/drain cover on the A16 will result in a road closure on the A16 when it is fixed. When this will happen is still not known.
Receipt of any declarations of interest in accordance with the requirements of the Localism Act 2011, and to consider any written requests for dispensations in relation to members' disclosable pecuniary interests.
Cllr Lee reported he had an interest in item 12 on the Agenda, Town Hall as his daughter is on the committee.
Police Matters
Cllr Turner has been in regular touch with the Police Station. It is reported to be calm in the village at the moment but the Police have been asked to up their patrols of the Park as the nights get lighter.
Correspondence received which the Council are invited to resolve on
a) Citizens Advice Lincolnshire – request for a donation. It was resolved not to donate to organisations outside of the Parish.
b) Prices gathered for noticeboards – consider quotation to purchase new noticeboard.
It was resolved that the quotation that the Council should go ahead with is that of the one from the window company as theirs is suitable for the purpose but not priced as high as those who say they are for Parish Councils/Schools. Clerk to organise fitting of new noticeboard asap.
c) LALC – Council tax referendum principles have NOT been extended to Parish and Town Councils in 2017/18 – although the level of precept is being closely monitored.
d) Lincolnshire County Council – Street Lighting Transformation Project Update
Planning applications: Decided Applications:
B/16/0400 – Erection of a dwelling adjacent to 41 Thomas Middlecott Drive (existing single garage to be demolished) at 41, Thomas Middlecott Drive – REFUSED
B/16/0419 - Application under x.73a for the removal of condition 3 (extensions) of planning permission B/06/0361 to enable extensions and outbuildings to be constructed under the provision of part 1, schedule 2, (class A) and (Class E) of the Town and Country Planning (GPD)(England) Order 2015 – GRANT
B/16/0432 – Erection of a detached garage and creation of a new vehicular access at 283 Willington Road, Kirton – GRANT
B/16/0395 – Application under s73a for the variation of condition 2 (i.e. standard compliance condition listing all plans), condition 7 (e. details of the siting, design and appearance of the switchgear building) and condition 8 (i.e. details relating to the number, design and siting of the CCTV cameras) attached to permission B/15/0001. These amendments include alterations to the layout of the site and the siting/design of the arrays, the installation of 2 transformer stations and an increase in the number of CCTV cameras from 4 to 23 – GRANT
B/16/0407 – Outline application with all matters reserved for no3. Dwellings at Land to the east of 26-34 Boston Road, Kirton – GRANT
B/16/0361 – Part demolition, conversion, extensions and erection of new buildings to form 4 residential dwellings and revisions to the frontage of existing dwelling at 24-26 High Street, Kirton – GRANT
B16/0396 – Retrospective application for a change of use from land for the keeping leisure horses to domestic curtilage (Class C3); retention of single store extension to rear elevation, retention of UPVC timber effect conservatory to rear elevation; retention of stained timber picket fence to western boundary at Red Brick Barn, Drainside North, Kirton - GRANT
Town Hall
The recent requests to the Town Hall Committee were discussed. Further discussion has been requested of the Town Hall Committee.
It was resolved that due to the declining number of attendees at the coffee mornings on a Friday, the meeting place should be the Upsall Room. This will take place in one month.
Cemetery
The boundary hedge has now been cut but the clippings are still on site due to the ground being so wet. It was agreed by the cemetery committee that the contractor could leave them until the weather improves. Clerk to erect notices for visitors to the Cemetery.
Reports for Various Bodies
Cllr Watson reported that a light pole down on Skeldyke had been knocked over but has been made safe.
Cllr Foster reported that the garden rubbish previously reported at Whitbread Lane is still there. Cllr Rylott will chase.
Cllrs Lee and Turner reported other fly tipping that Cllr Rylott will take up with the Borough.
Cllr Rylott reported that the pedestrian rail at Little Side Road has still not been fixed. Clerk to chase.
Parish matters
a) Inspection Rota. Cllr Hannay took the next month. Cllr Hannay was asked to find the 2nd goal post and let the Clerk know when he had located it so that it can be installed at the Park.
b) Reports from committee meetings held since last Council meeting.
Cllr Ransome called a meeting for the 6th Feb for the OAP Xmas Party, the Last Night of the Proms Committee will also meet at the same time as most are on both committees.
The Lone Anglo Saxon Warrior
by Samuel G Wainwright aged 9½
Anglo Saxon warrior clang of armoured shoes on stone
Anglo Saxon warrior in the battlefield alone

Cracks and dints in his gear
The bloody battle lasted a year

Roar! of Vikings still ringing
in his ears Axes and swords snappedhis spear

Battle was really dreaded
Many friends unfortunately beheaded

A dark and deathly atmosphere
Weapons of Vikings still strike fear

Metallic clash of weapons from friends and foes
Brave warriors in their terror froze

After a while they won! Clearly deserving a celebration
Happy cheers spread across the nation

Then all men filled with greed So kind hearted queen handed
out delicious honey mead

Anglo Saxon warrior now having a feast
Anglo Saxon warrior now battle has ceased

Anglo Saxon the Viking army will fall
Anglo Saxon safely in the mead hall

Now the Vikings has bred stronger horses
Oh No! they've come back with stronger forces!

Anglo Saxon boy had a terrible sighting
Another bloody battle and terrible fighting

Now Anglo Saxon warriors come to gether united
And stormed to the Vikings land quite uninvited!!!
The Registers
Baptisms - We welcome into God's family:
Ellie Louse Shuttleworth
Mollie Rose Quincey
Yasmin Olivia West
Weddings - We ask God's blessing on:
Mr Paul Tracey and Katie Jane Tracey
Funerals - We commend to God's keeping:
Mr Derek Martin
Mr George Patrick Hull
Mr David William Jackson