December / January 2009
The Editors Letter
I would just to like to thank everyone that has wished me luck with my new venture of editor of kirton news. I have had some interesting emails of late regarding kirton news. Two of which are from Canada and the USA. They are asking for help with some information they require. Take a look at letters to the editor and and see if you can help.
I love this time of year with the build up to Christmas. Putting the decorations and lights up outside is when the countdown begins for us. I love to see the children stood outside watching the twinkling of xmas lights coming from the garden. To see the excitement in their faces makes it all worth while.
Try not to get too stressed over Christmas with shopping etc. enjoy it!! Make time for your family and try to relax. Just think of your Christmas dinner as a Sunday roast with crackers!! I heard this saying and thought it was just apt.
Well that's all for now. I wish everyone a merry Christmas and an even better new year. Take care.
Catrina Smith
A Family Treat You Can Afford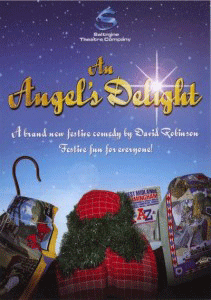 Saltmine Theatre Company appears in Kirton for one night performance of "An Angel's Delight".
Beacon Baptist Church* who sponsored the highly successful visit in summer of "Watoto Children's Choir", have managed to get the equally prominent "Saltmine Theatre Company" to present their new hilarious festive comedy "An Angel's Delight" at Kirton Middlecott School on Sunday 4 January at 6.00pm.
Tickets are can be booked (£3.00 adults and £1.00 children), contact 01205 359280, but should also be available at the door on the night.
About the production: An Angel's Delight by David Robinson – the sequel to his hilarious comedy Three Wise Men and a Baby. St Mary's Literary Society is at it again! This time their over-ambitious director, Marjorie Lockwood, is convinced the journey of the shepherds is in need of some Broadway razzmatazz. Not the natural place you might think to find Eric, the vicar, his wife Doreen and faithful church treasurer, Brian Shepherd. But they don their tea towels, grab a shepherds' crook, put on their tap shoes and head for the hills. The result is a mixture of seasonal fun, festive music and unbelievable routines … a real Christmas treat for everyone.
About the Saltmine: Saltmine Theatre Company is a professional theatre company established in 1985 and is part of the Saltmine Trust. The company is committed to excellence and to producing high quality, relevant material for children, young people and adults. They work in theatres, schools and churches nationwide. At the heart of the company's work is a belief in the power of theatre to improve lives and encourage conversation and discussion about life and Christianity. Recent productions include The Cross and the Switchblade, The Hiding Place , The Emperor's New Clothes, The Screwtape Letters, The Hope Play and Escape
* Beacon Baptist Church meet every Sunday at 10.30am at Wyberton Parish Hall.
Christmas Christian Message
'The Angel said, "Don't be afraid! I have good news for you, which will make everyone happy. This very day in King David's home town a Saviour was born for you. He is Christ the Lord'. Luke chapter 2.
This Christmas time the wonderful story of a child born in a stable in Bethlehem long ago will be re-told in school nativity plays and at carol services up and down the country. Just as has happened countless times over the last 2000 years. So why does this story continue to captive young and old? Is it just part of the ritual of Christmas tradition or has it got something to say to you and me at the end of 2008?
There is no doubt that the story is somehow magical with talk of angels, stars, shepherds, wisemen and expensive gifts. However the story is far more than a ripping yarn, because Christians believe that the baby, born in a manger and called Jesus, is God's own son. But that baby didn't stay in a manger, of course he grew up and as he did he experienced all the feelings we are dealing with right now in our daily lives, vulnerability, anxiety, rejection, happiness and laughter to name a few. We can read all about this in the bible and discover that God isn't distant, an old man with a white beard in the clouds. Instead he knows what it is like to be human with its trauma and joy through Jesus. He wants to be your friend to help us enjoy life in all its fullness.
It says in the bible about Jesus, 'I stand at the door and knock. If anyone hears my voice and opens the door, I will come in and eat with him, and he with me'. Revelation chapter 3.
As you pack away the Christmas things don't put Jesus away too, but open the door and ask him in to be your friend. We know from personal experience there is no better friend.
With love and best wishes to you and your family for Christmas and the New Year.
From the Churches in Kirton Bible Study Group.
www.rejesus.co.uk
www.methodist.org.uk
www.cofe.anglican.org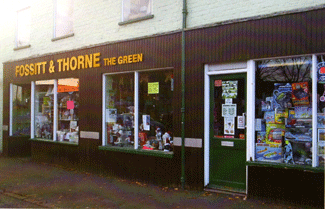 Fossitt & Thorne
Did you know that the Fossitt family have lived in Kirton for several hundred years? They originally had three other shops in the village before the one we all know as the green.
They had a cycle and toy shop where the architects is now, a fishing tackle shop where rush's hairdressers is and another cycle shop on the stag and pheasant corner.
Fossitt and Thorne the green opened 51 years ago and started off as a paint and decorating shop. Mr and Mrs Thorne lived alongside which is now the stationary section of the shop. This expansion happened 35 years ago. The shop has always been part of the Fossitt and Thorne family.
Neil and Lynne Fossitt took over the shop 10 years ago. But Neil has always been involved in the family business. Lynne used to be a primary school teacher at Kirton Primary when it was situated down King Street. She was a teacher there for 6-7 years but left 35 years ago when she started a family. She was also on the parish council up until 18 months ago.
Their assistant Helen Baines has worked in the shop for 13 years. You are sure to get a friendly service when you visit.
They are always helping the local village in any way that they can. If there is a local group or organisations that are holding an event, the majority of the time you can purchase your ticket at Fossitts. They also sell Kirton news and Parish magazines for Sutterton and Wyberton.
Neil and Lynne are always adding to their extensive range of goods for sale. In the last 8 years they have extended their kitchen ware and 2 years ago they started a fabulous costume jewellery range. New for Christmas this year are hand painted glass baubles. These baubles are brand new only being produced a few months ago. So be the first to get some!! Lynne also told me that coming soon she is starting to stock fancy soaps and bath products. So relax and treat yourself to a good pampering.
If you want to buy a souvenir of Kirton you can get tea towels, magnets, pens and coasters all featuring local scenes. Neil and Lynne would also like to mention that every year they do a Christmas club. You can look through a catalogue and place an order or reserve something already in stock from the shop. You then can pay week by week and they will hold onto the item until Christmas. You can choose from an extensive range of toys and gifts for the whole family.
So pop into Fossitts the green and you'll be amazed at what you can find. Whether it be a christening/wedding gift, fancy goods, stationery and cards, diy and gardening items. You are sure to find it here and get a friendly service too.
If you would like an article on yourself or your business, please do not hesitate to contact me - Catrina.
Around the homes - News from the Chestnuts
The building work has reached a stage, where almost every part of the building is affected. The only entry and exits of the premises is via the two side doors at opposite ends of the building.
As there is a delay in delivery of the new lift, a stair lift has been installed on one stairway. This has enabled the contractors to disconnect and remove the old lift, and carry out the construction work in that area.
The programme of fitting new bathrooms and heating systems to individual flats is going to plan and now nears completion. All baths have been replaced by large shower units, together with new basins and toilets and fittings. After painting, a new floor completes the unit.
Because of the work necessary in each flat, Mayflower decided to move 5 of our residents to Woodlands Court for a short period. They all speak very highly of the attention they are receiving at Woodlands Court .
Mayflower has laid on lunches at D'Eyncourt for all the residents of The Chestnuts on the 8th.15th, 21st, & 28th of October. Some of our residents staying at Woodlands Court were brought over for each occasion. The meals were really enjoyed and much appreciated.
We regret the passing away of Bryan Yeomans on October 10th. Our sympathy goes out to his wife Peggy, who has nursed him through a long illness. The funeral service was conducted by Father David Carney on the 24th, and afterwards at The Four Crossroads.
There has been three birthdays in October, two being ladies and John Horry on the 30th.
We wish them all good health throughout the coming year.
Tony Mathieson.
Kirton Kids Club
October simply whizzed by for the children and staff at the club. The children took part in lots of arts and crafts relating to Halloween including carving pumpkins – some of which were nearly as big as the children!
They also drew and coloured pumpkins, which adorned the club walls along with all manner of Halloween decorations. They ended the half term with a Halloween themed party – with games prizes and party food.
During the month the children went on walks around the village while the weather was good. Conker hunting being just one of the outings they enjoyed. After collecting them they all did a count up on the hall floor and the amounts ranged from seven to nearly ninety!
Mrs. Clarke made 'conker friends' with the children – if you have never seen a conker dressed up with hair eyes and mouth – then this would have been a first for you. The children had a wonderful time.
The club and staff took a break over the October half term and have all returned refreshed for the run up to Christmas. The children are already buzzing with the though of the busy time ahead and the many exciting activities during the Christmas term.
If you wish to book a place for your child for either breakfast (7.30 am to school) or after school (to 5.45 pm) or just want a look around the club – please phone 722426 during club hours.
We still have a few places left for this half term but you need to book early. Breakfast club costs £2.50 per child per session – including hot breakfast. After school cost £4.30 per child per session – including a snack and drink. (There is a 10% deduction for related siblings attending the same session).
The club is open to all children in the Kirton, Sutterton, Frampton and Wyberton area. Pick up is from Kirton primary school – or children can be dropped off at the club during sessions.

Carolyn Sharpe - Manager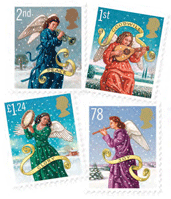 We need your stamps!!
The Butterfly Hospice is appealing for used postage stamps. Whether it is one single stamp or a whole bag, we want them. All money raised will go to help build and run a new hospice in Boston behind the Pilgrim Hospital.
So with christmas coming up, cards will be arriving thick and fast, so spare us a thoughtand save us your stamps. Saved stamps can be dropped off at: TButterfly Hospice Charity Shop- Emery Lane Boston, Tony Deaton's – Barber Shop, Kirton and Fossit & Thorne - Kirton
Thank you & Merry Christmas
Paula Deaton (Butterfly Hospice Trust)
Letters to the Editor
Dear Catrina Smith, I have just discovered your Kirton News online, and your online Archives of back issues. I note some mentions of Bozon Hall:-
April, 2007 issue, which states that the last remnants of Bozon Hall were demolished in 1977; however the Feb., 2008 states that: "The present Bozon Hall stands on the site of a moated mansion which was the property of Thomas de Branstoun." Do you know when it was owned by this individual?
Do you have any records or illustrations which mention or show Bozon Hall before it was demolished? I am very interested in the medieval history of Kirton, in particular of the Manor of Kirketon at Kirketon-in-Haylaund (modern Kirton), in the Wapentake of Kirketon, and of Bozon Hall.
Can you help me at all - Sincerely,
Jonathan Kirton, Canada
Ms. Smith, It was a tremendous surprise to find the Kirton News online! Let me introduce myself. I am Elsie Kirton born in New York to parents of West Indian heritage. My dad was an Episcopal/Anglican priest in New York and North Carolina.
Could you please share some background of the area that this newsletter is published? I also read that another Elsie Kirton was instrumental in the publishing of this news document. I would like to communicate with her, if possible. Growing up in North Carolina, I was always the only Elsie in my school and we were the only Kirtons in Wilmington.
I look forward to hearing from you.
Elsie E. Kirton - Maryland, USA
If anyone can help with any information please let me know. My contact details are on page 2. Thanks - Catrina (Editor)
A healthier lifestyle today

Are you looking to lead a healthier lifestyle? Support and encourage you in setting and achieving your goals to improve your health and well-being? Do you need help and support to make a positive lifestyle change?
A team of Health Trainers, funded by NHS Lincolnshire and local GPs, will soon be able to give you help as well as directing you to services in the Boston Borough area. The team are employed by the South Lincolnshire CVS.
The Health Trainers will work with individuals who want to adopt healthier lifestyles but who currently have little or no contact with health-related services. In addition to completing their training, they are seeking local venues to meet with clients and increase their knowledge of the local community.
A series of informal drop-in sessions has been organised for the Kirton, Swineshead and surrounding areas which are listed below:
The Kirton Town Hall centre, every Friday between 9-30am to 11am.
The Swineshead Pre–school, every Wednesday between 2-30pm to3-30pm
To find out more about the project or if would like a Health Trainer to visit your group or organisation, please contact: South Lincs CVS on (01205) 315926. Alternatively you can contact Mike Peberdy on email Mike.p@southlincscvs.org.uk or alternatively call him on 07532 – 358309.
My woolly hat by Gladys Seabrook
I really love my woolly hat,
It keeps me nice and warm,
It shields me from the bitter wind,
And guards me from the storm.

I pull it down upon my head,
Each time it looks like snow,
Then when I go out in the cold
I feel an inner glow.

I walk along the country lanes,
I walk the streets of town,
And when I wear my woolly hat,
It never lets me down.

It is not smart as it once was,
I've had it now for years,
I cannot count the many times,
It covered up my ears.

Without a hat my head turns cold,
My ears get chapped and blue,
I shiver and I shake a lot,
And end up with the flu.

In bed I never fear the cold,
Throughout a frosty night,
I just put on my woolly hat,
And know I'll be alright.
Local Policing
There have been 13 reports on Anti Social Behaviour in Kirton for October. These are as follows: 7 reports of inconsiderate behaviour, 3 report of vehicle nuisance, 2 reports of inappropriate use of fireworks and 1 report of Tthrowing things.
The Neighbourhood Policing Team in partnership with a local Fire Safety Officer visited Kirton Middlecott School and Kirton Primary School to carry out Firework Safety talks to pupils. This covered all aspects of Firework Safety and the Law.
Neighbourhood Engagement Cards
Neighbourhood Engagement Cards can now be found at the Post Office in Cost Cutters, Boston Road. This will give residents the opportunity to raise any concerns or issues within the local community. Can residents please write their contact details in the section provided so that officers can then contact you regarding the issues or concerns raised?
There is a box available for you to post these cards on the counter at the Post Office. As the festive period is now fast approaching below is some advice to help prevent crime & to make sure that the festive period is enjoyed by all.
Always remember to lock everything away in the boot of your car. Remember it might not be valuable, but how does a potential thief know that? Remember that thieves will be on the look out for presents so don't leave these under the Christmas tree in view of windows. If you are at home or you are away, remember to keep back doors locked and use your window locks.
If anyone has any issues or concerns, please do not hesitate to contact me at: Kirton Police Station, Station Road on 01205 722002 or alternatively you can e-mail me at adam.eden@lincs.pnn.police.uk
PCSO Adam Eden
Boston Neighbourhood Policing Team - South
The Registers
Baptisms - We welcome into God's family:
12th October - Amelia Jane Ambler
12th October - Lilly Anna-Marie Patchett

26th October - Chloe Louise Crowfoot
26th October - Willow Grace Rush
Weddings - We ask God's blessing on:
11th October - Jasper Robinson
11th October - Cindy Louise Eaton
Funerals - We commend to God's keeping:
10th October - Alan John Fuller
22nd October - Joan Marion Elizabeth Houghton
24th October - Bryan Edward Yeomans
30th October - Brian George Early
3rd November - Margaret Cecelia Freeman
4th November - Kathleen Jow
5th November - Iris Gwendoline Walker
12th November - Leslie Cook
14th November - Geoffrey Bates
18th November - Francis Louisa Brotherton
Kirton Youth Club: A Members View
The youth's are really enjoying learning how to play the drums, electric guitars and keyboard. We have some tutors from sound lincs that are coming in for the next 16 weeks to teach them all of the above instruments.
Due to the bad weather of late we haven't been able to enjoy our outside sports equipment. So we are concentrating on indoor activities at the moment. We will be baking things for xmas and having a xmas party on the last wednesday of youth club which is the 17th December.
We are still appealing for volunteers so if you would like more information about the club. You can contact me on 07804 241339.
Catrina Smith