December / January 2022
The Editors Letter
I have just returned home from the Rememberance parade and service. I think (but maybe I always say this) that this was the biggest and best year I've ever seen. The village was packed, the roads were closed (as they should be, thank you to the volunteers who help with this) and the children involved were so well behaved and respectful. Once again, we did the village and the fallen very proud.
A reminder of events happening in December: The Town Hall Christmas Fayre will take place on Saturday 4th December and St Peter and St Paul's church will be having their wonderful Christmas Tree Festival which also opens on Saturday 4th December (more details on both events inside). The Old King's Head will be having their Christmas Fayre on the 11th & 12th December. The Methodist Church are also holding many events and services leading up to Christmas (details inside).
There may have been a few of you who haven't received a copy of Kirton News through your door yet. Please bear with us, luckily we have had such a great response from new distributors willing to take on various routes throughout the village so normal service should resume very soon! Thank you as always to everyone who helps to deliver issues for us.
In this editions 'Meet the Locals' feature, we're talking to the proprietors of Everest Bar & Grill! Turn to page 12 to find out more! We're also looking for more people or businesses to take part in Meet the Locals for 2022, please get in touch if you're based in Kirton!
Please get in touch with any letters, announcements, recipes or reviews at Editor@kirtonnews.co.uk.
I wish you all a very Happy and Healthy Christmas. See you in 2022!
Rachael
Meet The Locals
This month, we're talking to the proprietors of the new Everest restaurant in the centre of the village!
1) Since the restaurant opened, have you had positive feedback from everyone so far?
Yes we have, the feedback has been great, thank you very much to all.
2) What dishes do you serve in the restaurant, speciality dishes especially?
We specialise in Nepalese and Indian cuisines such as Himalayan Goat Curry, Everest special chicken lamb and Chicken Naga are the popular ones.
3) Are there any special offers or Christmas specials you can tell us about that are coming up?
We do a 10% discount on all collection orders throughout the year and we will be having Everest special Tandoori Turkey Tikka with mixed mango berry sauce during the festive period!
4) Do you cater for allergies and gluten free diets?
Yes we do cater for all diets, we have a allergen chart menu at the restaurant which anyone can see.
5) How can people get in touch if they wish to order or book a table?
You can WhatsApp the restaurant and visit our Facebook page. We also have a website where you can book a table (we will be having an online ordering system coming very soon). Or please call the restaurant on 01205 722772. Our opening times are Weds - Mon 5pm to 10pm (Tuesday closed).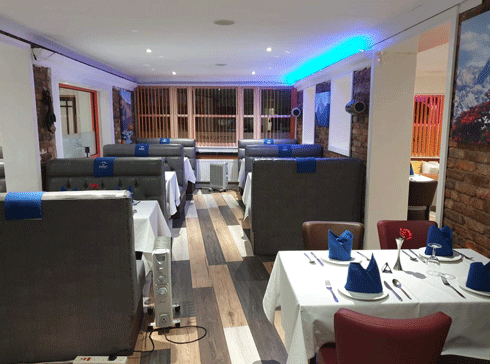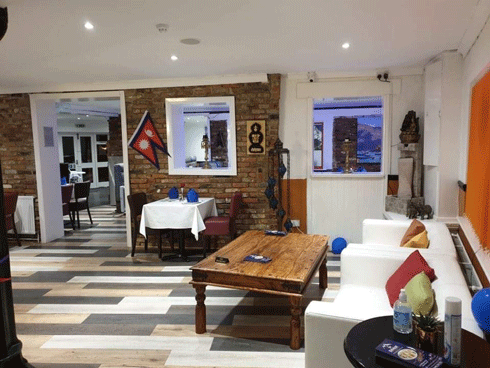 Kirton Kids Club
We are coming up to a very busy time of year for the children. The whole place will be glittered ready for Christmas.
Lots of arts and crafts, games and fun, ready for Santa to come calling.
We would like to thank Kesh's for their kindness in putting out a charity box for the club in the post office.
They have helped raise over thirty pounds, which will be put towards games or equipment for the children to use in the sessions – thank you again.
The Kids Club have a few places available if you would like before or after school childcare.
Just phone 07583 762072 for more information.
Breakfast club is £4.00 per child per session and after school is £6.00 per child per session including breakfast/snack and drinks.
The Hospice Tree elves are back!!
Bringing Tree-cycle 2022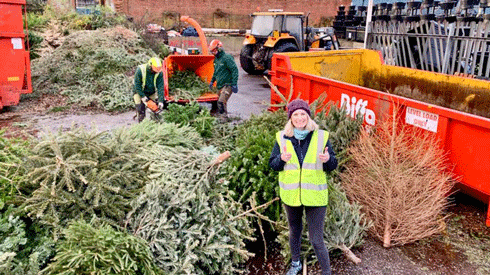 The St Barnabas Hospice Tree-cycle will launch once again, which will see staff and supporters of the Hospice driving across Lincolnshire to collect and recycle Christmas trees.
Let's face it, the last thing you want to worry about once the festivities are over is disposing of your Christmas tree. But don't worry, teams from St Barnabas Hospice will be out and about in January, collecting trees. For a suggested donation, their team of cheeky elves will collect your tree, chip it and recycle it. It's a win for you, the Hospice and the environment!
St Barnabas will be collecting trees from Saturday 8th January 22 and will accept tree registrations until Tuesday 4th January 22, or until they reach capacity. We are asking members of the public to leave their trees in a clearly visible and accessible location on the kerbside if possible, please
In order to register please visit our website where you will be able to see a list of postcode areas covered. This year, the Hospice is hoping to raise more money than ever before from the Tree-cycle. Their aim is to reach a £30,000 target, which would cover the cost of running the dispensary so around 400 terminally ill inpatients can access pain relief medication next year.
To register for Tree-cycle, visit www.stbarnabashospice.co.uk/tree-cycle.
Unfortunately, we can't collect in every area due to capacity, but please do get in touch if you would like us to collect in your area and know of a wood chipping company or van driver who can help with this. Contact Rebecca Hooton at fundraising@stbarnabashospice.co.uk or 01522 540 300.
Thank you so much for all your support throughout a very challenging 2021, I am looking forward to a more positive 2022!!
Merry Christmas to you all …..
Rebecca Hooton
Senior Corporate and Community Fundraiser
M • 07825 713666 / 01522 540300
StBarnabasHospice.co.uk
Kirton Church Fund
A both winners again this month have won before. Congratulations to them both.
You may have noticed that the prize money has gone up. This is because we have
3 new members who joined in time for the October draw – welcome aboard. This now makes 49 numbers currently taking part. I have checked back and this time in December 2019 we had 52 numbers in the draw so we are still down on previous numbers and have plenty of room for new members. There is no upper limit on how many can take part.
There is still time to join the Kirton Church Fund monthly draw in time for Christmas. Wouldn't a Christmas win come in handy? There is a very good chance of winning. Anyone over 18 may take part. Just give Fay a ring for a registration form (01205 723529)
You can join at any time during the year at £5 a number per month and therefore £60 annually, £30 for 6 months and £15 for 3 months. You can of course pay the £5 monthly if you wish.)
The prize fund each month is 1/4 of the money taken each month. The rest of the money goes to the Kirton Church Fund.
The more people that join the higher the prize fund and the more money we raise for the church.
The November draw winning numbers will be printed in the next Kirton News magazine in February.
The December draw takes place on Sunday 19th .The winning numbers for December will also be printed in the February magazine.
Talking of Christmas, I would like to wish you all a very happy one and also my very best wishes for a happy, healthy and especially lucky 2022.
September 2021 Winners
1st PRIZE - £45.94 - TICKET NUMBER: 60
2nd PRIZE - £15.31 - TICKET NUMBER: 78
Data protection. All information (name, address and phone number) of Kirton Church Fund members is held solely for the purpose of managing Kirton Church Fund and is not passed on to any other organisation or used for any other purpose.
Glenys Patricia Carter 1945-2021
Mr Carter and Family would like to say Thank You to everyone who came to say their goodbyes to her passing, 18.6.21. Thank you all,