July / August 2010
The Editors Letter
Hopefully summer is finally here!! There is a lot going on in Kirton and the surrounding villages this month.
Take a look inside and see if any appeals to you. From concerts to galas there is surely something for everyone.
Please note this is a double issue this month your next village mag will be out for September so I wish you all a great summer.
Take care
Catrina
A Roam Through Roman History:
Hadrian's Wall National Trail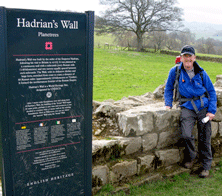 My £500 fund raising walk took place during 7th to 12th April 2010, when, together with an old Sleaford friend (Howard Sanders) I spent 6 days walking the 84 miles from Wallsend on Tyne, via Carlisle to Bowness on Solway, the full length of Hadrian's Wall.
This route became a National Trail in May 2003. These are all well signposted, served by good guidebooks and also by internet walking sites. One of the latter is Sherpavan, which arranges baggage-transfer from door to door each walking day, and lists every available stopping place, B&B, and farmhouse accommodation etc.
It was from this website that we set about choosing places about 14 miles apart (to give us a walk of 6 days), and began making our bookings in January 2010.
So we started our journey thus: Train from Boston to Newcastle upon Tyne (Advance ticket with Senior railcard: £10-60 !) Spent first night in Hadrian Lodge hotel near the modern visitor centre of Segedunum, the excavated Roman fort at Wallsend on Tyne.
Our daily walking sequence then became: 15 to Heddon on the Wall (Houghton North Farm B & B), 17 to Chollerford (Greencarts Farm B & B), 11 to Steel Rigg ** (The Twice Brewed Inn), 14 to Banks ** (Scarrow Hill House B & B), 14 to Carlisle (Abberley House Hotel) and 15 to Bowness on Solway.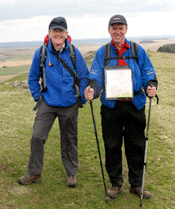 Here we were met by our wives who had driven up by car, and we all returned to the Carlisle hotel for the last night. The central two days (**) saw the best-preserved parts of the Wall and its Milecastles in the wildest and most spectacular scenery of the Northumbria National Park, and with the steepest ascents/descents. Apart from Tyneside and around Carlisle the Trail did follow most of the exact line of Hadrian's Wall.
We were truly surprised about how successful this program was. Any long distance walk uses a lot of "fuel", and our meals were superb. We set off each morning on The Full English Breakfast, and most days we bought packed lunches (essential for the "wilderness" days) otherwise on days 2 and 6 we had lunch at a welcoming pub. Our B&Bs were very friendly and comfortable, and either cooked us a filling evening meal or recommended the local pub.
We were both 66 years young and reasonably fit (Howard had played squash and golf; I had enjoyed road-running during the past 25 years)
But we trained very seriously over the winter with long walks on the sea bank MacMillan Way, the Viking Way and several 12 to 14 mile hilly yomps in the Wolds on rainy days! In early March I reached my target of being able to walk on three successive days without major discomfort (somewhat assisted by Ibuprofen…)
I fully expected us to encounter heavy rain and headwinds (April on Northern hills, walking Westwards…?) So you can imagine our great surprise at the unbelievably warm and dry weather during our walk. It never rained on us, and by day 4 we had packed away the cold/wet weather gear and walked in Tee shirts (plus sunblock cream). We encountered relatively little mud and my one small toe-blister, acquired on day 2, was successfully treated with Compeed!
Nevertheless we DID go fully prepared, and I carried 5kg in my daily rucksack comprising: water, coffee, food, waterproofs, spare warm clothes, guidebook, map, compass, whistle, GPS, first aid kits, camera, and mobile phone. An extra 10kg were moved on by courrier.
My decision to raise charity funds by this walk was prompted by my dear daughter-in-law who has very mild MS; and Howard was supporting his wife's (Guillain-Barre Society) charity.
Back in 1989 I had raised about £400 for MS in Colchester by running the London Marathon (in 3hs 54 mins).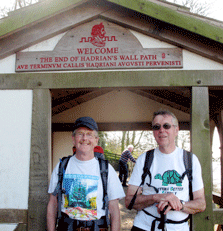 I am very grateful to the many neighbours and friends who have so generously contributed to this good cause, and especially to my wife's Kirton Ladies' Luncheon Club, Frampton WI, and Frampton Gardening Club.
Our Hadrians Wall Walk was a most enjoyable and memorable experience; I can't wait to return and spend more time visiting the great Roman forts we passed on our tight schedule, like Housesteads, Vindolanda and Birdoswald. The absence of blossom and leafy trees in that April Northern landscape was offset by the abundance of energetic newborn lambs everywhere, and the Spring sunshine did cast an unforgettable golden glow over those rolling Northern hills, helping us to forget our aching legs.
Ray Harding
Gardening Tips for July
July is a time when you can sit back for a moment and enjoy the fruits of your labor in the garden. While there are still other ongoing tasks to perform in the garden, your primary concern will be assuring an ample supply of water for your plants.
Here are a few July gar.dening tasks and projects that you can do to help keep your garden looking it's best for the rest of this season.
Watering the Garden
The amount of water that your garden will need is going to depend on the weather conditions in your area. The primary rule of summer watering is to water thoroughly and deeply each time and to allow the soil dry out between waterings. Deep watering will allow the plant's roots to grow deeper, where they are less likely to dry out, as well as the added benefit of anchoring the plant into the ground better. Light, surface watering actually wastes water, because the water never actually reaches the root zone of the plant, and the moisture rapidly evaporates from the top inch of soil.
The best way to tell if your plants are receiving enough water is to take a trowel or shovel and dig down a few inches. The soil should be moist at least 3 or 4 inches deep to insure that the water is reaching the root zone of the plants. Of course, if you planted drought resistant plants in your garden, you won't have to water as often, but the principal of deep watering still applies. As the weather dries out, your container plants may need daily watering, especially if the pots are exposed to the drying sunlight. Push your finger into the soil in your container plantings at least once a day (more often on hot, dry days) to feel for moisture and be certain that plants are getting enough water. Apply water until it runs out the drainage holes.
Try to do your watering during the morning hours so that the leaves can dry off a bit before the hot sun hits them.
Evening watering is sometimes acceptable if the temperatures are warm enough to insure that foliage dries before the temperature drops at night. (Wet foliage makes plants more susceptible to fungus and disease.)
Perennials, Annuals and Bulbs
Continue to dead head (remove dead flowers) your annuals to encourage continued blooming. If your annuals have died off, pull them out and add them to the compost pile. Replant that spot with hardy annuals or perennials, such as Pansies, Calendulas, or Armeria.
Get a second bloom from faded annuals by cutting them back by one half their height, then fertilize them with a liquid 5-10-10 fertilizer.
Roses will need to be fertilized each month through the summer. In colder areas, allow shrub roses to ripen by discontinuing feeding them at the end of the month. Fertilize container gardens regularly with a liquid all purpose plant food.
Shrubs and Trees
Summer blooming shrubs should be pruned for shape after they have finished flowering. Remove any dead or diseased branches.
Fertilize flowering shrubs like Rhododendrons, Camellias and Azaleas immediately after they have finished flowering with a 'Rhododendron' or 'Evergreen' type fertilizer.
Dead head the developing seed pods from your Rhododendrons and Azaleas to improve next years bloom. Be careful not to damage next years buds which may be hidden just below the pod.
Lawn Care
Contrary to popular belief, a brown lawn isn't necessarily a dead lawn. Grasses go dormant in times of drought, but will quickly return to life with the fall rains. If a lush green lawn is important to you, and you don't mind mowing, water it regularly, and deeply. If a water shortage is expected, or you hate tending to grass, you may choose to just let your lawn go dormant, and water it as seldom as once a month.
Raise the cutting height of the mower. Taller grass cools the roots and helps to keep the moisture in the soil longer. Avoid using fertilizers in hot, dry weather.
Summer holiday fun
The Churches in Kirton present Summer holiday fun Children's Workshop for 4 to 11 year olds.
On Thursday 29th and Friday 30th July from 10am until 2pm on each day.
Come along for crafts, games, songs and drama. Admission is free. Please bring a packed lunch but drinks will be provided. For more details or to be book a place contact: Sheila 722701 or Jonathan 725055.
Family Film Club
On Saturday 31st July, doors 1:30pm, 2pm start. Percy Jackson & the Olympians: the Lightning Thief (PG). Come and see the film on the big screen in the schoolroom. Tuck shop, coffee, popcorn. Both events are at the Methodist Church, London Road, Kirton.
Letters to the Editor
Dear Catrina
I read with interest regarding the couple returning from Australia, it was very sad especially going to live in the most expensive City over there.
We went over to OZ for our 30th wedding anniversary to visit friends for a month in 1998, and must say were ever we went around the Brisbane area which included the Gold Coast. We were very impressed with the low prices of many things, and it's sad we did not go over when we were in our 20s like our friends who introduced us did, they got on swell, including buying their first home.
We do agree though Australia is a super place but, when asking our friends to come for a week in Sidney they refused immediately stating it's the most expesive place to go, and so many tourist spend their time there, that is why it's expensive.
What a wonderful time we had being shown around, and so many wonderful Zoos ect to see, and the shopping areas are WOW, always so clean, and yes! people were so friendly, and shopkeepers always saying, have a nice day, pity they do not do the same in this country.
Looking at the magazine we find it very good to read although my wife reads it more than I have, but I will in future.
Mr Stainton
Good morning
I am currently adding the final touches to my PELL family tree. My great grandfather Joseph PELL was born in Kirton, Lincs in 1856-1857. I wish to purchase a copy of his birth certificate from the General Registers Office, however, I am unable to do so without details of his actual birth date on the official records. There are several registrations listed for Joseph Pell 1856 and 1857. Unfortunately they do not indicate the parent's names which makes it extremely difficult.
I have the details of his christening as per the attached document which indicate the specific date of 18 May 1856 in Kirton in Holland, Lincoln, England. The name of his parents shown on the record are correct.
I have also obtained the official record of the period he served in the Royal Marines 1877-1881. The registration form lists his age as 19 yrs 10 months on 05 Feb 1877. This would make his birth around Dec 1856-Jan1857. This of course conflicts with the date christening record. Perhaps in that era, people did not know what their actual age was!!
Could you kindly advise me of a contact person who may be able to check this information to see if the actual DOB for Joseph PELL is shown on the Kirton Parish records?
I would be most grateful for your assistance.
regards
Lorraine (lorraine_pansini@yahoo.com.au
Kirton Kids Club
The wonderful weather has meant most evenings have been spent outside for the children.
They enjoy numerous activities including sports, scooters, skateboards, role play, construction and even sand castle making!
They can eat their snack outside too if they wish or enjoy the cool areas inside the Youth Centre, chill and even do their homework should they so wish.
This years school summer holidays the club will now be open for the three weeks of 9-13th Aug, 16-20th Aug and 23-27th Aug. There is a slight change in the weeks we are running but we hope that the weeks in the middle of the holidays will be more accessible for children and their parents.
The most exciting part for Kirton Kids' Club is that these holiday sessions are being 'sponsored' by Kirton Middlecott's extended school provision!
This means we can now offer places at a reduced price for the children booked in.
For the three weeks of the summer holidays, sessions will now be £10.00 per day per child!
There will be sixteen places per day for the whole three weeks. So if you wish to book your child/children in for any of the above dates please book early or risk disappointment. (Book on 722426 in club hours).
There will be numerous arts crafts, games, activities and trips every week.
In fact thanks to the extended schools provision – the children booked in will enjoy two trips out a week as well as all the usual making, baking and taking activities we offer children.
If you would like any more information about these dates/sessions please ring the above number. We will be only too happy to update you.
The Mothers Union
On THURSDAY 22nd July we are having our 'summer outing' when we hope to charter a Spalding water taxi for a trip to either, Springfields or down the river to Crowland. This will be an afternoon outing with tea for members and friends. Also in July there is an Area ' Craft and Meditation Day' at Long Sutton Starting at 10.30am and finishing at 3.00pm.

August is our holiday month but on the 9th we celebrate Mary Sumner Day, our founder's commemoration day.
Helen Airey
Band Fest
Do you play in a band? Do you want to win the local Young Band Of The Year Competition? Brand new competition starting this year to find the best young pop band in the area. Enter your band now or for more details ring Gary on: 01205 722380.
Congratulations
Our very own village brass band marked its 140th anniversary with a celebratory concert in the Parish Church on Saturday 15th May. Kirton Band was formed in 1870 and has been active ever since, playing at many important events in the life of our community. This included accompanying a Kirton soldier, Sgt Harold Jackson, from the station to the parish hall for a civic reception. He was being honoured after being awarded the Victoria Cross. More recently the Band's 'Last Night of the Proms' in the Town Hall has become firmly established in the village's social calendar.
The Parish Church was packed with a large audience of around 300 for the concert. The audience included the Chairman of the parish council, Coun. and Mrs. Lee, the Mayor of Boston, Mrs. Maureen Dennis and Mrs. Joan Ashton, Deputy lieutenant of Lincolnshire. The Band's Musical Director Mr. George Brown shared the baton with guest conductor, Professor Philip Wilby. The programme was varied including music by Abba, a tuba solo 'The Bare Necessities', music from the 'Pirates of the Caribbean' film and familiar classics including the traditional welsh air 'All through the Night'. The first half ended with an item composed by Professor Wilby especially for the occasion and entitiled 'March: The Kirton 140'.
The audience were also entertained by the Band's junior section who played items including 'Batman' and the 'Wallace and Gromit' theme. The Youth Band continues to go from strength to strength under the leadership of Mrs. Julie Key.
The proceeds of the evening totalled £1,000 and this sum was generously donated to the 'Action for children' charity.
George Brown thanked the Parish Church authorities for allowing use of their building free of charge, also the Methodist Church who provided tea for the Band and the Parish Council who provided additional seating. It was very much a village affair.
The Band should be congratulated for a well organised and fabulous evening of entertainment. They are without doubt one of this village's great assets.
The Band rehearses in the Methodist Church schoolroom, London Road on Thursday evenings from 7:30 until 9:30pm. The Band is always keen to hear from experienced players or enthusiastic learners.
Are you interested in becoming a
Registered Childminder?
The National Childminding Association (NCMA) is currently looking to recruit new Childminders in the Kirton, Kirton Holme and surrounding local villages to help meet childcare needs.
Do you like working with children and want to work from home and be with your family? Then have you thought about becoming a Registered Childminder?
To find out more about Childminding come along to a free Childminder Information Session delivered by NCMA at Sutterton Children's Centre on Friday 16th July 2010 from 10:30am to 2pm. For further information or to book your place as required, please contact Jenny Sullivan, NCMA Development Worker and Network Coordinator for Boston, on 01205 460549 or 07793 457619, or email jenny.sullivan@ncma.org.uk.
Danny Flear Festival Fortnight
Every year the Dannny Flear Community Centre in Freiston has a Festival week. This year it is spreading over a fortnight. The events taking place are as follows:
Tuesday 13th July: Nostalgic Evening at 7.30pm. Come and look at everyone's old photos of the village and the various events that used to take place. There may even be some old school photos.
Sunday 25th July: Summer Craft Fayre from 10am - 4pm. There will be around 20 craft stalls, homemade refreshments, tombola and a raffle.
Friday 30th July: Whist Drive - 7.30pm
Sunday 18th July: Car Boot Sale at the Old Girls School Field at Butterwick in aid of the Sunday School. This will take place from 10am - 2pm and it will be £4 per car. There will also be toilets available and homemade refreshments being served.
Celebrations
The meeting to discuss suggestions for the Town Hall Centenary Celebrations will be on 19 October 2010 at 7pm in the Town Hall Upsall Room. The Town Hall Management Committee looks forward to seeing you there.
Hello to you good Kirton folk. We as a band would like be a regular feature and bring you all the latest news from your very own brass band, and to all new comers to the village; Kirton does indeed have its very own brass band of which the villagers are very proud.
This year marks our 140th anniversary makng us one of the oldest brass bands in the country, little wonder that the villagers are justly proud.
Unfortunately I was not in time for the May issue to inform you of our special Anniversary concert which was held on Saturday 15th and judging by the amount of tickets sold about, 300 in total, the church was packed to capacity. No doubt you will hear from the those who attended how the concert went.
We had a special guest conductor in the shape of Professor Philip Wilby who is music associate to the famous Black Dyke Band. All monies raised from the sale of tickets went to our nominated charity, Action for children, formerly National Childrens Home, headed by Sheila Lymer who is head of the Lincolnshire Branch.
As part of our continuing celebrations, the band have been asked to perform alongside Black Dyke Band at their Brass Band Festival at Leeds Town Hall on Sunday 13th June, a real honour for us. We have booked 2 coaches to transport ourselves, friends and supporters. 6 of our Cornet players are going ahead to attend a cornet masterclass in themorning.
I will be endeavouring to keep you inrformed of all the band engagements throughout the coming months.
You can visit our website: www.kirtonband.co.uk If you want to book the band for any event contact Ros Sharman, secretary 01775760781 or myself Tony Fell, publicity officer 01775762775.
Kirton Youth Brass Band
Kirton Youth Brass were formed 18 months ago under the tuition of Julie and Richard Key. They meet at Kirton Methodist Chapel schoolroom 6pm. We have about 20 members ages ranging from 6yrs upwards and we have some more mature members wanting to learn or pickup from when they last played.
The band members are very enthusiastic and recently been to Oxford to take part in a contest where they came second in their class, a real brilliant achievment. They also played during the Anniversary concert. You can conctact Julie and Richard Key on 01406 363171 for more information.
Minute Extracts from April's Parish Council Meeting
Two members of the public attended the meeting to discuss Station Road. They were finding the noise and vibrations from the HGVs travelling down the road, to and from the village unbearable. It was resolved that the Clerk should write and inform Highways of this issue. It was also advised to the residents that they contact Highways themselves and copy Cllr Brookes into the letter.
The requests for additional grit bins on the Hardwick Estate and Lighton Avenue have been assessed and do not meet the criteria for a salt bin – however, LCC will include our request in new policy which may be adopted.
Cllr Brookes updated members on the War Memorial Flooding issues – the contractors arein the process of mapping out what is underground as there were no previous records to refer to. They are trying to map the whole of the area so that they can make an informed decision for the long term improvement. Cllr Brotherton also followed this up with information that the Highways teams are also looking at Station Road to ensure that by fixing one problem another one does not occur.
As Chairman of the Town Hall Committee, Cllr Booth informed members: The end of year accounts have been sent off to the Charity Board – the Clerk will be sent a copy of these when they are received back. The AGM has been fixed as 15th June 2010, bookings are up, the new cleaner is now in post and the village day is 18th September – this will be publicised nearer to the time. There are plans to celebrate the centenary of the Town Hall next year – ideas are still being explored at this stage – one possibility is to change the plinth of the statue of William Dennis as it is so discoloured from the bronze
Cllr Hannay reported that he had two meetings lined up regarding funding for the recreation project. He will call a meeting on the site once these two meetings have taken place.
Cllr Lee informed members that the Friday group were going to trim some of the overhanging hedging back on the road side of the recreation area.
The Chairman and Vice Chairman met with Lindums to discuss the street name for the new development. A decision has not been made yet by Lindums but a compromise was discussed by way of the name for the recreational field.
Local Policing
Dear residents of Kirton,
Firstly I would like to apologise for not having an article in the last months Kirton News due to many changes at the Kirton Police office.
Since January 2010 I have been the PCSO for the South Rural beats of Boston and joined by PC Martin Appleby.
Unfortunately due to welfare issues I have moved from the South Rural beat and I have joined Boston Urban East Neighbourhood Policing Team.
I have thoroughly enjoyed the last 4 months working at Kirton and policing the south rural beats, and hope to be back in the future.
Kirton has had a change of many faces since the beginning of 2010. PCSO Stuchfield who was working temporary at Kirton has moved beats and now working in Woodhall Spa. PC Martin Appleby has been the Community Beat Manager at Kirton for 3 months and is out and about meeting the local communities.
PCSO Neil Williams has returned to the Boston Neighbourhood Policing Team and is back working from the Kirton office. He is currently the PCSO for the Wyberton neighbourhood. He can be contacted at the Kirton office or on his mobile 07939886327.
Kirton has a new PCSO, Jon Thornton. Jon has been out on patrol for 2 weeks and is covering the Kirton and Sutterton beats. PCSO Thornton can be contacted at Kirton Police Station on 01205 722002 or his mobile 07944776733.
The Boston South Rural Neighbourhood Policing team has a vacancy for one PCSO. In the near future new PCSO's will be recruited within Lincolnshire Police and one will be based at Kirton.
After reading April's Kirton News I noticed a mistake in the Neighbourhood Policing Article. The new non-emergency number for Lincolnshire Police was incorrect. The non-emergency number is 0300 111 0300 and is now in use.
Since 1st May 2010 there has been 20 reports of Anti Social Behaviour in the village Hot spot areas for youths gathering and being anti social are behind the Kirton Town Hall, Graves Park playing field, Church Lane building site and the old Case Tractor factory.. The necessary action is being taken with the youths and any offences they are committing. The South Rural Neighbourhood Policing Team is working with: Response and Patrol officers, Boston Borough Council ASB case workers, Boston, Mayflower Housing, Parish councils, CCTV, Childrens Services and other local agencies. If you witness any ASB in your area please call 0300 111 0300.
"Don't suffer it, report it." If anyone wished to speak to myself you can contact me at Boston Neighbourhood Policing Team on 01205 312375.
If you wish to speak with your local Neighbourhood Policing Team they can be contacted on 01205 722002.
Regards
PCSO Nicole Page
The Registers
Baptisms - We welcome into God's family:
9th May - Isabella Grace Iskandar
16th May - Zach Elsom
29th May - Angel Rose Stewart Wright
Weddings - We ask God's blessing on:
no weddings listed this month
Funerals - We commend to God's keeping:
no funerals listed this month
Scouts & Cadets News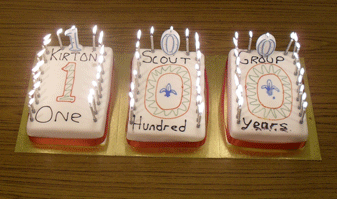 2010 is our Centenary year and to celebrate we are having a very special weekend camp in the village at Middlecott School on Friday23rd to Sunday 25th July.
As part of our celebrations we are having a Saturday night special and have booked the live ceilidh band, Frog on a Bike to entertain us in the school hall.
We would really love for you to come and join us on this special Saturday night.
Tickets are only £5 per person and includes your supper. The evening will kick off at 7.30 pm and will end with us sending off 100 Chinese lanterns (we hope!)
Bring your own drinks. Unfortunately the school does not have a license for alcohol so only soft drinks are allowed.
If you are interested in joining leaders from 4th Boston (Kirton), our DC, ADCs and District Secretary on Saturday 24th July then please contact me using the information below and I will be happy to organise you some tickets.
Yours in Scouting
Lesley Lanfranco - Group Scout Leader