June 2023
Come on then Summer, let's be having you! Hello to you all! I hope that you are keeping well and you enjoyed the Coronation celebrations (plus the extra Bank Holiday, I know I did)!
Our front cover advertises the Kirton Craft & Farmers Market. This event is still in its infancy but is proving very popular. The next event will be on Sunday 18th June at Kirton Town Hall so pop along!
I must address something this month and it's something that I hope a lot of you will already know. As Editor and as the original creator of the Kirton, Frampton & Wyberton Facebook page (for my sins!) I always aim to remain impartial. I don't feel that it's my place to air my opinions through the medium of a local magazine and even though I do have very strong opinions on certain matters, I try my very best to keep them out of Kirton News. I do however, welcome all opinions and letters from members of our community, as this is your magazine. If you feel strongly about something and you wish for it to be published, please email me with the title 'Letter to the Editor'. Many thanks.
We have received quite a few contributions this month which will hopefully make for a good read. In our Meet the Locals feature on Page 5, we hear from A.C Technology Ltd, a Kirton based company who specialise in domestic electrical work. Jot their number down, you never know when you might need them!
I was very happy to hear from Frampton Gardening Club who have sent an SOS out for new members! We hope that they can increase their numbers and also send us some regular updates in future issues. Also, read about the exciting RAF Paramotor Challenge on Page 8!
And sadly, on Page 10 you will read about the passing of a true Kirtonian, Stan Naylor by his son Keith. A sprightly centenarian with a glint in his eye and tales galore, I had the pleasure of spending time with him and his partner Joyce last year as we celebrated his 100th birthday in our Summer edition. I could have sat and listened to him all day, as I love local history and I'm sure his loss is felt greatly by his family and friends.
I'm always contactable on Editor@kirtonnews.co.uk.
Take care of yourselves and each other.
Rachael
Meet The Locals
This month we're talking to David from A.C. Technology about his local buisness.
A.C. Technology Ltd electrical services is part of A.C. Technology Ltd that carries out domestic electrical work from its base in Kirton.
A.C Technology started many years ago as a specialised electronic control of oxygen, carbon dioxide and nitrogen as well as temperature monitoring company for fruit, cold and frozen storage and developed its domestic electrical work over 10 years ago to complement the business.
No job is too small from a simple replacement of a light switch to a full rewire, lighting solutions and electric vehicle charging systems.
We are all qualified with building regulations Part P and 18th Edition wiring regulations. We also spent several years working for a large home emergency insurance company working all through the pandemic in some of the worst affected areas as well as a large housing association company mainly for the disabled and vulnerable covering huge area as many contractors simply did not want to work. We continued in tough conditions for the customers even when we had cases of covid in our business.
You can find us on Yell.com with great reviews, that show's we must be doing something right, why not take a look yourself or visit our website www.actechnology.uk.
Our electricians are always friendly and will explain exactly what they are doing, find the best solution all at competitive prices. We offer advice and free estimates within a 30-mile radius of Kirton and will never complete anything that is not necessary.
We pride ourselves on good service at competitive prices using friendly electricians, good time keeping and in the unlikely event we are running a little late we will always keep in touch, so you know exactly what is happening.
We are offering a 10% discount on labour if you mention the Kirton News.
A.C Technology Ltd Electrical Services London Road Kirton PE20 1JA. Tel: 01205 724689 Mobile 0744 3224527.
Email:electrical@actechnology.uk
www.actechnology.uk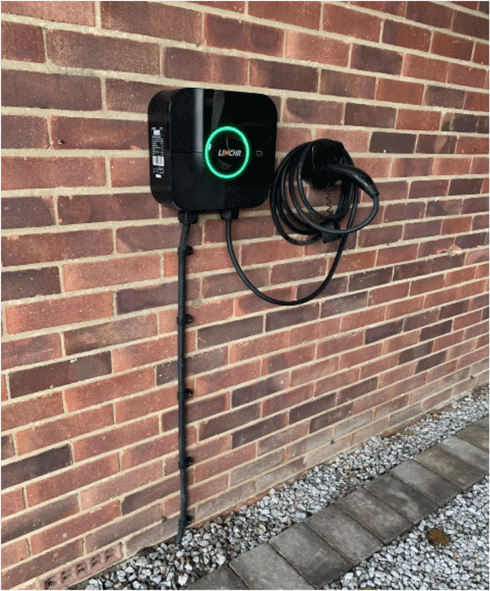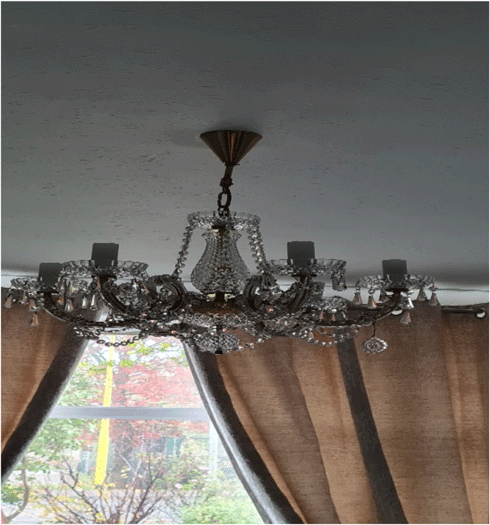 Kirton Church Fund
The winning numbers for the May draw will be printed in the July/August magazine.
The June draw takes place on Sunday 25th and the winning numbers will be printed in the September magazine.
First prize winner this month has now had their first win. Second prize winner has won several times before. Congratulations to you both.!
The prize fund each month is 1/4 of the money taken each month. The rest of the money goes to Kirton Church. I have just handed over a cheque for £845, money raised so far this year! Well done everyone and thank you for your support.
The money is used to maintain our beautiful church and with work needing to be done to replace three of the roofs we need to raise as much as we can. We are applying for grants to help with the cost of the work needed, however we will need to show that we are raising money ourselves before we can get grants. In 2012 were were expected to raise £60,000. Ten years later we will be expected to raise a larger sum as our share towards the costs. Can you help?
Taking part in Kirton Church Fund is one way to help the church raise the money needed. There is plenty of room for more members and a very good chance of winning in the monthly draws.
The more people that join the higher the prize fund and the more money we raise for the church.
Could you win our monthly draw? You won't know unless you join in. Remember you have to be in it to win it! Anyone over 18 may take part. Do come and join us.
You can join at any time during the year and you can do it monthly if you wish at only £5 per month (and therefore £60 annually, £30 for 6 months and £15 for 3 months.) You can of course pay the £5 monthly if you wish. You can also have more than one number.
Registration forms are available from Fay, (01205 723529), or call in Kirton Church. Paula's Gifts on Station Road also has registration forms.
If you would like more information about Kirton Church Fund please give Fay a ring on 01205 723529 or email fayngeoff@gmail.com
April 2023 Winners
1st PRIZE - £46.87 - TICKET NUMBER: 100
2nd PRIZE - £15.63 - TICKET NUMBER: 92
Data protection. All information (name, address and phone number) of Kirton Church Fund members is held solely for the purpose of managing Kirton Church Fund and is not passed on to any other organisation or used for any other purpose.
Kirton Primary School are Finalists in the 'OSCARS' of Education - The TES Awards!
The TES awards attract over ten thousand entries from across the UK every year so it is an amazing achievement for our village school to be selected as finalists again! The school is proud, as the only finalist from Lincolnshire, to put the county and the village on the map once again. At the same awards last year, our amazing primary school won 'Staff Wellbeing School of the Year 2022'. What an achievement!
The school is a finalist in TWO categories this year: Primary School of the Year AND Primary Curriculum Leader of the Year.
Tes editor and chief judge of the Tes Schools Awards Jon Severs said: "This year has seen some incredibly high quality entries. So every teacher and school who has been named in this shortlist should be very proud – it's a fantastic achievement."
The TES Awards take place on 23RD June at a glittering ceremony at the prestigious Grosvenor Park Hotel on Park Lane in London.
As if this weren't enough, our village school is also a finalist in the national Education Resource Awards to be held in Birmingham on 18th May. The school has also been shortlisted in TWO categories in this award ceremony: Kirton Primary School is a finalist in the category 'Educational Establishment of the Year' and Mrs Donley is a finalist in the category 'Leadership in Education' - in association with NAHT (National Association of Headteachers).
Letters to the Editor
Dear Rachael, Editor of Kirton News
Further to my letter to you for inclusion in the March edition of Kirton News expressing how sad and disappointed I was to see such a vitriolic, insulting and rude letter printed in the February Kirton News and that I thought Kirton News was a village magazine for news, reports, useful and interesting information and advertisements and not as a platform to insult others no matter how strongly a person might feel. My letter was never published.It seems you didn't realise that I meant it to be.
Apparently Kirton News editorial team have a policy to provide an unbiased, balanced message to the village and have always strived to publish comments from both sides of any discussion.
I was extremely disappointed that my letter was not printed. I was advised by more experienced councillors to let it lie as the next magazine (April) would be too late to comment on a letter from February. Really, an opportunity should be given to reply in the same edition when letters attacking the council are to be published; otherwise there is a loss of continually and definitely not a balanced message. The Parish Council are not given this opportunity and only see the attacks after publication of the magazine.
The hate campaign against the Parish Council has continued every month since February and has now escalated. What I would like to know is what happened to all the people that were going to get the Parish Council out? Not one of them put their names forward to be councillors. Not even the Bard of Kirton who declared in the April magazine that the council would be replaced on 4th May.
No wonder Kirton Parish Council did not have enough volunteers to be councillors for an election to take place and five places not to be filled when there is a constant barrage of insults and false information flying about and regularly stirred up. Who would want to be a councillor? Three very good councillors have left the council and I have only agreed to stand again so as to give a female perspective on the predominantly male council. Quite frankly I think I must be mad but then I really do care about the people and the village of Kirton as do the other members of the council. We strive to do our best but unfortunately, it is impossible in this world to please everyone. However, I do not expect to be repeatedly insulted in a village magazine.
I would appreciate it if you would print this letter. Thank you.
Yours sincerely,
Cllr. Fay Baillie
Communication originally received did not specify 'Letter to the Editor' and therefore was not published as such. If you have a letter you wish to be published, please title your email 'Letter to the Editor'. Many thanks.
Kirton Kids Club
The Kids Club is still doing well – with lots of hard work from the staff and lots of fun from the children.
The improving weather means most of our time will be spent outside after school – something the children really love and there are lots of different activities for them to get involved in out there.
But if they do not wish to be outside there are always games and activities they can take up inside as well.
At the moment we are looking for a new member of staff to help us add to our numbers daily.
If you are keen to work a few hours a week term time, be able to bring your own children with you (for free but only up to 2 children) are enthusiastic and happy to be flexible and work within a team – then maybe you are who we are looking for?
Just give me a call on 07583 762072. This position will probably increase in hours as we add to our numbers and is an ideal job for anyone wanting to ease themselves back into the job market but have children to think about.
On the other hand – anyone wishing to earn themselves some extra money each month and are interested in childcare – again please give me a call. Phone lines are open 5.30am to 9am / 1pm to 6pm.
Kids club runs from 7.30 am to school and after school to 5.45pm .
We do not have many places to offer at the moment but we try and be flexible so give us a call, we have a waiting list but hopefully we can clear this if we get another staff member (contact number above).
Website: kirtonkidsclub.co.uk
Email Address: kkc09@live.co.uk.
Local Pilot Faces Another Challenge
Last year, the RAF Regiment's own Paramotor Team, the RAPTORS, attempted to fly around the coastline of the UK. This year they are preparing to undertake another challenge; Exercise PARAMOTOR CHALLENGE 30 an attempt to fly from RAF Catterick (now Marne Barracks) the historic site of the Regiment depot, to RAF Honington, the present depot, in 2 days. The route takes them over much of south Lincolnshire, and will pass over Belton Park, the site of RAF Belton Park during World War 2, and the very first depot of the RAF Regiment. The team are currently aiming to make the attempt in Jul/Aug this year.
The History
The RAF Regiment was formed in 1942 to defend the RAF assets on the ground following RAF airfields being overrun in France and Crete during World War 2. This is still carried on today, where the RAF Regiment faces the latest challenges such as long-range missiles, drones and other high-tech threats but also countering the more traditional threat of enemy special forces and other forms of ground attack.
The Raptors
The Raptors are the RAF Regiment's own Paramotor Team, both pilots are members of the RAF Reserve and fly their own paramotors. Both pilots started out as paraglider pilots, qualifying on courses provided by the RAF, then progressed to paramotoring at the UFly4Fun Paramotor School at Winglands airfield near Long Sutton. The pilots are Squadron Leader Tim Taylor from Kirton and Flight Lieutenant Mike O'Hara from Anwick. Tim commands 2623 Squadron at RAF Honington in Suffolk and Mike is the Deputy Squadron Commander of 2503 Squadron at RAF Waddington.
This Year's Challenge
The flight from RAF Catterick to RAF Honington is 196 miles and could, with ideal weather and winds, be completed in two days. However, as was found last year, the UK weather seldom plays fair. There is also some complex airspace en-route to be navigated, especially around RAF Lakenheath and Mildenhall. The team will be supported by a small road party providing logistic and medical support. The route follows the path of the A1 for much of the flight, a route familiar to the Catterick veterans, but flies over much of south Lincolnshire and Norfolk on its way to the Suffolk home of the RAF Regiment.
One of the aims of PARAMOTOR CHALLENGE 30 is to draw attention to the work of the Centurion Fund and the RAF Benevolent Fund. Both worthy causes that support serving personnel and the veteran community.
The proposed date of the exercise is between the 17 Jul and the 11 Aug 2023 and as it approaches a clearer weather picture will form, so the dates will solidify. The intention is to put them out over the media in one form or another. So, if you're near RAF Catterick, Belton Park or RAF Honington when the attempt takes place look up and wave!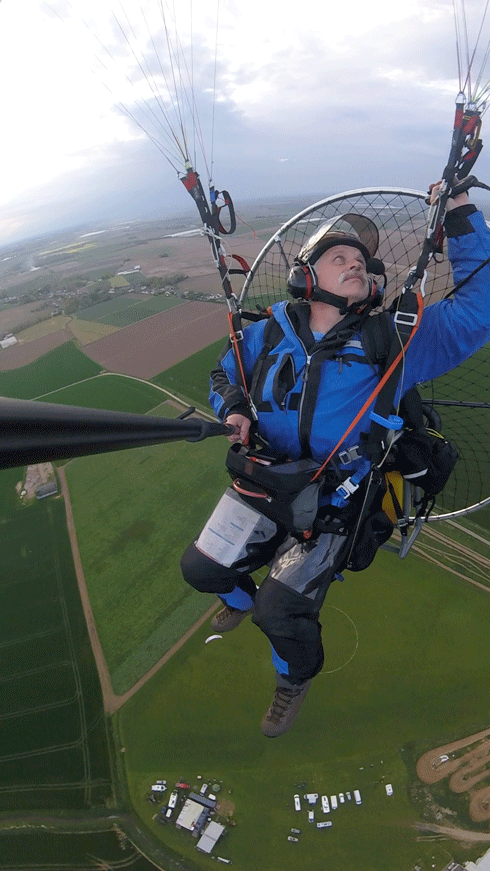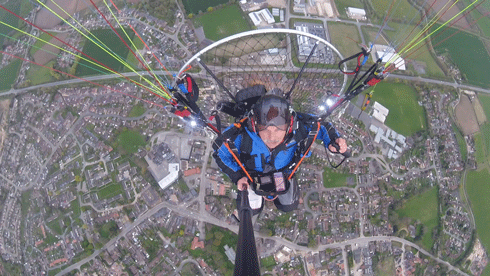 The Passing of a True Kirtonian
It is with great sadness and with a heavy heart that I must let the Kirton community know that Stanley Naylor, my dad, passed away peacefully at home on the 18th April 2023. Last year he had celebrated his 100th birthday, which was a great achievement. Born in Kirton Skeldyke he had lived all his life in Kirton, except for the five years he served in the Royal Air Force Regiment during WW2.
His working life in Kirton started at John A. Graves, Produce Merchants, who ran their business out of a yard where the Kirton Co-op is now operating. He moved on to be a Tyre Salesman for Fossitt & Thornes, London Road, for a few years before becoming self employed establishing Kirton School of Motoring. Nowadays if you mention Stan Naylor's name there is bound to be someone who says "I know Stan he taught me to drive." He retired in 1992 aged seventy.
Stan was not a man to sit around doing nothing during his retirement. He became an author publishing several books recording the local history of Kirton and surrounding area. The history focused on the 1920's and 30's, and life during WW2. Dad also wrote many poems, which have been included in some of his books. His pride and joy was researching the history of the names on Kirton War Memorial. During his research dad found another nineteen names that he was instrumental in ensuring were engraved beside the original 84 names already on the war memorial.
My dad, Stan, also was not a man to let others do the hard work to help the Kirton community. He served the village as a member of the Parish Council for twenty years, eventually becoming the chairman of the Parish Council from 1991 to 1995. If that wasn't enough, dad was also governor of Kirton Primary School from 1990 to 1995. In 2017, he was presented with the Village Award in appreciation for his valued services to the Kirton community.
During the later years of his life Stan became a good story teller. He always had a story about all parts of his 100-year life. Dad enjoyed an audience and there was always a joke thrown into his story. Although dad was less mobile during the later years of his life it was a privilege for me to spend time with him talking about his life. A life that was full and well lived. This is only a brief outline of the long and varied life of my dad, Stanley Naylor. No doubt many of you reading this article would have touched his life in someway and I know he appreciated your friendship.
Vale Stanley Naylor - a remarkable true Kirtonian.
Written by Keith Naylor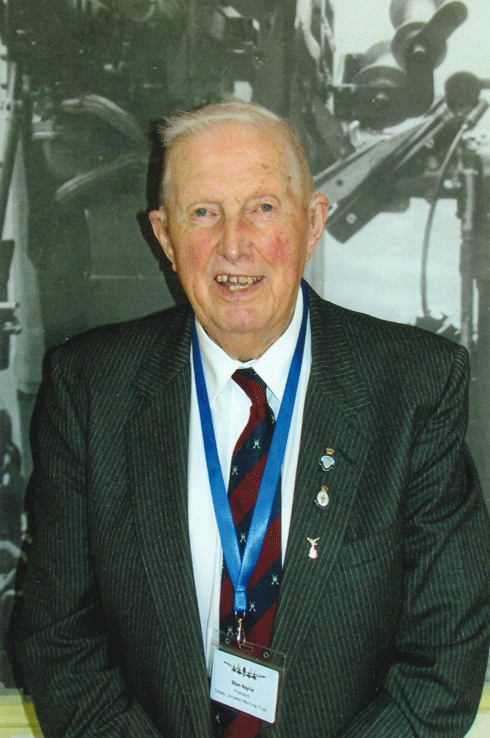 Update on the Town Hall
Car Parking Restrictions
The Parish Council would like to give an update on the Town Hall Car Parking Restrictions. To state facts and the future.
Although discussions with the public have taken place on many occasions, one of which was in closed session for legal and financial reasons, everything that has been brought to the attention of the Parish Council has been listened to, taken on board and if possible acted upon with the CCTV Company. The signage will be changed to no return within 2 hours.
After suggestions, a ticket machine can be run with the cameras but this would cause too much inconvenience with queuing in Station Road as every car would have to collect a ticket on arrival and would only have to pay after three hours.
The initial request came from the Town Hall Management Committee as they were experiencing parking problems for those booking the hall for private use.
Suggestions that have been made to alleviate the all day/overnight parking without installing cameras had already been tried to no avail.
The Town Hall and land was left for the people of Kirton with the Parish Council as governors. Originally, before part of the 'Rec' was laid to tarmac, part given to Lincolnshire County Council for off road parking, part sold to the Fire Service for a new Fire Station and another part given to Lincolnshire County Council for the pelican crossing, the Hall was surrounded by locked gates and fences, which are changes that the Parish Council at the time has allowed.
There have always been restrictions on car parking at the Town Hall but it has not been policed.
Frampton Gardening Club
Did you all know that Frampton Gardening Club still meet at 7.30pm on the last Thursday of each month?
We meet in Frampton Village Hall, on Middlegate Road East and since the lockdown ended, we have been quietly carrying on. We have around 27 members, but more are welcome to join us – we are a friendly bunch!
We have our programme of speakers and activities planned for this year as follows:
April 27th: Gail Harland will be giving a talk on Paeonies
May 25th: AGM and the Pauline Chubb award for our flower competition. All are welcome.
June 5th: Trip out, Doddington Hall & Gardens.
July 27th: Saffron Summerfield – a talk on bird songs.
August 31st: Our Produce Show and Bill Castle award.
September 28th: Swineshead Farm Nursery, a talk on Rare plants.
October 26th: David Coop, from Elsoms Seeds
November 30th: 'The Chocolate Man' (yes, it does come from a plant – so, one of your five a day!)
We have a raffle and a cup of tea or coffee so plenty of time to compare garden stories and chat before home.
We are an active club for like minded people interested in all types of growing plants and flowers, both inside and out. We have talks by knowledgeable horticulturists and friendly growers, visits to gardens and an annual club produce and flower show. If you share any of these interests and would like to join us, please come to Frampton Village Hall at 7.30pm on the last Thursday of the month for a friendly welcome.
For more information in the first instance ring: Ray Harding (Chairman) on 01205 723181 or Maggie Welberry (Secretary) on 01205 722382.
Kirton Parish Council Meeting Minutes
- March 2023
PRESENT: COUNCILLORS
P. Watson, Chair, D Jarvis, Vice Chair, F. Baillie, C Brotherton, R. Pryke. S Watson, Acting Clerk D. Fairweather. Also Present: nine members of the public.
Not Present: Cllrs Crisford, O'Connor, Austin & Brookes
PUBLIC FORUM
Business owner made statement of behalf of the businesses and residents of the village that there are concerns that the PC are not listening to their concerns regarding the parking restrictions at the Town Hall. Of the businesses asked ten were against the new regulations and it was felt that no approach had been made to the businesses by the Parish Council.
No Ipad available that had been intimated at the beginning to register registrations and two-hour return was still not showing on the signs.
Handed a petition with over four hundred signatures against the new restrictions.
Question of who's suggestion this was for parking restrictions. It was confirmed that the Town Hall Management Committee had made the original request but added that they had had no input in the negotiations with the car park company. Committee member advised that there are times when customers holding events in the Hall do not have places to park and despite offenders being asked to move, have been met with verbal abuse. If there is not parking available for these events then people will understandably look elsewhere for a venue.
One suggestion was a parking meter. PC not sure how this could be patrolled.
Resident asked when Parish Council were going to admit they have made a mistake.
Parish Council advised that ongoing communications were being had with the contractors to try and alleviate some of the problems, despite a two-year contract having been signed.
Road speed of Road Boston had not, inadvertently, been asked the approval of the Parish Council. This speed issue had been raised some time ago and reported to Cllr Brookes.
Cllr P Watson reminded the public that they required photographic I.D. to vote this year on 4th May.
POLICE REPORT
nothing received.
REPORTS FROM ELECTED BOROUGH AND COUNTY COUNCILLORS
Cllr Brookes via email.Boston Road Speed Limit reduction from 40mph to 30mph. Is currently being publicly advertised until 26th April and should be in place by July/August if no objections are received. (As advised to Parish Council in e mail from myself 22nd March)
Bungley Lane. Repairs to carriageway programmed for 9th and 10th May 2023 under a road closure.
London Road drainage problems. Investigations are still ongoing. A potentially blocked culvert that requires excavation has been identified at access to Woodlands Road development site, and a site meeting arranged with the developer to discuss the way forward.
Cllr Austin unfortunately sent a report which could not be opened.
TO RECEIVE APOLOGIES FOR ABSENCE
were received from Cllr Brookes and it was resolved to accept apologies from Cllrs Crisford & O'Connor. Proposed Cllr P Watson seconded Cllr Baillie.
TO RECEIVE DECLARATIONS OF INTEREST UNDER THE LOCALISM ACT 2011
Cllr P. Watson declared membership of the Boston Borough Council Planning Committee and advised he would not take part in discussions on planning applications.
Cllr S Watson declared she is married to P Watson who is on the Planning Committee.
TO APPROVE NOTES OF PREVIOUS MEETING 28TH FEBRUARY 2023.
Cllr Pryke, in relation to 30-23 on the agenda, is resolute that the wording on the Clerk's draft minutes regarding the rule for disqualification of a Councillor be amended in part and part deleted.
Following amendments, it was proposed Cllr P Watson, seconded Cllr Baillie that these be accepted as a true copy.
TO RECEIVE UPDATES FROM CLERK
Orthodox Church – agreeable to valuation but further discussions need to take place regarding various requests and demands of legal documentation.
Chairmans board – sign writer that had done work previously happy to do additions. Would wait details of May meeting for final wording/numbers required.
Cemetery gate – contractors will be carrying out work imminently, as they are busy with tree works before the nesting season commences.
Revised date for Court case 27th April 2023.
TO CO-OPT A NEW COUNCILLORS
Unfortunately, due to ill health the proposed new councillor could not attend.
TO DISCUSS AUTOMATIC DISQUALIFICATION OF COUNCILLORS
Cllr Pryke stated that the details received by the clerk from LALC were in fact incorrect and that any apologies received have to be resolved as an agenda item to be accepted. He therefore stated that Cllr Brown should have been disqualified before he actually gave his resignation, due to his nonattendance of six meetings, despite apologies being given at one of those meetings. It was proposed Cllr Pryke, seconded Cllr P Watson that this be recorded in the minutes. Four for and two against the resolution.
TO DISCUSS THE PROVISION OF EV CHARGING POINTS IN THE VILLAGE
Cllr Pryke felt, with Government targets to increase electric cars there should be more E.V. points in the village and perhaps some could be within the Town Hall car park, or any other sites in the village. It was agreed to investigate costings for a future meeting.
Cllr Jarvis asked if there would be the opportunity to use
streetlights and is there sufficient electricity for EV points. Would land at rear of cemetery be a potential site.
TO DISCUSS CORONATION EVENT.
No public attended the open meeting for ideas regarding the Coronation events. It was agreed that perhaps some form of memorial could be within the village to mark the occasion. Proposed by Cllr Baillie, seconded Cllr P Watson another tree in likeness of the Queens Jubilee be sited within the Town Hall playing area. Clerk to speak with the arborist for thoughts on species.
A memorial bench was also suggested, clerk to ascertain if any grants from Viking Link, Triton Knoll or WREN are available to Kirton Parish Council.
TO DISCUSS/APPROVE INSTALLATION OF SOLAR PANELS.
Another quotation for £21475, original £17995, to check pricing. The Town Hall Management Committee had not seen quotations for panels, and it was agreed that further discussions need to be had before proceeding. Specifications of quotation to be sent to Town Hall Management Committee and a joint meeting be brought to discuss in full.
TO DISCUSS CCTV'S IN THE VILLAGE
Chair reported that CCTV cameras in the village, monitored by BBC, were of no use for the residents of the village. They do not have sight of the memorial and can therefore pick no vandalism we have experienced in the past. The PC pays for the monitoring, the broadband for the recording equipment together with the electricity. It costs over £2000 per annum and the Chair feels it is not value for money. Clerk to investigate a different system, with the company that has the CCTV cameras on the Town Hall. Ideal siting being the war memorial as there is an electricity supply there already.
FINANCE
To Approve Payment of Accounts as per schedule
Cllr P Watson requested flower box on A16 be planted before agreeing payment of invoice to Cheers. Proposed Cllr P Watson seconded Cllr Jarvis payments be approved.
a) Approve internal audit. Last year due to circumstances LALC were employed to conduct Internal Audit. Proposed Cllr S Watson seconded Cllr Jarvis and Council agreed, as accounts now to employ a local accountant at a lesser charge. Approved unanimously.
PLANNING
To Discuss Applications Received Since Last Meeting
Cllr P Watson left the meeting.
B/23/0112 Rear of Le Vern, Washdyke Lane, Kirton Meeres. Outline planning two storey dwelling. No objections.
B/20/0099 application for Lawful Development Certificate for an existing approved application in 2020 of 31 dwellings off Station Road for a new access.
MEMBERS REPORTS
Cllr Baillie advised Live and Local are in village and may be of interest for entertainment events. Quickline are in the village with fast fibre offers for broadband. Willing to attend PC meeting to discuss proposals for village. Council agreed perhaps when elections are complete.
DATE OF NEXT MEETING
25th March 2023
The Registers
Baptisms - We welcome them all into the family of the church:

none this month

Weddings - We offer our congratulations to:
none this month

Funerals - May they all rest in peace:

none this month