Dear readers, We're approaching flaming June, hopefully. I mention that because I sometimes feel it doesn't quite work out weatherwise.
'There's no such thing as a free lunch' so the saying goes. Concerning your magazine it is absolutely true. Printing costs alone amount to 21p per copy and it appears in your letterbox for free! Our only sources of income are advertising and donations. Get walking and join the sponsored walk for fun. Not only are you doing something healthy but you get us some desperately needed cash through the sponsor forms. Click on the 'Save Your Magazine' button on the left for detail.s
In this issue for your delectation, (I do enjoy big words!), are: an article on a local racing driver, mad scientists, an interesting summer recipe, the Kirton Crossword, and for the children a poster competition.
Roger Booth
Local Optician Leads the Championship Race - First Win for Andy Molsom in Car Racing Championships
After nearly a year break from National Caterham car racing, Andy Molsom, of Molsom & Associates Optometrists, Spalding won the first race of the season at Pembrey in South Wales last weekend. This was followed up by a 4th place in the second race of the day. This now puts him in the lead of the Championship after only his 20th car race.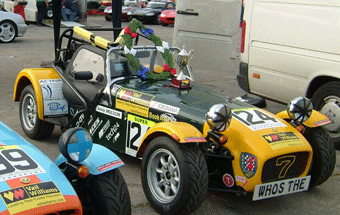 Molsom races a 2001 Caterham 7 with a 1600cc Rover K series engine, which produces about 120 bhp. In 2005, he completed his first full season finishing 5th in the Championship. Managed by the British Racing Automobile Racing Club, the competition is a national championship, and regulations dictate that all cars are identical in performance with sealed engines, controlled tyres and standard road gearboxes.
This years Championship consists of 14 races at 10 different circuits, including the local track of Cadwell Park, near Louth, and with the season finale at Spa Francorchamps in Belgium in October. Spa Francorchamps is arguably the best modern Formula 1 racetrack. With 60 people entered for the Championship, it certainly will provide some entertaining racing.
On Sunday's first race, Andy qualified in second place, taking the lead of the race on lap three. Over the course of the race, the lead changed on every lap, in what was a close three-way battle at the front. At the end of the race though it was Andy who was ahead by 0.3 second from his nearest competitor.
For the second race, Andy started from a less than favourable seventh on the grid, and after a hard fought first two laps, had dropped to ninth. By lap 4 he had started making his way through the pack, and was up to 5th place by lap 11, but the lead four were now some 3.5 seconds in front. Within 3 laps, he had caught the lead group and was battling for fourth place, which he finally secured with 2 laps to go of the 18-lap race.
After these two races he is now leading the Championship. Andy said, "To get my first win at the start of the season was amazing, there were 46 entrants to both races, and to finish so strongly has put me in good stead for the rest of the year and in with a real shot at the Championship. The races are always very close, with less than a second covering the first few cars, and the lead changing numerous times per lap, consistency is key to winning. The next race is at Croft in North Yorkshire next month, but I have never driven the circuit before, so will have to learn quickly to get on the pace.
Andy, 35, from Kirton and an ex-Boston Grammar School pupil, says his passion for car racing began many years ago. 'My interest started in motor sport at the age of 16, after a meeting with Martin Brundle, who was undertaking sponsorship duties in Boston for Jaguar, just after he won the World Sportscar Championship. It was a dream come true to start racing, and even better to win a race.'
The centrally located independent practice in Hall Place, Spalding, was opened by Andy Molsom and Chris Coakley in 1997. Molsom & Associates Optometrists offers a friendly, caring environment with the highest level of professional ophthalmic services, and Andy treats dry eyes using the latest techniques and equipment.
Frampton Gardening Club
What a fun evening; David Penny from Greetham Garden Centre was our speaker on April 26th. David is not just a horticulturist but also an entertainer; his subject was 'Waking up your Garden' and he kept us wide awake for an hour plus while he went from lawn care, to pruning, mulching, pest repellents, path cleaning and his love for clematis. In between he handed out sweets, told endless humorous stories with actions and moved from one side of the hall to the other at speed. Some of us had met David before at his garden centre.
We had a trip there for his Christmas event which we enjoyed hugely and I was told that his staff still remember us being there and still talk about it! David had a ninety mile round trip to Frampton so it was nice that before he left he said how much he had enjoyed coming to the club and meeting the people again who had previously visited Greetham Garden Centre. He had also brought an array of plants and beautiful Clematis plus pest killers, lawn seeds, gadgets of all sorts, path cleaners and his beloved Jeyes Fluid. This was a very enjoyable evening with lots of laughter and many plants bought by enthusiastic members.
The coach to Scampston House Garden is full but seats are available for the half day trip to Easton Walled Garden on Thursday 19th July.
The next meeting in the hall will be on August 30th. The speaker will be Andrew Sankey and his subject is 'More than just a white garden'.
Pauline Chubb
News from the Chestnuts
On the 30th March Trish put on cake and wine as Shirley our cleaner was leaving, Chris from Mayflower presented her with a lovely flower arrangement and Eileen gave her vouchers from us all at the Chestnuts. On the 3rd April it was Bertha and Tony's birthday and we had Janet and Lavinia who cooked us a lovely lunch. Bertha and Tony bought the wine and fruit juice, THANK YOU BOTH. Shirley was a guest of honour.
On Saturday 21st of April Joan Haw and Yvonne put on a games night; quite a few of us went and we had a good night. There was also a small buffet which was very nice. Mrs Gilding's birthday was on the 27th of April; we wish her well.
On a sadder note Mrs Norris passed away it was a great shock to us all; our thoughts go out to Bill who is very brave.
We still have coffee mornings on Mondays, and Bingo on Tuesdays; Father David has offered to come once a month which is much appreciated
Nellie Bamber and Eileen Pearson
Kirton Kids Club
This has been yet another busy but happy month for the children of Kirton Kids' Club. The early Easter holiday gave club staff the chance to take a break themselves for a week and then provide an Easter Holiday Club for a week for the children. The holiday club included a trip to Play Towers and an outside birthday party for one of the children who's Mum brought in food, birthday cake and party games prizes.
The children also made lovely Easter baskets during the week, with pots of strawberry mousse in the middle and traditional chocolate Easter egg cakes with little chicks. They also made 'Scooby snack' biscuits, pizzas and a variety of small cakes. They also enjoyed a host of different sports games and activities rounding off with a big party on the last day.
During the week, Pat Cross the Youth Centre caretaker, retired after nearly six years service. Pat was presented with a huge bouquet of flowers and enjoyed a chocolate retirement cake with the children. Pat will be missed by both staff and children alike and everyone wished her well for the future. Kirton Kids' Club not only provides before and after school childcare, but is open most of the school holidays now too. From June 4th 2007 we will also be able to offer pre-school children afternoon play sessions!
These sessions will be open for children two and a half years and above, from 12.45 to 2.45pm each term time, at a cost of £4.50 per child per session. Also though, if parents wish club staff to pick their children up from the school nursery and escort them to the club to eat their packed lunch this care will also be provided at a cost of £5.75 per child per session.
If you would like more details regarding these new sessions, please call in at the club during opening hours or alternatively phone 722426 and book your child/children in. Be one of the first to sample this new and exciting venture.
The club is open for the first four weeks of the school holidays for children of nursery age to fourteen years. If you would like more information on any of the above sessions please feel free to get in touch.
Carolyn Sharpe, Manager
The Kirton Ladies Luncheon Club
The meeting on April 12th was excellent because we had one of the best speakers. Jean Townsend has been our favourite for a long time and although her talk went half an hour over the 3 o'clock time limit no one moved. Jean's subject was 'The rise of the House of Windsor'. Jean is a history lecturer with access to the Royal archives; she was also asked to research for the T V film 'The Lost Prince': the sad story of Prince John who was epileptic. She also has access to pictures that belong to the Queen which you don't normally see. We saw very old sepia slides of Edward and Mary of Beck when they were engaged but Edward died before he became King. Mary then married George V and became Queen Mary.
She was a very strong and determined lady, in fact you could say that all the Queens seemed to be made of sterner stuff than the Kings. Jean has little regard for political correctness: she sees the Monarchy as it is and not as we would like it to be. Generations of inbreeding has thrown up many frailties both of health and character. In Britain they have survived but for how much longer; times are changing. If Scotland goes for independence Wales will want it as well and the British Isles will be split up. Will the House of Windsor still be on the throne or will Jean's next talk be 'The fall of the House of Windsor'?
We had a very good raffle with members giving generous prizes; we only have three a year to boost club funds so that we can have good speakers like Jean Townsend. We have tickets for Thursford Christmas show but these are going very quickly. We are also taking names for the outing to the Rose Festival at Hatfield House on June 16th. This promises to be a lovely day out with music in the garden with stalls selling gifts, books, art work, crafts and plants from the acres of beautiful gardens. Access to the house is also included.
Future speakers are: June the 14th - Mrs. Woods - Artist in textiles, and July the 12th – Tina Woods – A Victorian childhood.
Pauline Chubb
The Mother's Union
At 7.15 pm in the Methodist Hall on Wednesday the 13th June we are having a DIY meeting giving thanks for summer, with a flower arranging and verse evening. Have you got a favourite poem or reading in praise of flowers or summer; or maybe you have composed something yourself? Do bring it with you to share with us. 'One is nearer to God's heart in a garden than anywhere else on earth.'
Helen Airey
Poster Competition
Community Lincs are running a competition for children across Lincolnshire. This is to mark Community Lincs environmental activity / project, the '21st Century Village'.
The competition is a drawing competition entitled 'What will your village / town look like in 2100?' There will be three categories: Under 7, Under 11, Under 16.
The winning entry in each category will receive a gift voucher and the overall winner will have their drawing reproduced as posters to front Community Lincs 21st Century Village activity.
Entry forms and drawing sheets are available from Amy Nichols at amy.nichols@communitylincs.com or 01529 302466.
Kirton Town Hall
As some of you may already know the management of the town hall will shortly pass from the Parish Council to a Management Committee. For booking enquiries please contact the Booking Secretary Elsie Booth on 722230.
Boston Borough Council - Spring & Summer 2007 Green Waste Collection
Ever wondered what to do with your garden waste? Each 'Green Bin Week' the Council takes a vast amount of household rubbish to the landfill site at Slippery Gowt in Wyberton. During Spring, Summer and Autumn, this tonnage increases sharply as many of us use our Green Bins to dispose of garden waste such as grass cuttings, weeds and branches.
Although the Blue Bin Recycling collection service has been very successful and with your support has helped us to divert over a quarter of our household waste from landfill for recycling, the cost of disposal at landfill is rising sharply and its availability is declining.
The council is looking to increase the amount of rubbish that's recycled and decrease the rubbish that is taken to the landfill site. As County Council Taxpayers it is in all of our interests to divert as much waste from landfill; in other words, we need to take as much out of our Green Bins as possible.
This year, the Council will be piloting what it is hoped will become a regular annual fortnightly Saturday collection service specifically for Garden/Green waste. We will park a Refuse lorry at convenient and safe local sites at specified and advertised times. Members of the public will be able to bring all of their Green waste to the lorry for disposal which will then be taken to a nearby composting facility. It is envisaged that this service will operate from June to October in 2007 and hopefully for the whole of the growing season in subsequent years.
Please note that we will only be able to take compostable material such as grass cuttings, branches, shrubs and weeds so please do not bring any domestic refuse, furniture or white goods to the lorry. In addition, because these Composting Sites cannot handle plastic sacks, we need to ensure that none of these end up in the back of the vehicle. If you are unable to take home your plastic sacks for re-use, we will dispose of them on your behalf.
For further details of where and when this service will be available to you, please check the Council's newspaper 'Boston Matters', the local press and your Parish Council newsletter or notice board or call 01205 311112 or 361866, but the service will commence on the 2nd June at Kirton Town Hall car park.
Building Bridges in Rural Communities
Our Aim: To improve the quality of life of the increasing rural population. To help build bridges between people newly arrived and existing members of the community. We can give advice on how to organize a group and provide small grants.
We can help you organise events and services which are needed in your community, for example: Fun activities , parents and toddlers group, international food and music events, language learning evenings, screenings of films in different languages with English subtitles, information evenings and many more.
We need volunteers to support Village Halls. Have you got any kind of qualification or skills? If so, please contact us! We need your suggestions!!
Please contact: Alona Tirzite on 01529 302466, via e-mail at: building.bridges@communitylincs.com. or by post at Community Lincs, The Old Mart, Church Lane, Sleaford, Lincs NG34 7DF.
Bark in the Park
We are holding our second annual 'Bark in the Park' this year on Sunday 24th June 2007 starting at 11.00am at the Witham Way Country Park, Tattershall Road, Boston. There will be a sponsored dog walk, followed by a dog show, quiz, face painting, raffle, tombola and stalls. Please bring your own picnic. Everyone is welcome to attend our fun day out. If you would like to take part in the dog walk, sponsor forms are available by telephoning 01205 311701.
We would also welcome any donations or gifts for the raffle and tombola or any other sponsorship for this event. The money raised will go towards the cost of a family day and the children's Christmas party.
Last year's event was a huge success and thoroughly enjoyed by everyone who attended. We look forward to seeing you there.
Tiny Totz
We are a voluntary led Parent & Toddler Group 0-3 years who meet at Kirton Youth Centre Fridays 10am -12pm (term time only). Relax and meet new people, get involved in messy play and sing silly songs and nursery rhymes. Admission £1.50 per adult, children are FREE. Lisa Sampson, Tel 724029
Parish Council Matters - Kirton-in-Bloom Competition 2007 - June to August
Section One: Residential - the most colourful garden or frontage.
First prize: Trophy & £60 £30 – Runner Up.
Section Two: Residential - the best laid out garden.
Trophy & £60 – First Prize. £30 – Runner Up.
Section Three: Commercial - the most colourful premises/frontage.
£60 – First Prize. £30 – Runner Up.
Many thanks to our Sponsors: Exotic Farm Produce, Lincolnshire Co-operative Chemists, Marshall Bros (Butterwick) Ltd, The Flower Shop, Kirton.

Lincolnshire Best Kept Village Competition 2007
Kirton will be taking part in this year's competition after a lapse of several years. We are trying to encourage the whole community to play their part in ensuring that the village receives a good response from the judges.
Judging takes place as follows: Round 1 in June , round 2 in July, final round in August. The areas the judges will be looking at and the maximum points allocated for each are listed below:
Absence of litter; unauthorised/unsightly refuse; bus stops; telephone kiosks. Max points: 25
Trees; ponds; streams; dykes; walls; roads; paths; verges (general appearance). Max points: 20
Village/town centre and/or hall; schools; park; playing fields; signs; notices; advertisements; signposts. Max points: 30
Gardens; window boxes; allotments; caravan sites; sheds; hedges; fences, nature area. Max points: 20
Churchyard; Chapel surrounds; cemeteries; war memorials; notice boards. Max points: 25
Business premises including inns; farmstead; workshops; post offices and village shops; caravan sites. Max points:15
Marks for community effort. Max points:15
Maximum total points of 150
Geoff Sharp - Clerk to Kirton Parish Council - Tel:01205 361634
Opening Hours: The Parish Office (Town Hall) is open every Tuesday
9.30a.m. - 12.30 p.m, (Tel: 01205 723972 during these times).
Website: Log onto the Kirton Parish Council Website for information:
http://thelocalchannel.co.uk/kirton
Frampton Community Playgroup
With everybody rested from the Easter break we have been using up our excess energy and working off those Easter eggs by playing outside. The weather has been getting better so we have really enjoyed getting some fresh air riding around on our bikes and cars, playing ball games and getting just a little bit messy in the sand table.
Over the next few weeks we are looking forward to exploring the 'great outdoors.' We have started off this theme by being very green fingered and planting sunflower seeds which we will take home and enjoy watching them grow. We'll wait and see whose grows the biggest!
If you are interested in seeing for yourselves the fun we have and what the playgroup has to offer, we are holding a 'pop in and play' session on Friday June 22nd from 1 – 3pm at Frampton Village hall. There will be fun activities and refreshments will be provided. It's a great opportunity to talk to our friendly staff and committee who will be able to answer any questions or enquiries you have regarding playgroup. So come along, we would love to see you there!
For information on available places at playgroup please contact Sue, our playgroup manager on 07939 266154
Monthly Recipe
We have started trying to cook with the seasons, and as soon as the days start lengthening somehow we always turn to Middle Eastern Food.
We lived in the Middle East for a number of years, and the best food always came from Lebanese cafes, where lunches were unhurried affairs lasting several hours - plates of starters would appear, accompanied by the (free) house salad which would be masses of fresh herbs with cucumbers, spring onions, radishes and plump tomatoes. The centre of the table would look like a garden produce stall, which you could graze as the succession of courses came. This simple cous-cous salad is redolent of those warm, relaxed afternoons. It is a simplified version of tabouleh (made with cous-cous rather than bulgar wheat) and makes an excellent companion to roast chicken or lamb.
250g cous-cous
1 lemon
1 orange
bunch spring onions
large bunch of fresh herbs
(parsley, coriander and chive)
1 red pepper
1 yellow pepper
1 vegetable stock cube
Zest the orange and the lemon, then juice both fruits.
Make 500ml stock with the vegetable cube, then add the juice and zest of the orange and lemon.
Put the cous-cous in a bowl and then pour over the stock mixture. Let it stand, stirring occasionally.
Meanwhile, chop the spring onion finely, and cut the peppers into small cubes. Chop the herbs very finely.
When the cous-cous has absorbed all the stock, use a fork to lightly 'fluff' it up, and then stir in the chopped herbs, spring onions and peppers. The salad should be heavily flecked with the green herbs, and the jewel bright colours of the peppers.
Feast Catering - Dave and June Dobson
Editor's note: sounds just the job to go with a barbecue – yummy!
Neighbourhood Policing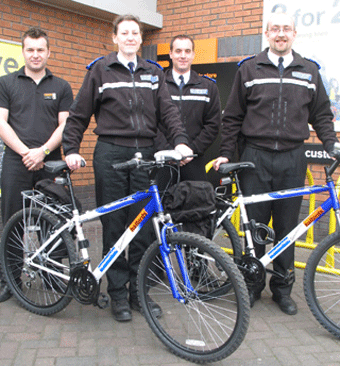 Halfords Store in Boston has generously supplied two mountain bikes for the South Rural Neighbourhood Policing Team in a bid to assist in increasing high visibility patrols in more rural areas and providing reassurance to the local community. The bikes will have panniers, locks and lights and Hi-Light Signs of Boston added the finishing touches to the bikes, such as livery.
Antisocial Behaviour
Figures for March 2007 are as follows:
1 x Inappropriate Gathering
1 x Inconsiderate Behaviour
1 x Throwing things
2 x Vehicle Nuisance
Figures for April 2007 are as follows:
1 x Noise Nuisance
1 x Drunken Behaviour
8 x Inconsiderate Behaviour (There are no apparent trends to this behaviour)
1 x Throwing Things
3 x Vehicle Nuisance (Youths on Mopeds and in Cars at the Town Hall Car Park, Station Road. The Neighbourhood Policing Team is investigating this)
If anyone has any issues or concerns, please do not hesitate to contact me at:
Kirton Police Station, Station Road – 01205 722002 or alternatively you can e-mail me at adam.eden @lincs.pnn.police.uk
PCSO Adam Eden
The Registers
Baptism - We welcome into God's family:
8th April - Kane Ricky Middleton
22nd April - Jasmin Lilly Clarkson
22nd April - Donald Mark Trent Slade
22nd April - Jada Mia Swaby
Funerals - We commend to God's keeping:
10th April - Josie Stanney
12th April - Phyllis May Gilliatt
13th April - Phyllis Margaret Early
17th April - Doris Rose Patchett
27th April - Rita Lawton
4th May - Joan Evelyn Norris

Donations
The magazine committee wish to say 'Thank-you' for the following donations which are much appreciated.
A & M Everitt - £10
Anon - £5
Anon - £10
Sale of scrapbook - £2

Donations for the magazine may be taken into Fossitt & Thorne (The Green), enclosed in an envelope.
Kirton News Sponsored Walk
This month, June 9th, is the date for our very own Sponsored Walk to fund-raise for Kirton News. The walk is set to start at around 2pm starting from the Kirton Youth Centre, so if you need to walk your dog, want to stroll with your children, or just fancy a walk with friends, then please get sponsored and come along!
The walk will not be a long one, so children and not very 'good' walkers (such as myself), should be able to manage with ease. Sponsorship forms can be obtained from me, or from Fossit & Thorne who have very kindly agreed to distribute them/ The weather should be lovely (hopefully), so please spare an hour on Saturday, 9th June at 2pm and walk with us for Kirton News. I would like to personally thank everyone who has contacted me to offer their help and advice...all very much appreciated.
Hope to see many of you on the day. The more the merrier!
Tricia Mortimer
4th Boston (Kirton) Scout Group are all now MAD Scientists
Over eighty Beavers, Cubs and Scouts from all over Boston District came together to learn and discover how much fun science can be. The Mad Scientists arrived in their white coats ready to amaze their audience with smoking water, bubbly liquids exploding all over the place and smoke rings from a dustbin! How do they do that? With dry ice and a little magic that had the children oohing and aahing. They had flaming paper that went off in a puff of smoke and a whoosh of flame that exploded from a tube and then just disappeared.
It was all about Fire & Ice, the name of the show, about temperatures and how materials can change and about how they can change from a solid directly to a gas. Fantastic stuff, but not magic; just science.
The children made slime and a periscope to take home, explored electricity with a vortex generator and looked at making circuits, investigated light, colours and how refracted light changes colours. (I think that's right!)
To complete the day Jonny Neutron, the head man, made up a rocket and we all went out onto the green to launch it. Standing well back we all joined in the countdown from 10 and as we reached 1 he hit the launch button and the rocket sailed high into the air. The parachute opened and it gently floated back to earth. Better than a NASA launch!
Whew, what a great day we had , a special day in honour of our Centenary, so good in fact that I am thinking of putting on another science day later in the year with many new topics to explore. So watch out, all you Mad Scientists, get ready to learn more. Yours in Scouting
Lesley Lanfranco - Scouter in Charge