June 2015
The Editors Letter
Greetings good citizens of Kirton. I write this on St. George's Day. England's show of national pride never seems quite to equal our three neighbours when it comes to celebrating our patron saint (even though he was Turkish!) and I always think that's a bit of a shame. I shall be raising a glass to the old dragon slayer this afternoon - any excuse! - but reflecting, not only on our lack of national pride, but also the apparent absence of more local attention.
In our pages this month we have mention of fly tipping in our country lanes for instance. A common though abhorrent occurrence – and potentially dangerous. Any of you who are Archer's fans will know of the recent floods in Ambridge caused by a blocked culvert wedged with rubbish! And the new Skatepark (officially opened on April 25th) which, as highlighted in only last month's 'News', is being tarnished by carelessly discarded bottles and wrappers.
I am very aware that Kirton is not unique in having these problems but a constant theme seems to be that the more mature members are the ones who do the caring about the community - the younger ones make the mess! Or am I wrong?
Going back to the Skatepark - it has been younger members of the community who have stood up to be counted. Admittedly because it's something that benefits them but at least they have shown they CAN make the effort. Why don't we see more younger folks getting involved in other stuff?
The Town Hall for instance. Their committee is struggling for volunteers (see page 11). They do a great job within the community keeping that much loved and well used facility up and running but they need numbers. Younger faces.
The youth used to be involved more. I remember running a series of features on the history of Graves Park a couple of years back. Photos of the youth of Kirton going out, getting involved and enjoying themselves. Now those youngsters have had their families but the "community gene" doesn't seem to have passed on, well, not to many.
Shame. Let's do it all on social media shall we? From the safety of our sofas !!!
Sofa - so good then!
On a purely selfish note - and speaking of volunteering I could do with a couple of people to deliver the Kirton News around the village. Particularly Dennis Estate. We have had a few long serving and much appreciated distributors having to hang up their carrier bags lately. Time gets to us all eventually. I am hugely grateful to all of you out there who do deliver this little bit of nonsense – we, quite literally, could not do it without you – but if someone could spare an hour or so a month then please get in touch!
So, on those notes, I'll leave you all to study the form of the candidates, national and local, (I've just had half a tree through my letterbox filled with smiling faces and false promises – and what's Paul Kenny doing on a beach?) and make your decision for May 7th. But first, don't forget World Star Wars Day - May the fourth, [of course] be with you all!
Sam
The Kirton Church Fund
The April draw takes place on Sunday 26th and the winning numbers will be printed in the June magazine.
The May draw takes place on Sunday 24th and the winning numbers will be printed in the July magazine
We have a first time winner this month, well done number 51. Also well done to lucky number 38 who has now won 3 times!
It will soon be three years since we started the Kirton Church Fund (how time flies!) and we have given away a lot of prize money. Why don't you come and join us? You too could win! Anyone over 18 may take part.
We still have plenty of room for more members and there is a very good chance of winning in the Kirton Church Fund monthly draw.
The prize fund each month is 1/4 of the money taken each month. The rest of the money goes to the Kirton Church Fund.
The more people that join the higher the prize fund and the more money we raise for the church.
Registration forms are available from Fay, please ring 01205 723529, or for more information about Kirton Church Fund please give Fay a ring.
March 2015 Winners
Hedgehog Awareness Week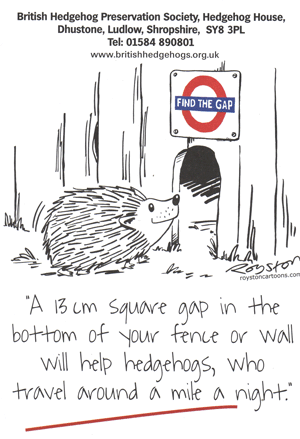 As it is approaching hedgehog awareness week (3rd – 9th May) I thought it would be a good time to appeal to all people with a garden, who are in the process of erecting new fencing, Please please leave a small gap at the bottom so that hedgehogs can move from garden to garden to forage.
'Habitat connectivity is vital to hedgehog populations. One of the simplest steps people can take to help Hedgehogs is to link gardens in their street. Team up with neighbours and make a small hole in shared boundaries so the hedgehogs can roam freely.
A hole that is 5" (13cm) square in size at ground level is big enough for a hedgehog to pass through'. (Information from Hedgehog Preservation Society Catalogue, autumn edition)
After all, Hedgehogs are the gardener's friend, eating all those plant eating slugs. Better than putting slug pellets down, which of course do kill hedgehogs.
Hedgehogs are in serious decline. It is estimated that hedgehog populations in some parts of the UK have declined by approximately 20% in the last 20 years; the BHPS and PTES say that they are declining at the same rate as other animals globally, such as wild tigers! (Information from an article The Hedgehog Preservation Society)
You can find information about the Hedgehog Preservation Society's on their Facebook page and on twitter. (www.twitter.com/hedgehogsociety)
Paula Davies
Have you ever lost someone you loved?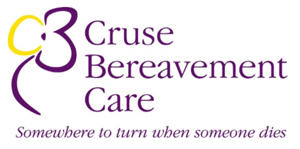 Anyone who has lost a loved one understands that grief is the price you pay for loving someone. We all experience the devastation of grief at some time in our lives. Grief affects people in different ways and can often seem overwhelming.
The Boston and District Branch of Cruse based at the Butterfly Hospice in Boston supports bereaved people across a wide area of Boston, East Lindsey and South Holland. This invaluable service is operated by trained bereavement volunteers giving their time freely to support the bereaved.
The Cruse team provide support over the phone as well as face to face, promoting the wellbeing of the bereaved, aiming to help them understand their grief and loss. The fundraising team strive to raise the funds to keep the service going, as all our funds need to be raised locally.
On Sunday June the 7th, we will be holding our "Memory Walk" around Jenny's Woods in Boston – a time to reflect on lost loved ones, and raise valuable funds for the branch.
If you who would like to become a "friend" of Cruse, and support us by helping to organise events and activities in our area, or just want further details of the Memory Walk, please contact us at: bostonanddistrictbranch@cruse.org
History Digest
The people of Hunstanton recently learned exactly where Kirton lies on their horizon over the Wash. On 31st July this year 2003, and for several more days, an immense column of black smoke rose from burning tyres stacked in a depot in that village. Ten fire engines and crews attended.
1978 will be remembered as the year when Kirton Gas Works no longer provided church music! For many years the organ had been 'blown' by a fan driven by a gas engine in a sunken 'blower house' inside the north wall. Now an electric motor does the job.
Government Air Raid Precautions for the east coast require additional units of the National Fire Service to be formed, and before 1940 Kirton will have one. The former Congregational Chapel will be the station, and will undergo drastic changes at the front.
When Arthur Walker retires as Subpostmaster in 1968, he will leave behind memories of a busy councillor who had served the village for nearly 30 years. He was awarded an MBE for his services as President of the National Federation of Subpostmasters.
Our new bus shelter near the church bears a plaque inscribed: 'Presented to the Parish of Kirton in memory of William Guy Sampson by his parents, 1952'. Mr. Sampson senior is the village's chemist and optician.
Sunday's national newspaper 'Reynold's News' had a photo of George Lansbury, Leader of the Labour Party, talking with our George Craven. The new Craven Avenue, built in 1934, is named after our George, a Cooper by trade and a prominent leader of the local union of agricultural workers.
A familiar sight in Kirton will be seen no more after 1932. Mr. Lawrence Richardson of Wash Road, his carrier's cart PERSEVERANCE, and his two 'horsepowers' Betsy and Daisy, will be going into retirement.
What has been described as 'the far-sighted act' of Kirton-born Dame Sarah Swift was her successful effort during 1916 to lay the foundation of the College of Nursing. Now, twelve years later and highly respected, it has been granted a Charter and become the Royal College of Nursing.
The Holland-with Boston parliamentary by-election in 1929, caused by the untimely death of James Blindell MP, will be contested by Mr. Frank Dennis of Frampton Hall as an 'Independent Agriculturalist'. Mr. Dennis is a son of the late William Dennis JP, known as the 'Potato King'.
French warfare in France in the three years since 1914 has seen many acts of bravery, none more so than those of our Sergeant Harold Jackson, who is 23. He has now been awarded the Victoria Cross, for 'most conspicuous bravery and devotion to duty'.
During the coming year of 1891, next to the Bede House in Willington Road, a new Parish Hall will be erected. It will serve also as a Sunday School for the church of St. Peter and St. Paul. Gas lighting will be installed, with a coin meter.
Letters to the Editor
Rubbish Dumper
Just to say a big "Thank You" to the person who, after enjoying a party and loading the rubbish bags into their vehicle, decided to dump it in the drain by our house in Wash Road.
It is a great shame they don't know what a dustbin is for or where the local tip is situated. And I suspect they are the first to scream and moan if they are flooded because the drains are blocked!
But praise must go to our local council who removed the rubbish just 36 hours after it had been reported – it's just a shame someone has to clean up after these people!
Yours;
Sue Still (Wash Road resident)
Kirton Kids Club
The children have enjoyed many Easter activities during the run up to the holiday.
These included a great Easter egg hunt and a 'goodies bucket' filled with Easter sweets, eggs and toys. (Thank you Ms. A. for the buckets).
They have drawn coloured and made Easter themed arts and crafts during the sessions too. Then ended off the term with a pizza party on the last day.
The weather was kind to us again and we spent a lot of the afternoons outside – this outside space is now being set up again as we continue our growing activities.
We also had donated a 'car' for the children to play with and enjoy – this has been very popular (thank you to Mr. S. for acquiring it for us and Mr. M. for helping me with putting it all together) and the children will, no doubt, go on many new 'journeys' in this wonderful equipment during the warm summer months.
If you wish to book either of the daily sessions – breakfast club starts at 7.30am to school and after school sessions run from end of the school day to 5.45 pm.
Breakfast club includes a choice of breakfast and drink and after school sessions include a 'high tea' and drink.
Breakfast club is £3.50 per child per session and after school is £5.50 per child per session.
For more information of a free 'taster session' please call 07583 762072.
Ofsted and Charity registered.
Website: kirtonkidsclub.co.uk
Email Address: kkc09@live.co.uk
Guys v Girls Netball Event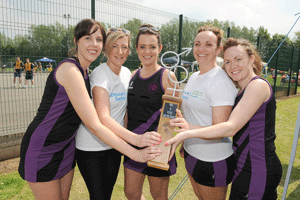 After last years' success, the 2nd Annual Guys V Girls Netball Tournament, lovingly named 'The Revenge', will be held on Sunday 31st May 10am-4pm at Kirton Middlecott Sports Centre. Alongside this, there will also be an even bigger and better Family Fun Day, both of which will be raising money for 2 great charities, Pancreatic Cancer UK and Cancer Research UK.
Added extras for this year include 'Maudes Diamond Draw', performances from AJ Dance and a morning visit from Queen Elsa and Princess Anna!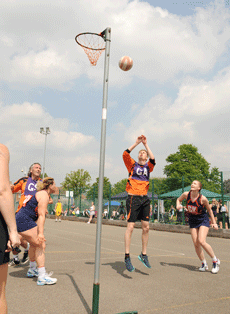 A Hog Roast and BBQ by the Pig Issue and Huskys Ices will be on hand to feed rumbling tums as well as a Rodeo Sheep, Inflatable Gladiator Duel, Football Shoot-out, Bouncy Castle, Raffle & Tombola and face painting to entertain the whole family. And of course, all of this alongside a fun and competitive Guys V Girls Netball Tournament where this year the Guys will be out for revenge ... well worth a look!!!
All are welcome so please come along and show your support for our great charities.
Sponsors: Kirton Middlecott Sports Centre, S.M.Kent Roofing & General Building, J & D Betts Plumbing & Taylored Security Services.
Clare, Laura, Lindsay, Rachel, Kate & Ellen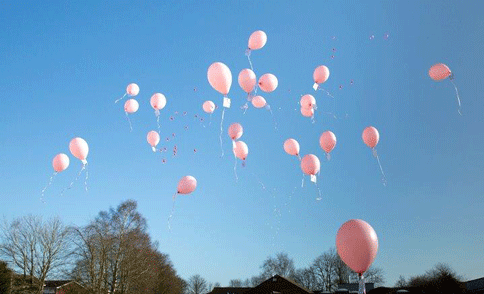 Kirton Primary School's
Official Opening of the Extension
In February, the Right Honourable Mr Simmonds MP for Boston and Skegness officially opened the new extension at Kirton Primary School.
The bespoke building has added seven new classrooms, a new library and extensive work space for intervention and extension work.
To mark the occasion, invited guests were entertained by the School Choir and School Cheerleaders. The younger children, who had moved into the new classrooms, baked biscuits and cakes which were served by older children.
Once Mr Simmonds had officially opened the building and revealed the new plaque, almost 200 balloons, one for every child who has moved into the new building, were released to finish marking the occasion. One balloon reporrtedly reached Dover only 3 hours later!
Thank you to everyone who was involved in making this day special.
Volunteers required
Kirton Town Hall Management Committee is managed by a team of volunteers who work very hard to keep the town hall In good repair and open for all to enjoy in the village and surrounding areas.
We have been running Discos for the children in the junior school and this has been very successful. We wish to continue doing this at least once per term but we do not have enough people on the committee to safely run these. We would like to appeal to parents who would like this to carry on to volunteer to help in these sessions. We usually run the infants for an hour and the juniors for one and a half hours once a term. I would be very grateful if any parents would be willing to help. Please contact me at the telephone number or email below if you can help. We cannot book a disco or a date for the Summer term until we have enough volunteers and as the children enjoy this so much it would be a shame if we could not carry on.
We also need volunteers for the Committee who meets once a month, we will need a Treasurer in the next few months and also people who are interested in staging events to raise money for the hall. If anyone is interested could they contact me or come along to one our meetings which are held in the Upsall Rooms on the third Tuesday of the month at 7pm, all will be welcome.
Our AGM is to be held on 19th May 2015 at 7pm.
Thank you
New Running Club for the Boston Area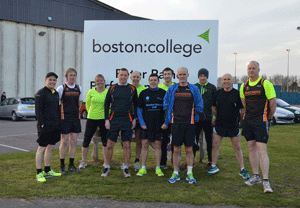 Runners of all abilities, including those just taking up this very sociable hobby are invited to join up with the Boston area group of the Skegness & District Running Club. We meet up at the Peter Paine Sports Centre on Roseberry Avenue in Boston on Thursdays at 7pm for an informal club run covering varying distances for all abilities and we'd love to see you there.
Skegness & District Running Club are a brand new club formed in November 2014 with the intention of bringing structured training as well as fun and a good social life to local runners. We host training sessions in Skegness on a Monday evening 6.30pm from our base the Crown Hotel on Drummond Road, PE25 3AB. In the Autumn and Winter we also meet at the Crown on a Wednesday evening 6.30pm and run several half mile and mile intervals on the Promenade. However we are not just a Skegness club, hence SKEGNESS & DISTRICT RUNNING CLUB. We have members in Spilsby, Wainfleet, Horncastle, Boston and the villages in-between where we like to organize social runs, often from Pubs so that we can have a drink/meal and a good chat afterwards.
We welcome members to suggest their favorite runs on our Facebook group so we can then organize a group run from those locations. In the Spring and Summer our runners will take part in the Wednesday evening races in the Wolds and we have two of our own organized races this year. Skegness & District Running Club will be hosting two "Bolingbroke Breaker" 10K events this year.
Starting and finishing at the Black Horse Inn Old Bolingbroke. They will be held on Wednesday 20th May & Wednesday 29th July at 7pm. Registration to take place in the pub on the night from 6.15pm. Cost to enter is only £3. The course is very scenic but quite challenging with two good hills to climb. It will be mile marked, well signposted and well marshalled and have a drinks station that you pass twice. Food and refreshments will be available from the pub afterwards.
We like to keep our membership fees down so we only charge £10 per year or £5 if there is less than 6 months to renewal time which is at the start of April each year. We are affiliated to ARC (Association of Running Clubs) at present and have applied to be affiliated to UKA (United Kingdom Athletics).
When we compete in races it's great to see everyone wear their black and orange cub vest (which are available from our kit officer Helena Shelton at a cost of £20.37) with black shorts or leggings. As we are a friendly and sociable club we like to enter many races together, the atmosphere is always exciting and the encouraging cheers and support go out to every one of all abilities.
If you like the idea of friends, fresh air and social events along with getting a bit fitter, toning up and losing weight but are a little self-conscious that you can't run, the truth is …. You can, and you start with walking!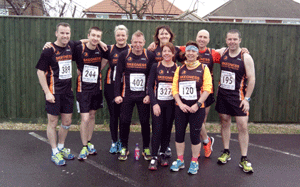 COUCH TO 5K -you know it makes sense
Regular running can reduce the risk of chronic illnesses such as heart disease, type 2 diabetes and strokes. It also helps with weight control, boosts your mood, helps with sleep and generally gives you a sense of wellbeing. So if you are interested in starting running in a relaxed but supportive atmosphere and have a bit of fun along the way then join us. It's a nine week course, it's free and you will feel a real sense of achievement with a Graduation party on completion. Skegness and District running club will be hosting this course in Spilsby from Tuesday the 14th of April, 6.45 pm meeting outside the Nelson pub. If you would like any information or just an informal chat please call Helena 07795578825. We are also looking to start a Couch to 5K course in Boston if you would like to know more then please give Helena a call.
Our website is being built now at www.sadrc.co.uk and you can find us on Facebook too, just search for Skegness & District Running Club. We look forward to welcoming you all.
Minutes Of The Meeting of
The Kirton Parish Council - February 2015
Public Forum
3 residents came to complain that the children playing in the park are making a lot of noise on the skate park equipment – the noise comes from them landing their scooters/skateboards. They also complained that the curfew is not being adhered to and that the youths/children are in the park well past the times they should be.
One resident also reported that vehicles are parking in front of the gates. This impedes access for emergency vehicles should it be necessary.
Chairman's Comments
The Chairman informed members that following a meeting with the LCC representatives who are helping with libraries a new suggestion was followed up and that the library could be housed in the New Life Fellowship church. The Clerk had arranged a meeting for the following week with the senior Pastor.
The Chairman thanked the Friday group for collecting in the wreaths in the cemetery.
He also thanked Cllr Brotherton who has been removed a broken limb/branch over the path outside the old cemetery.
Apologies for absence and reason given
Cllrs Fitzgerald, Austin, Lee, Smith and Ashton gave their apologies and reasons for absence which were accepted by the council.
Receipt of any declarations of interest in accordance with the requirements of the Localism Act 2011, and to consider any written requests for dispensations in relation to members' disclosable pecuniary interests.
Cllr Carter declared a personal interest in the Town Hall item on the agenda.
It was resolved after a proposal by Cllr Ransome, seconded by Cllr Brotherton and agreed by the remainder, that the notes from the meeting on the 15th January 2015, previously circulated were a true account of the meeting and should be recorded as the minutes.
Police Matters
No Police attended, however a list of crimes since the last meeting were as follows:
1 report of cannabis smoking – no further action , 1 burglary of shed – undetected, 1 damage to wall – undetected, 1 break in at Bowls Club – on going investigation, 1criminal damage to vehicle – undetected
It was reported that there is a rise in the number of catalytic convertor thefts - residents are encouraged to be vigilant.
Viewpoints on questions from members of the public
It was resolved to ask Mr Davies (Chairman of the Playing field Committee) to visit the park and listen to the noise the residents complain about. It was also resolved to ask Mr Davies to keep the residents informed.
Report from the minutes of the previous meeting/Clerk's report
Damaged manhole on Boston Road reported to LCC (outside Costcutter) ref 1309246
Correspondence received which the Council are invited to resolve on
Email from Peter Hunn proposing reduction in CCTV fee for 2015/16 and also 2016/17 – letter enclosed. Consider accepting proposals. Plus email received to confirm both cameras now fully functioning and inviting members to the CCTV suite to view them working. Consider who will attend/when.
Clerk to arrange visit to viewing suite. Cllrs Turner, Brotherton, Hannay, Ransome, Carter, Fossitt, Rylott and Foster all wished to go.
Clerk to write and accept the proposals in the email from Mr Hunn, but to ask that in future if there are any problems with the CCTV cameras in the village not working, that the Parish Council be kept informed.
Update from Alistair Humphry regarding blocking off Wash Road – matters are moving and now are with Western Power.
Lincolnshire County Council – Tourist facility signing – to consider payment of £200 to pay for erection of site investigations, sign designs, plans and preparations.
It was resolved to pay for the work to be carried out.
Kirton Youth Club – the youth sessions are now in full flow and have had to be split into 2 sessions to accommodate age ranges and also the number of children attending. Request is made that following on from the pledge for the Parish Council to pay for one session per month at £20 that both sessions once a month are covered at a cost of £30. Consider. It was resolved to increase the amount donated towards the Youth Club, however,it was resolved that should the sessions reduce to 1 again in the future that payments would also be reduced.
Matters for the attention of Lincolnshire County Councillors/
Boston Borough Councillors
Cllr Brookes informed members that he had made a donation of £700 towards the Youth Club from his Big Society fund.
Cllr Brookes has been pushing Highways to make sorting the flooding issue out on Station Road a priority.
It was reported that the trees that had been planted on the verge in Kirton Holme, outside Holme House have now been removed.
B/15/0014 – Erection of first floor extension, front porch extension and new roof over staircase at Crimea Cottage, Woodside Road, Kirton – NO OBJECTIONS
B/15/0010 – Application for a Lawful Development Certificate to show that the existing use of the building as a store in connection with Kirton Healthcare has continuously been as such for a period in excess of 10 years at Kirton Healthcare, 5 High Street, Kirton - NO OBJECTIONS
B/15/0015 – change of use of agricultural land to garden/paddock at The Old Cottage, Drainside North, Kirton – NO OBJECTIONS
Determined Planning Applications
Demolition of existing garages and erection of 1 No. detached dwelling with detached garage at rear of no. 4 Boston Road, Kirton – GRANT
Application to remove condition 3 (agricultural occupancy condition) of approval B14/0175/86 – GRANT
Accounts for payment
It was proposed by Cllr Carter, seconded by Cllr Brotherton and agreed by the remainder that the accounts as per payment sheet 11 of 12 dated February 2014/15 should be paid.
Town Hall
The committee have a number of plans for further improvements within the building such as individual thermostats on the radiators, and also have events planned for the upcoming months.
Cemetery
Clerk to arrange a list of names to be compiled of those memorials which were damaged when the tree limb came down in the cemetery recently and put in on the noticeboard and the Kirton News.
Reports for Various Bodies
Clerk to ask Cllr Ashton for an update re the speed indicator sign. Motorists reporting to Cllrs that the crossing on Station Road, despite being a marked improvement, is still causing concern as motorists cannot see people waiting to cross due to the road being really poorly lit up. Clerk to ask Highways if they can look at this.
Clerk to report the increased damage to Dances Bank since the solar farm was put in. Pot holes that had been filled have since reappeared as the filling has come out. Sides of roads broken down and then broken down some more due to the numerous lorries at the solar farm.
Clerk to report the road surface outside Fossitt and Thorne is poor again.
It was reported that Hardwick Estate is experiencing lots of dog mess being left on the pavements. Cllr encouraged to report individual for that dog to Boston Borough Council who will fine the culprit.
It was reported that Swinfields will be definitely closing the day-care centre this year. Funds held have been/are being distributed back to those who used the centre.
Speeding lorries were reported down Horseshoe Lane which is making residences shake.
Committees updates
Christmas Committee – discussing having electric lights again and not having the solar ones in the memorial area.
Pensioners xmas party committee – food has been booked.
Library update
The Chairman is due to meet the Senior Pastor at the New Life Fellowship with the County Council, but it is now accepted that the library will move to the New Life Fellowship Church during the summer.
To consider adopting draft Car Parking Regulations to incorporate charging for commercial vehicles to park in the car park at the Town Hall.
It was resolved not to charge for overnight parking in the Town Hall, however, the Clerk is to investigate how much it would be to get a barrier installed at the entrance to the car parks from Station Road. Clerk to inform Town Hall Committee of decision.
To consider going into closed session to discuss the next item:
Quotations for tree works in the Cemetery.
Item deferred to next meeting as did not get the 3 quotes necessary in in time.
The Registers
Baptisms - We welcome into God's family:
Joshua Theo Clark
Alfie James Williams
Elise James
Weddings - We ask God's blessing on:
no weddings this month
Funerals - We commend to God's keeping:
Mr Kenneth Pridmore
Mrs Greta Kitchen