May 2012
The Editors Letter
As promised in last month's Ed's Rant - Spring IS here! We've a packed mag for you again this month with plenty going on in the Village for all to enjoy, but I'd like to take some of this space to publish a reply I received From Mr. J. Clubb of the Graves Park Social committee in answer to last month's inquiry:-

"In response to your Editor's Letter in the April edition I wish to comment:-

The Graves Park Play Area was closed for a few weeks earlier this year as the site was undergoing essential maintenance and repair following vandalism to the walls, seating areas, bins and mounds, and as we all know health and safety when work is being carried out is paramount. The work has now been completed by our volunteers and the area was re-opened on Saturday 17th March and (if no more mindless damage occurs) will stay open for many months to come. The field and play area are open from around 9am until sunset.

"Graves Park Field and Play Area are not owned or maintained by the County, or Borough Councils but owned by The Trustees and run by Graves Park Committee which, with their efforts and fund raising enables this area to be enjoyed by the parishioners of Kirton and Frampton as was set up in the first instance back in 1957.

We are always pleased to have volunteers to help keep an eye on the area and keep it free of litter"

I'll be talking to Mr. Clubb in more detail and we hope to run an article tracing the full history [and present role] of the Park in our next (or a later) edition on The News. But this reply highlights a couple of very important points.

Firstly, we often forget how lucky we are in Kirton to have the excellent facilities on offer - and we also forget the huge amount of (voluntary and largely un-paid) work that goes in to maintaining and running these.
Secondly, it's so easy and convenient to ignore mindless vandalism! "It's not my problem". Well it is! It's a problem to ALL of us and we can ALL help stamp it out. Keep vigilant and don't be intimidated by a few ignorant, cocky (and, ultimately, cowardly) individuals. Even just making sure you dispose of your litter properly or take it home makes a huge impact; if nothing else, it will relieve Barbara (Westwood) of her daily duties. I'm sure she'll be grateful - as we should be to her!

But let's press on.... cast them clouts - M(m)ay is out!

Sam
Sports Relief in Frampton
The children from Frampton Community Playgroup did their bit to fundraise for Sports relief. They dressed up in their tracksuits and sporty clothes to take part in excercising, games and physical activities.

If you wish to see for yourself what we get up to, please call 07939 266154 and speak to Sue, who will be happy to arrange a visit for you.
What Granny used to say
I've always loved my fish and chips on a Friday night and I've always loved plenty of vinegar on them – such a treat!

But vinegar is such a wonderful household helper too - 'Kim and Aggie' in a bottle!
Here are a few tips that will make you think again about sharing your vinegar with your fish and chip supper.

Vinegar is non toxic and very cheap so you can afford to use it without any worries.
Mind you the best sort for using around the house is the very cheap white vinegar that smells less strong but can be infused with garden herbs or lavender in a jam jar before use.
Every year or so run a gallon of vinegar through the washing machine to clean it and clear out the hoses.

Run the machine through the warm wash cycle empty then add the vinegar during the rinse cycle.

This would work well for the dish washer too. Run a cup of vinegar through the entire cycle every month or so to clean build up.

To clean ceramic tiles mix ½ cup of vinegar in a ½ bucket of warm water – use to clean the tiles for a nice shine.

Add ¼ cup of vinegar to a sink of hot water and washing up liquid. This will help you clean burnt on casseroles, pots and pans. This water will make a great job of your cooker top too.

To clean mildew that builds up around your shower tiles dip an old toothbrush in vinegar and scrub the hard to clean areas, then rinse, amazing results.

Of course a real 'Granny' tip – add vinegar to the water you are washing your windows with and they will sparkle when the sun hits them and all your neighbours will be envious and want to know your secret!
Kirton Brass Band
The band are very pleased to announce that Mr Nicholas Tudball has taken up the position of our new Musical Director following the retirement of Mr George Brown. The band want to extend our good wishes to George and his wife Audrey for the tremendous work they have done in bringing up the band to a very high standard of which I know you have all been thrilled at the music played. We wish them all the very best for the future.

The band have been quiet since January which has served us well in getting to know Nick's style and him getting to know us and pulling out a complete new programme of music which I know you will be equally pleased to hear. Nick brings a complete fresh approach with his sense of humour, together with a wealth of experience within the banding world.

Nick joined his first brass band (Hall Royd Methodist Junior Band in Shipley, West Yorkshire) as a 3rd cornet player aged seven. He took up the trombone at the age of eleven and with the help of excellent teachers, gained his grade eight at the age of fourteen, adding grade eight euphonium the following year. For several years, Nick was solo trombone player with the Sirdar band in Wakefield.

Whilst doing 'A' levels at the Huddersfield School of Music, Nick played solo trombone in a youth brass band led by Philip McCann of Black Dyke fame and was fortunate enough to play on stage alongside such fantastic players as John Fletcher and John Iveson (Philip Jones Brass Ensemble) Peter Skellern and Don Lusher. It was during his A level years that Nick gained his L.T.C.L Diploma in Music.

In later years Nick played extensively in various Jazz and Big Band outfits in the Cambridge area before settling in Spalding where he joined the C.S. Big Band in Boston, as well as the Peterborough Big Band and Soke Big Band. He joined Kirton Brass Band in 2011 as a trombone player. We hope he will be with us for many years to come.

The band have already played their first gig of the year, namely The Grand Opening of Moulton Mill, now complete with sails, on Sunday 29th April. Next, the band will be joining with the Kirton village to celebrate Her Majesty's Diamond Jubilee Year by way of a Jubilee Concert to be held in the Town Hall on Saturday 26th May, 7.30pm.

Please contact me Tony Fell (Hon.Secretary) 07854 619657 or sootone@btinternet.com for futher information about these and other engagements also if you would like me to send an engagement list.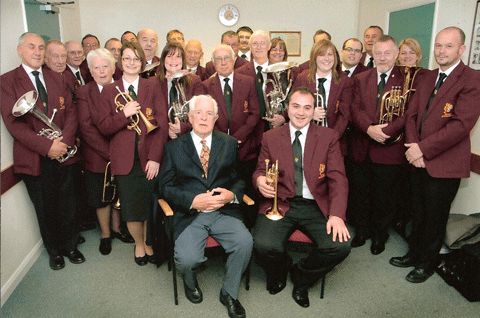 Care Home Project India
Concluding Maureen Bray's two part story following her continuing work in Bangalore
Work is also going on to retrain women; many are widows who have to keep their children's lives secure. The work of the Claretian Fathers is constant, going into schools and remote villages teaching of the dangers of AIDS/HIV. One remote village we visited had a population of approx 350 people. Everyone in the village is affected or infected with the disease. They are people who have no education and are extremely poor and desperately needing help. So the Care Home Project set up a clinic.

It is two years since I last visited this area, my memories of the village were of sad ladies and children looking at life with no hope. Yet in those two years the Clinic has become a clinic of excellence with positive results. The people have responded to the counselling on how to deal with the disease mentally, the children are happy because of the nutritious food and medicine. With the support of our money, the Care Home Project is proving this care is working.

One lady came to a group support meeting in this village, she was clearly very ill. She had walked many miles to reach the Care Home in the searing heat having heard we could help her.

As she came in the doorway she collapsed in a heap on the floor, she was extremely thin, and at a glance, until she looked at us, she could have been taken for a sack all crumpled up; her eyes were yellow and so sad, so ill. Her age approximately 20 years, I only hope we can get the help she deserves to save her. She had faith in the work of the Care Home Project.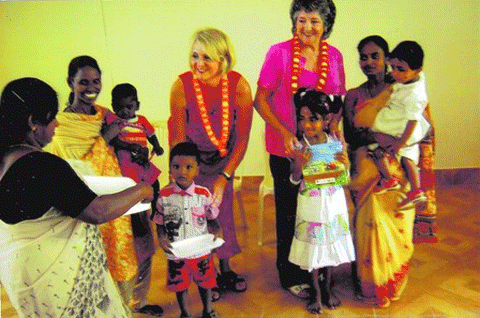 For every penny we raise here in the UK for the project, the Indian Government have pledged to match the amount. So after 12 years hard slog to get recognition of the problem of AIDS/HIV in India we are now making a slow headway.

I have to thank all the people who believed in, and supported me when I set this heart-rending charity up in Boston and Districts - 12 years ago in 2000. The blankets, toys, baby clothes and jumpers knitted by kind people have all been given to the poor and needy. A beautiful nursery wall hanging will hang in the orphanage. Also a thank you to Boston Tennis Club for the tennis balls, it was wonderful to witness the joy on the children's faces as each received a ball to play with.

The money raised for 2011 amounted to £3,000, bringing our total over 12 years to £35,000. We now have support in Peterborough and a further £30,000 has been raised.
I can assure you, the supportive public, the money raised is being well spent by the Claretian Fathers in India. I do not take anything out of the 'kitty' for expenses, every penny goes for the Children. Along with my determination to help them.
Kirton Sports News
Sport in School
Kirton Primary School has been raising more money for charity, this time in aid of Sport Relief. Every child in the school and also the staff came into school dressed in sportsware. There were numerous different football shirts spanning from Peterborough United to Barcelona.

In the afternoon children from all years took turns to walk laps of the field in the schools version of the Sport Relief mile. Students in Year 5 and Year 6 have the option of teaming up walking around the field completing the laps 3 legged. The staff of the school also completed laps of the field 3 legged.

Event planner Kate Dromey announced in the final assembly of the term that the school raised £380 for Sport Relief and also covered over 1500 laps throughout the afternoon. Major well done to the whole school and I hope the children and staff had as much fun as I did.

Pub Sports
As I reported in the previous edition Liam Carpmail (Kirton Leisure) and Roger Mason (Black Bull A) qualified for the semi finals of the Captains Cup. This tournament was held at the Golden Fleece in Wigtoft. Liam Carpmail went first and played Gary Willis. He successfully won the match guaranteeing his place in the final. Up 2nd was Roger Mason and he was against Terry Martin. He was also successful and set up an all Kirton final.
After a long and tactical match Roger Mason beat Liam Carpmail to become the 2012 Captains Cup winner, Congratulations to him and well done to Liam for making it to the final
The Black Bull A also played the Sportsman in the knockout cup final. After some good pool unfortunately the Sportsman came out victorious. Congratulations to the Black Bull A for making it into the final.

Football

In the under 12 B league Kirton Town under 12's carried on their good form, beginning the month with a 5 – 0 win away at St Helens. Their next fixture they travelled to Evolution JFC's ground and notched up another 3 points winning 5 -2.

Carrying this fantastic form into a home match against Metheringham they picked up another 3 points before beating East Coast Juniors 2 -1. Unfortunately their final match of the month again Sleaford Town resulted in a 3 – 1 loss. At the end of the month Kirton sit 5 points behind league leaders Holbeach but they have a game in hand.

FC Kirton followed their draw at the Admiral Nelson with a trip to Westside Rangers. When the final whistle blew the score was Westside Rangers 6 v FC Kirton 1. The following week they looked to shake of the loss by entertaining Fosdyke at home. Unfortunately they conceded 8 times scoring once. With two bad results FC Kirton were trying to shake off the bad form when they entertained Pointion Reserves, unfortunately they once again lost this time 4 -1. So the final game of the month they entertained Taven Colts and drew 1 -1. If things couldn't get any worse for FC Kirton they have also had 3 points deducted for fielding an ineligible player when they played Spalding Town back in February.

This poor run of results has left FC Kirton joint bottom of the league on twelve points with Spalding Town Reserves. Kirton Town Reserves looked to bounce back from their cup defeat when they entertained Wainfleet United at home. They did so by winning 3 – 0, after this match they spent time on the road travelling to Spilsby and Holbeach and notching up 4 -2 and 4 -1 wins respectfully. The final match of the month was at home as they entertained Spalding Harriers and notched up a huge 6 – 1 win.

This run of form leaves Kirton Town Reserves 3rd in the league on 44 points. a point behind Old Dons on 45 points and league leaders Queens Rangers who also have 45 points but a substantial goal difference.

Finally a little bit of fun:

A little bit of fun with a football related anagram: - See Millions
Your clue – A football player who doesn't do it for the money.

Remember if you want to feature in the next edition of the newsletter. Contact me on: shaun_paul2007@hotmail.co.uk
Kirton Kids Club
How quickly this month has gone and how busy the children and staff have been.
Our 'growing to eat' activity has been a massive success and there is always something to do.

The tomato seeds the children set in January produced just a couple of strong plants but even these are a success!

They have propagated herbs, set fruit trees and are in the process of setting up a vegetable 'plot' with all sorts of seeds and plants.

There are also strawberry and raspberry plants growing now too – as well as many flowers – thanks go to all the volunteers that have helped the club or have donated plants and seeds.

We hope to be able to make recipes using some of the produce from our 'garden' or send the children home with ideas and plants to help them continue this activity outside of club times.

Children seem so eager to plant and set seeds and seem thrilled when they see the fruits of their endeavours (literally).

All of this runs along side the other many arts, crafts, games and sports on offer to the children every day of the term time and advertised holiday sessions.
The club is opening for the last four days of the second week of Easter – all plans, activities and outings are now arranged for these.

We will also be open for weeks three, four and five of the school summer holidays too. We are offering a three tier system – A) 8.30am to 3.30pm @ £12.00 per session per child.
B) 8am to 5.30pm @£17.00 per session per child. Or a 'quick use' session during the holidays of one hour @ £2.50 per child (with a minimum of two hours booked).

The last session is ideal for those emergencies that happen from time to time or a quiet shopping trip and a cup of coffee to help you chill out and take on the rest of the day.

If you would like more information please go to www.kirtonkidsclub.co.uk where you will find all information, dates, times and prices or phone 07583 762072.
We are also open 7.30 am to school and after school to 5.45pm term time.
Palm Sunday Procession
On Palm Sunday members of the Anglican and Methodist churches joined together at the Town Hall in a short act of worship to remember how Jesus rode into Jerusalem on a donkey 2000 years ago. Everyone then joined in a procession to Church.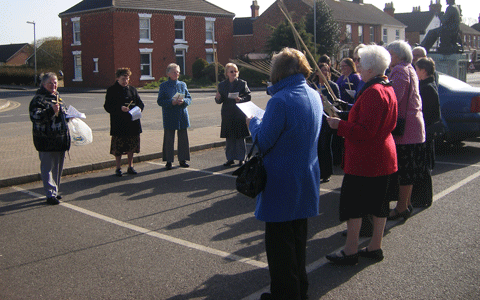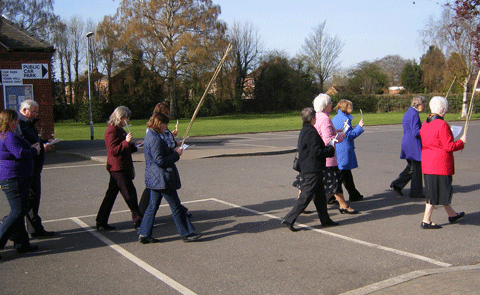 Meet the Little Explorers
Just down Willington Road there's a wonderful world of fun and excitement just waiting to be discovered... if you're pre-school age that is!!
But we'll let Rebecca do the introductions...

We are Little Explorers - we first opened our doors in September 2011. The building as you may or may not know is owned by The Sir Thomas Middlecott Foundation Trust. It was originally built as a school and it has been nice to take it back to its intended use. Previous to us being there the building was the home of DEFRA for 50 years. We have turned the downstairs into a children's day nursery and have a baby wing, a toddler wing and a pre-school wing. We feel very lucky to have so much space and it does give us lots of choice.

We have tried to make the feel of the nursery as homely as possible and we still have some work to do!! We believe that excellent staff can only enhance the quality care we give. Both our Manager - Hayley Connor and our Deputy Manager - Katie Lamyman come from Outstanding nurseries. We have recently had our first Ofsted Audit and have been graded as Good - which we are all very happy with and shows what hard work all of our staff have put in, in encouraging the children to develop at their own pace and become individuals who are confident in an environment which stimulates them. Our Ofsted report can be found on the Ofsted website and we would encourage all parents who are looking to place their child at a nursery to go on the website and have a look.

We have funding available for Pre-schoolers which means that as long as your child is aged 3 years and 1 term you would be entitled to 15 hours per week FREE childcare. We have also just been granted the facility to offer 15 FREE hours for 2 year-olds. Which means if your child is aged 2 and you meet certain criteria that you too could receive 15 FREE hours per week. The early years are so important in a child's life that to us, even if you couldn't afford to send your child to nursery full time, you could still take advantage of the free hours as they allow your child to learn to socialise and develop their skills and it doesn't cost you anything.

At the moment we are in the process of developing the garden with lots of new toys and themed activities for the children to participate in. We even have an Organic vegetable patch where the children will grow the vegetables that they eat at meal times allowing them to learn all about the cycle of where their food comes from. Our Out of School and Holiday Clubs are also being developed further. We offer a Before and After School facility that caters for children aged 4 years to 8 years and a Holiday Club that caters for children of the same age both at very competitive rates.
Our prices are very reasonable and competitive and we believe that having an affordable, quality facility on your doorstep is something we are proud to have been able to bring to Kirton. Being located where we are means that parents who live in Kirton and the surrounding areas can bring their children to Little Explorers, saving them having to go through the Boston traffic, as well as parents who live in Boston and perhaps have to travel past Kirton on their way to work.

We have a website which is www.littleexplorersnurseries.co.uk which is updated all the time with our news and special offers.
What's on at Kirton Library
It's our birthday in July and we are thinking of ways to celebrate 45 years in Kirton. If you have any memories or photos of the library and staff past and present, please would you share them with us.

Babble-books book group is in Kirton Library. If you are aged 5 – 11, why don't you come in, select a book from the display read it and review it for us? The reviews will go on display and you can see how others have rated the books. Titles include 'How to blow up Tollins' & 'Hairy Maclary from Donaldson's dairy' plus more.

Story & Rhyme Time for Under 5's:
Tuesday 22nd May & 19th June 10.30am – 11am

Author of the month:
Fans of gory crime will love Stuart MacBride! A favourite author of Fiona's she says "Perfect for those who like twists and turns and for those who don't mind crime too gruesome." The first three titles from the Logan McRae series are 'Cold Granite', 'Dying Light' & 'Broken Skin'. The library is taking reservations for his latest stand-alone book 'Birthday's for the Dead'

Rosamund Lupton's first book, 'Sister', was one of the best books I've read in ages, a thriller that was as beautiful as it was chilling. I'm really looking forward to her second book, 'Afterwards', which is in libraries now.

Library Opening Hours:
Tuesday 10-5pm, Thursday 1-7pm, Saturday 10-1pm
Contact: Tel: 01522 782010 or Email kirton.library@lincolnshire.gov.uk

Sutterton Surgery Society 200 Club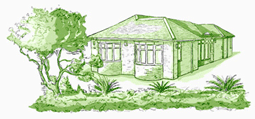 Can we please remind members whose subscriptions are due for the MAY DRAW to please pay by the first week in May to avoid your unpaid valuable ticket being sold to a new member from the waiting list.
It would really assist us with collection of monies if members could possibly pay 3 months or more subscriptions in advance. For Non Members there is a waiting list to join our 200 Club names can be added to this list in the Surgery Reception.

The new extension to the Surgery is progressing really well with the external walls almost complete. The construction work appears to be on schedule. The recent good weather has been a big bonus to the builders and we are all looking forward to the completion of our new Surgery.

Once again A BIG THANK YOU to all memners of the 200 club for your support!
March 2012 Winners
Garden Waste Collection
Becky Shinn, Re-Cycling Officer for the Borough of Boston writes:-

It's that time of year again, our gardening tools are coming out and we are all wondering how we can best dispose of our garden waste.

As in previous years, we will be providing a Saturday garden waste collection service to residents of our Borough, our refuse collection vehicles will be stationed at designated areas for you to bring along your grass cuttings, weeds, leaves, hedge and tree cuttings. Each site is allocated an individual time slot and our friendly operators will be on hand to help out load your garden waste onto our vehicles. Please note, garden waste should not be left at sites in-between collection times as this will be treated as fly tipping.

You may already be aware, but the Council is working very hard to try and introduce a kerbside garden waste collection service to residents. As part of that process we are currently undertaking an exercise to determine who would like this service and we are asking for residents who are interested in the scheme to sign up. If you would be interested in participating you can sign up by either calling a member of the Fen Road team on 01205 311112, e-mailing us at: fen.road@boston.gov.uk or by replying back to me, including a completed register of interest form *.

It is important to note that when the kerbside collection scheme is introduced, the Saturday garden waste collection service will stop. Additionally, garden waste will no longer be permitted in your green bin. Alternatives for disposal of garden waste will then include home composting and or taking your garden waste to the civic amenity site (the tip) yourself.

If you would like more information on the Saturday garden waste collection service, or the kerbside collection service, please get in touch with me and I will be happy to help.

*Editor's note: if any of you would like a register of interest form and have an e-mail address just let me know. I have a copy I can 'mail out to you. Just contact me on: sam.chapman50@btinternet.com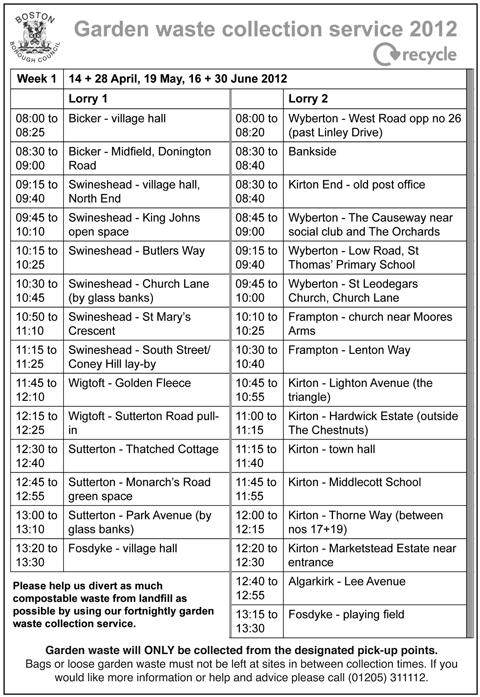 Thank- you from David Hilton
My recent experience brought home to me the fact that "out there" is an army whose dedication and expertise is focussed on dealing with life-threatening situations. It is to a large number of them that I owe a huge debt of gratitude.

My lasting impression of both Hospitals, Pilgrim and Glenfield, is one of the attitude of the staff, which was very positive and upbeat, and raised everyone's morale. Nor must I forget my family – especially Sylvia – and my friends, whose help and support was, and is, invaluable. To them I offer a great big thank-you from the bottom of my (remodelled) heart.

I am very, very fortunate to have been given a new lease of life.

Old Photographs required by
Graves Park Social Committee!
As part of the Jubilee celebrations Graves Park are planning an exhibition of photos and memories of the last (Silver) Jubilee, or Coronation celebrations that took place in and around Kirton.

If any of you have any material we could use please contact Sharon Keal on 724057 or get in touch with Kirton News by the usual telephone or e-mail channels as soon as possible.
Extracts from The Parish Council Meeting Minutes - February 2012
Police Matters
Cllr Lee informed members that he had met Sgt Joynes replacement, Sgt Kate Odlin.
It was resolved unanimously that a letter of thanks should be sent to the Inspector at Boston to thank Sgt Joynes for his support and efforts over the last few years.

PCSO Williams reported the following 7 crimes since the last meeting and the use of the sheds/garages to the rear of Kyme Mews to BBC – on-going.

Flooding on junction of A52/Holme Road and the subsidence on Holme Road have been reported to LCC.

With reference to an additional post box in Kirton – Clerk has been in contact with Post Office and a man is going to come to the village to see if one is necessary. No contact received as yet, Clerk to chase Clerk has written to the Thomas Middlecott Trust to inform them that the first piece of equipment is due to go into the park in April.

Clerk has had agreement that the £106 money released to Parish Council as soon as they receive an invoice for the equipment going into the park.

Pot holes along Wash Road and debris (rubble) between 42-44 London Road on the pathway reported to LCC.

Resident also came to office to complain that the planting in the communal gardens is messy in some of the areas – he was advised to report this directly to the developers as this area has not been adopted by the Borough Council…

Correspondence received which the Council are invited to resolve on

Local Government Boundary Commission – Electoral Review of Boston – consultation period now running until 9th April.

Commission minded to reduce the Borough Councillors number to 30. Posters in village informing residents.

LIVES – have recently lost the Peacock as a place to hold their meetings. Would like the Parish Council to consider allowing LIVES meetings to be held at the Town Hall at the Parish Council's expense. (1 meeting per month).

Members resolved not to pay the hall hire, but to steer the charity in the direction of the Town Hall Management Committee who may help them.

Victim Support – requesting donation: It was resolved not to give a donation at this time.
Four Villages Day Care – requesting donation: Cllr Ransome as the representative for the council asked the Four Villages Committee not to approach the Parish Council this financial year as a donation had already been made in June/July. It was resolved to look at this request in June/July of 2012 and not before.

Quotation received from contractor for the watering of the hanging baskets/tubs in the village. It was resolved to accept this quotation – Cllr Ransome declared a personal interest as the contractor is known personally to her.

Matters for the attention of Lincolnshire County Council

The Church Group at Kirton Holme/Cllr Bush/Cllr Lee have decided that the Jubilee beacon is not suited to the site they are developing opposite the church as the beacon is too large. However, they are looking at other suitable sites within the village.

Cllr Smith raised the concern about the A52/B1192 junction. He said that there are regularly near misses at this junction and would like for it to be reassessed with the Highways/Road Safety Partnership – Clerk to write to Road Safety Partnership and Lincolnshire County Council Highways and request a site visit to discuss this site further. Copy letter to Cllr Skinner/Rush and Smith.

Cllr Rush passed on thanks from Frampton Parish Council for the support re: Leighton Bungalows speed into/from Wyberton/Kirton

Other matters for the County Councillors

Cllr Brookes gave members a run through with regards to issues raised by the Local Government Boundary Commission.

Kyme Mews issues (double yellow lines) – this is to be discussed at the planning and regulation committee next month.

Cllr Turner asked whether residents near to the site should have received individual notification regarding the plans, Cllr Brookes will enquire as he was not sure.
The previously proposed Waste Transfer Station is to be sited at Slippery Gowt and a planning application will be made shortly.

The tyre recycling planning application was not made by Fossit and Thorne – it is thought that they are waiting to see what the outcome is from the appeal made for the site at Sutterton.

The money pledged from Cllrs Big Society Fund has been received from Cllr Brookes – publicity willz follow.

The trees off Wash Road – discuss whether to approach the County Council and ask to plant trees on area purchased by LCC but not used.

It was resolved unanimously to let the resident who is approaching the County Council continue and then see what the outcome is before following up by the Parish Council.

Cemetery

All of the Christmas wreaths have been collected up and removed from the Cemetery. Cllr Lee thanked Cllrs Turner, Brotherton and Foster for their parts in this.
Reports for Various Bodies

Cllr Fitzgerald reported that the light to the side of the Town Hall (nearest the Fire Station) was still out. Cllr Hannay will deal.

Cllr Ransome has been at various meetings in her representative role. At the after school club there are reports of dwindling numbers and concerns about their rent situation – the afterschool manager is concerned that the club may have to close. A Business Manager is being sought at the school to take on more of the admin role.

A request had been made to the Clerk for a grit bin on the corner as you approach Marketstead Estate. It was resolved that the Clerk to write and request from Highways.
Parish matters - Recreation Project

The first play equipment will be going into the Park the week beginning 2nd April 2012.
The soil/contaminated area is still an on-going issue.

Inspection Rota

Cllr Hannay is continuing with this at this time.

Pensioners Xmas Dinner

Cllr Ransome is in talks with Boston College and this is on-going.

Training for Councillors

LALC are keen to introduce mandatory training for all councillors. To this end a schedule of training dates for 2012 was given to all councillors – to book through the Clerk.

Last Night of The Proms

George Brown has retired from Kirton Brass Band and so a new organiser is needed for this event. It was resolved unanimously that the Parish Council will now take over the organisation for the Last Night of the Proms. Cllrs Lee/Turner/Smith/Brotherton/Fossitt and Ransome will all form a committee. Clerk to write to Mr Brown and wish he and his wife well in their retirement and to thank them both for all their hard work and efforts over the years with this event.

Jubilee beacon

Site in Kirton Holme not suitable due to size of beacon – Cllrs Rush/Rylott and Smith are investigating new sites within the village.

Kirton Holme – Jubilee bench

Cllr Lee proposed a Jubilee bench for the area instead, but members resolved to wait until the committee/group approaches the Parish Council before offering one.

Emergency Planning
This is on-going with Algarkirk and Sutterton.
Local Policing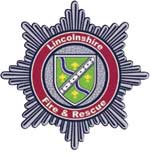 We are investigating the deliberate ignition of haystack fires within the Parish of Kirton and the surrounding areas. Incidents have occurred at the following times and locations: 10-03-2012: Holmes Farm, Kirton, 12-03-2012: Dovecote Farm, Wyberton Fen, 14-03-2012: Holmes Road, Kirton and 16-03-2012, Ferry Lane, Brothertoft.

We believe that the suspects are using vehicles to attend the rural locations of the stacks. On one occasion, a witness has described a RED vehicle with a loud exhaust.
If anyone has any information regarding any of the fires above, please contact us at Kirton Police Station 01205 722002.

Help Us In The Fight Against Drug Dealers!!!!!!!!!!!!!!!!!!! Help us to keep crime out of YOUR community.

Who do you suspect is dealing drugs? What are they selling? When/where are the deals taking place? Where are the drugs kept?

Are your neighbours leaving the house at strange times at night? Are your neighbourshaving lots of visitors at all hours of the day, for only a few minutes?

Who is committing car crime? Who is driving without a driving licence, road tax and insurance? Who is drinking and driving?

Who is suffering from Anti Social Behaviour? Where is it happening?

Please Contact Kirton Police Station 01205 722002.
The Registers
Baptisms - We welcome into God's family:
March 4th - Riley Wainright
March 11th - Lilly Ann Rowett
March 25th - Casey Jane Rose Prachet
Weddings - We ask God's blessing on:
March 10th - Sally Jean Jackson & Michael Kenneth Rhodes
at the Methodist Church
Funerals - We commend to God's keeping:
March 1st - Nora Cooper - aged 88
March 30th - Elsie May Favell - aged 87- at the Methodist Church
Donations
The magazine committee wish to say 'Thank-you' for the following donations which are much appreciated:-
The Community Coffee Shop....£50
Graves Park Social Club..........£10
Julie Nicol...............................£5
Anon......................................£5

Donations for the magazine may be taken into Fossitt & Thorne (The Green),
enclosed in an envelope.