November 2014
The Editors Letter
So, I'm having to [seriously] think about getting the trousers out!
2014 is in its iron lung and shortly to breath its last. "Good riddance" some may say. Certainly, looking at most of the stuff in November's packed edition of Kirton News, you may say things are looking a bit dire. The NatWest thing - which isn't quite over yet - the Skate Park thing - which is, frankly, a disgrace - and a third thing I have been asked to throw into the pot, specifically for the attention of the Parish Council and Highways Department. The state of the potholes on Bungle Lane.
Bungle (some say Bungly) Lane at the side of the 'new' cemetary has been a neglected thoroughfare for some time.
You will remember the, far too lengthy, problems on the Willington Road/Penny Gardens junction with the collapse which occured, only recently, when Bungle Lane became a regular 'rat run' for many of you, putting undue pressure on an already neglected track.
It is still in use by many but, wear, tear and over use have created very deep, very dangerous holes in the road which desperately need to be assessed, addressed and repaired.
I have had several folks get in touch asking Kirton News to highlight the problem with a view to asking the relevant authorities to give it their most urgent attention. It is coming up to the season when water and ice can mask a potentially dangerous hazard.
We know you have lots of other stuff to do but, it seems an important issue to many in the Village.
Worth puting onto some agenda, at least.
It's disappointing to walk through the middle of Kirton (because we don't have a 'centre' as we know!) to see so many 'for sale' signs and vacant, empty windows. It seems, however, to be a national trend. Which doesn't make it any better. Improvement can only come through a growing local economy. I bang on about this, and bore people constantly in the local boozer but, it really is about supporting local businesses and local people.
Don't get your cabbage or your 'tates from Tesco - go to the 'Villager' and get things that are going to taste as they should - and last for a bit in the veg rack.
Don't get your chops and bacon pre-packed, sweaty and tasteless, go to Beesons and get fresh, decent, locally produced stuff.
Don't go no the internet to order your bread and milk, go to Jessops; the Co-Op, Coopers, Kesh's or Jhays. And walk - don't drive.
It's probably cheaper in the long run, and most certainly better quality. And it keeps us all going, and growing.
Local communities are important on so many levels. If folks were closer we might not have the Skate Park problems; the 'anti-social behaviour', and all the other things that go with this breakdown in values that seems to have been creeping insidiously into everywhere over the past thirty years or so (or longer).
People are about people, not 'social networks' or on-line this, that and the other. We've had the best 'social network' going for centuries. With real people - face-to-face - not facebook-to-facebook.
Ah well............. Until the next time, eh?
Sam
At your Convenience . . . . .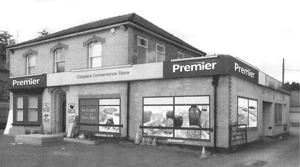 Anna and Vanessa would like to invite you to a new shopping experience. At Cooper's Convenience Store we can cater for all your needs form a daily grocery perspective. We offer local produce; butchery; hot pasties and drinks; alcohol; frozen and fresh food; newspapers and magazines; tobacco, coal and scratchcards.
We will shortly be offering a home delivery service on groceries and newspapers.
And, if we don't have what you require, just let us know and we will do our best to stock your favourites.
As owners, we have over 30 years of (joint) retail experience. Anna is Boston born and bred and has committed her working life to the area. Vanessa is originally a London girl but spent her childhood in Kirton, with Middlecott School as her Alma Mater.
Tied in with the Premier group we are able to offer a huge range of competitively priced goods as well as a scratchcard outlet and a free ATM service.
Our small, and friendly team would like to welcome customers, old and new, to our store at 47 London Road, Kirton. PE20 1JG.
We are open from 6am to 10pm 7 days a week and are here, for your convenience.
We look forward to the opportunity to serve you. Many thanks for your support.
The Royal British Legion
Kirton and District Branch

Hello Readers, it is the end of the 2013 poppy appeal and a very successful year it was.
It is now the start of the 2014 poppy appeal and all the poppy boxes will now have been delivered so we at your local branch of TRBL will be looking forward to another successful year.
We completed last year by supporting the Lincolnshire international bomber command memorial, with a talk given by Mr Tony Worth HM lord lieutenant of Lincolnshire, this was a very interesting talk and the question and answer afterwards brought up quite a few interesting items, one of which is, it is now a International Lincolnshire memorial to bomber command to make it more attractive to the rest of the country, it will also be a learning centre headed by the university of Lincoln.
All those that attended had a wonderful evening and made a total donation of £138.58 which was been passed to the trust. We would like to thank everyone who attend and a special thank you, to the Ladies section for providing the tea coffee and biscuits.
On September 8th I was ask by the Keep Fit Group in Boston To go along to their meeting at the pensioner hall in Boston to look at their display of WW1 memorial and the felt poppy's they had been making, it was an enjoyable afternoon taking photos of the ladies and the display, part of the display was about a young lad from Sutterton, private Coleman of the Lincolnshire regiment who died in action only 2 weeks after being poster to France he was only 19 years old. He is remembered on the Sutterton war memorial in the cemetery.
On the13th November Middlecott School music and drama students are putting on a musical play about the First World War, to be called "Armistice" this is in support of TRBL and the centenary of the start of WW1. Tickets will be on sale soon at £5 for adults and £2 for student's to include tea or coffee and biscuits. Middlecott School are also inviting the youth groups (Scouts, Girl Guide and Army Cadets) to take part. This will be a very enjoyable evening for all of the parents as a lot of children will be involved. Tickets will be on sale at the School or TRBL kirton Branch committee members and at the door on the night, (Tickets are limited to 300).In the auditorium there will be a display of WW1artfict and memorable.
Branch members are putting together a display of WW1 memorabilia to be displayed in the school assemble hall, so if anyone has item that are of interest and would lone them to us for the display, we would be very grateful.
At the start of September I had an email from a Mr Robert Meeds who was helping in the restoration of the holbeach chapels and the graves of WW1 veterans. I was able to help him with some crosses and poppies. In our branch magazine you will be able to see photos of what they were able to create
I will end this report on the branch actives for the start of the 2014 poppy appeal and wish ever one the best for the coming year. Thank you
Roland - Poppy Appeal Organiser
Kirton Parish Church
Christmas Tree Festival 2014
The Kirton Parish Church 5th Christmas Tree Festival will be opened by Mark Simmonds MP for Boston & Skegness on Saturday 6th December at 11am.
During the Festival Kirton Parish Church will be filled with beautifully decorated Christmas trees all sponsored by local groups and organisations. Some trees will be elegant, some quirky, others fun and entertaining, and decked out in many imaginative ways. All will celebrate the joy of Christmas in a beautiful and fine church setting.
The Festival Times are as follows: Saturday 6th December: 11am-3pm, Sunday 7th December: noon-3pm, Saturday 13th December: 11am-3pm, Sunday 14th December : noon – 3pm.
There will be a Grand Raffle with a large Christmas hamper to be won, Tombola Stalls,
a range of Craft Stalls, a Cake and Produce stall, Children's Face Painting, and a good choice of Refreshments.
Craft Stall Bookings available from Paula on 01205 722380.
A BIG THANK YOU to all the following local clubs, societies, organisations and businesses that will be supporting the Christmas Tree Festival this year by placing a decorated Christmas Tree in the church during the Festival.
Kirton Parish Council, Kirton Town Hall Management Committee, Middlecott School, Kirton Primary School, Kirton Little Explorers Nursery School, Kirton Methodist Church, Kirton Royal British Legion, Kirton Royal British Legion Women's Section, Kirton Scouts, Cubs and Beavers, Kirton Guides, Brownies and Rainbows, Kirton Kids Club, The Scout Shop, The Monday Club, Kirton Ladies Luncheon Club, Kirton Mother's Union, The Sisterhood, Kirton Walkers, The Kirton Bowling Club, The Kirton Kurlers, Frampton W.I., The Kirton Bell Ringers, White Gables Nursing Home, Woodlands Court Care Home, Elwood, Briggs and Turner Veterinary Practice, Greenscape, Rush's Hairdressing, The Salon Hairdressers, Sylvia's Tanning Salon, The Hair Studio, Mary Duff B & B, Maggie Welberry of Home Farm Produce, Kirton Church Choir, The Open the Book Team, Paula's Handmade Cards, The Kirton News, and Alan Johnson, Woodturner.
More Festival Information available from Margaret on 01205 722052.
History Digest
Well known in Station Road for more that thirty years, Baitstrand Garage was totally destroyed by fire during the night. Dean Tunnard established the original business in 1924. It is not yet known whether the present owners will rebuild on the same site.
The New Year gales of 1779 will be remembered by Kirton townsfolk as the time of the great crash. On one particular night a sound of falling masonry was heard, and at dawn a series of battlements was seen to have fallen from the church.
Partly making use of a warehouse formerly owned by a produce merchant, local providers plan to open a Leisure Centre during 1967. With access from Willington Road along the bowling green lane, it will cater for indoor games and social functions.
By the end of 1617, the building of Blossom Hall in Kirton Skeldyke will be completed. The architectural design is noted for its unique spiral brickwork on the chimney stacks.
1934 goes down in Kirton's history as 'drought year', when all the pumps used by the public went dry. Local firm Dennis's mounted a tank on a lorry and fetched water from Louth, selling it in the streets for a penny a bucket.
In the diary of historian Pishey Thompson for May Day 1843, he wrote: 'Visited Kirton, and saw the Statutes being enacted; groups of country girls and boys, on their way to servitude.'
Still another Kirton high-achiever! Tom Brooke-Smith, the famous aviator, grandson of William Dennis, has during 1948 been appointed Chief Test Pilot for the manufacturers Short Brothers and Harland Ltd.
Postal services? Don't mention that word to residents of Kirton Holme. They complained during last year, 1854, that their letters came a fortnight late and were delivered on a baker's cart!
The Rifle Range, the long corrugated-iron building in Church Lane, is due to be demolished in 2007. Built during the First World War to train army cadets in rifle shooting. it later became the headquarters of Boy Scouts and Girl Guides.
At the Annual Parish Meeting of 1910 it was reported that some of the beef doled out by Kirton Charities could only be described as 'dog's meat.' A lively discussion followed, though by the end no satisfactory conclusion was reached.
The Ministry of Agriculture, Fisheries and Food advises us that from March 1971 the advisory service based in Willington Road will become separately known as the Agricultural Development and Advisory Service. The former Science Building of the Grammar School is its Soil Chemistry Section.
According to the newly published White's Directory of Lincolnshire, 1856, no fewer than one hundred and two people in the Parish of Kirton make a living as 'farmers and graziers.'
Letters to the Editor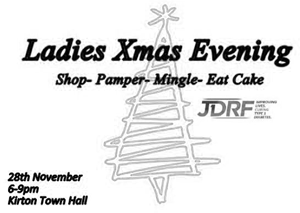 Hello Mr. Chapman, My name is Sue Bell, and I am involved with the Wyberton Quadrant Action Group. I do not know if you are aware this application has not been finalised yet. We as a group are still fighting this through our Solicitors. We believe there is a case to answer to call for a Judicial Review. This development will have as big an impact on you good people of Kirton, Frampton and surrounding area as we shall feel in Wyberton. Therefore, I am asking if you could put an article in your next issue for us.
Wyberton Quadrant Action Group
The fight to stop the development is not over yet. We have legal people working for us and there is still time to make a difference for not only Wyberton, but Kirton, Frampton and surrounding area before it's too late. In fact the whole of the Boston area will be adversely affected if this development is allowed to go ahead.
It is costly to fight any action, so we are therefore seeking donations and pledges from those of you who love your area as it is, and do not want to be railroaded by people who do not care about .
Make your donation or pledge to: Doctor Cyril Nyman, 30 West End Road, Wyberton, Boston. Lincs.
Thank you in anticipation, yours,
Sue Bell. Lead Petitioner, Vice Chair. WQAG
Bike Ride
Hi Sam, we are a group of ladies that have set ourselves the massive challenge of completing the London Prudential next year (100 mile bike ride).
We started a ladies cycling group in May of this year. To start with we cycled appox. 10 miles each ride. We have now progressed to 20-25 mile rides in the week and often some of the ladies taking part in longer rides at the weekend.
We decided to give ourselves the challenge of riding 100 miles and doing this for charity. We will be raising money for JDRF. We are organising events to help raise money the ladies evening being one of them.
Many Thanks
Vicky
Such a shame
As usual at this time of the year Harvest Festival was celebrated in our lovely church.
If you didn't manage to pop into the church you missed a treat. The flowers decorating the church adorned it with autumn splendour and were worthy of a far bigger audience than they had.
Harvest Festival is one more celebration that seems to have succumbed to the business of modern life. Sadly arrays of produce from Lincolnshire's expansive fields were not on display but the floral display was certainly worth seeing thanks to our 'flower ladies'.
Never mind. Maybe next year.
Paula D.
Kirton Kids Club
How quickly this half term has gone. We seem to have only just got back after the summer holidays and here we are again at half term.
The weather has been kind to us and the children enjoyed evenings outside playing with friends and having a great time.
Included in the run up to the holiday has been our 'Halloween' activates which have included mask making, flying bats, pumpkin banners and pumpkin carving. This is the fun side of Halloween and the children really enjoyed it all.
On the last day they were treated to a film night with pizza and goodies to eat and drink, served in Halloween plates and cups.
Each child took home a 'trick or treat' party bag filled with sweets and nice things to eat.
The club garden is now going to sleep for the winter but the children saved some of their pumpkin seeds to set in the raised bed for next years crops.
The club opens for breakfast at 7.30 am and after school sessions finish at 5.45 pm.
Breakfast club is only £3.50 per child per session and after school is £5.50 a child for the whole session.
If you are interested in booking places please call 07583 762072 or pop into the Youth Centre during club time.
So long Natwest; Hello PO!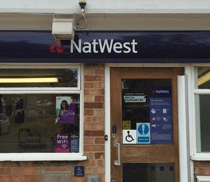 Many of you reading this may have put your signature to a petition that has been around for a few weeks to protest against the proposed closure of our Last Bank on November 25th.
Cages have been rattled; on-line complaints forms filled in and letters and e-mails written to - amongst others - The Rt. Hon. Eric Pickles MP, (Secretary of State for Communities and Local Government); Mark Simmonds, (still your local MP); Ross McKewan, (Group Chief Executive
The Royal Bank of Scotland Group plc); Les Matheson (Cheif Executive UK Retail Banking RBS Group plc). In fairness, replies have been received, almost by return of post.
I managed to get an interview with a chap called Mark Rose (Local CEO Peterborough & Lincoln) only last Thursday (16th) for a very amiable and lengthy chat.
We've been on the 'telly', the radio and in the press.
And, guess what? Your local thoughtful bank who have just spent a hatful of dosh on a TV advertising campaign to show you just how much they care couldn't give a t'uppeny whotsit! Ah well!
"Banking is changing and we need to be able to respond to what our customers now need if we want to remain competitive." They say.
"We are continually developing and improving ways our customers can reach us..." They say.
"A significant amount will be invested in the network over the next five years including refurbishing branches, improving ATMs, extending services with the Post Office, and updating our mobile banks" They say.
FIVE YEARS? What about extending those services NOW if the Post Office is going to be our only option. Because although "Customers can use the Post Office to pay-in cash and cheques (most important, of course), withdraw cash and pay bills. Cash exchange will not be available until later. " Details on the Post Office intranet pages.
You see, I reckon most of those things on the 'wish list' could be easily achieved by just keeping the doors open!
At one time we thought we'd got them under their own charter which said that, should a NatWest branch be the last bank in a community they would not close. However,
"Our Customer Charter commitment on the Last Bank in Town has evolved. In 2013, our approach to the charter changed and we no longer make that public commitment."
But still they CARE; don't they?
433 people signed that petition before I presented it to Mark Rose on Thursday October 16th. He, again in fairness, has since e-mailed me to say:
"I have approached [presumably his superiors, Ed.] and await guidance in terms of the response to your petition in the local Kirton news, so although it now appears that I have missed the next edition once I am in a position to respond I will."
And, when he does, I'll report back.
In the meantime, there's always the FOS (Financial Services Ombudsman). Might as well have a go, eh?
Skate Park in Jeopardy?
After recently reporting the great news about securing funding for the proposed installation on the Dame Sarah Swift Memorial Park on Church Road I now have to make a not-so-good report.
That old 'Anti-Social Behaviour' card has, yet again, come into play.
After a Summer of harassment of local residents; littering; stone throwing; verbal abuse and general nuisance we have had a case of arson at the field. Wooden play equipment already on-site has been set alight and at least one other potential pyre has been recently dismantled.
It's the old story: a few wretched individuals doing their best to spoil things for the majority.
The police even know who most of these youths are but - to date - are unable to take definite action. It can be hoped that the recent fires have escalated the problem firmly to within their jurisdiction but, as always, it is so unnecessary.
Will these people EVER learn and make themselves more useful members of the community?
Recent conversations with representatives of the Playgrounds committee and Parish Council suggest that the whole project is now in serious risk of being, at best delayed, at worst scrapped altogether!
Over ten years has been spent in one way or another to get this dream so near to completion. Lets not let these narrow minded individuals spoil the party.
Kirton Primary School News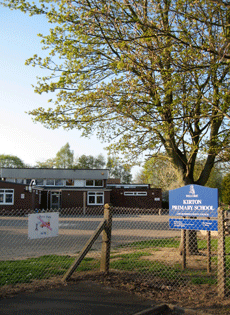 The week beginning 6th October saw the children at Kirton Primary School take part in a 'My Money' theme week. The week was a great success, with the whole curriculum based around the theme of money. In Science, the children learnt about the running costs of a house. In History, the children learnt about how the value of money has changed as time has progressed. An aspect of the theme week was an enterprise project. Each KS2 class was given a budget of £30.
Their aim for the project was for the children to make something that they could then sell for a profit. The children conducted market research within school, wrote letters to local businesses asking for sponsorship and calculated the cost of materials needed. Once the products had been designed and made, the children held an enterprise sale in the school hall. Children from across the school, as well as parents after school, visited the sale to view and buy the products. A total of £295 was raised. The children will soon be choosing how they will spend their profit.
Frampton W.I.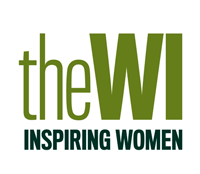 Ladies (and Gentlemen-I hear that a few of you do actually read this!) do you know that as I write there are only ten Saturdays till Christmas? The leaves are tumbling from the trees and the heating is being switched on and winter is rushing upon us. I would like to remind you that we are decorating a tree in Kirton Church all donations of decorations to be brought to the next meeting where we will also be taking bookings for the Christmas lunch at the Poachers Restaurant.
The speaker for our next meeting on 13th November at 7:30pm will be Neil Watson and his subject is Boston Cinema and Theatre Heritage. We would like to invite non members and partners, husbands, friends to join us on this occasion. The competition will be 'A Programme' and your caterers - Jill, Anne and Val C. I can promise you something scrummy to eat at half time ( are you making shortbread Val?) and a warming cup of tea or coffee and a raffle - I am actually on a winning streak at the garden club but have still to crack the WI raffle.
This month we had our 78th birthday party instead of a meeting and what a lovely evening it was. Pete Smith made a welcome return and led us once again onto the dance floor for a riotous evening of line dancing, the bring and share supper was a great success, the birthday cake baked by Sarah and iced by Ann, cut by Madge was a lovely finale. Thank you to all of you who attended and to those of you who missed it we will do it all again when we are 79! Amazing to think really that the Frampton WI has been going for 78 years and new members are still joining, keep coming ladies.
I was asked this week what makes a typical WI member. I looked around the room and saw ladies of all ages chatting, laughing, dancing, and I really couldn't answer the question. Then someone in the kitchen (who shall be nameless Val H!) needed a pair of scissors and nobody had any and I thought I know a lady who would have a pair in her bag....when she arrived I asked her and she actually had two pairs. We are all typical I suppose because we belong and we all need each other is that an answer? Is there such a thing as a typical WI member? I do have one question- what did Glenda put in the middle of her coffee cake it was delicious and our table just couldn't work out what it was. Come and join us for our next gathering on the 13th November 7:30pm Frampton Village Hall on Middlegate Road, Frampton. We all look forward to welcoming you.
If you would like to know more about joining Frampton Women's Institute call Ann ( President)on 01205 366020 or Carol(Secretary) on 01205 722879 email: .pattrick@tiscali.co.uk or me! Vanessa (New Members) on 01205 723891 email: vanessajameson@btinternet.com
essop's Plum Loaf Pudding

by Rachael Wainwright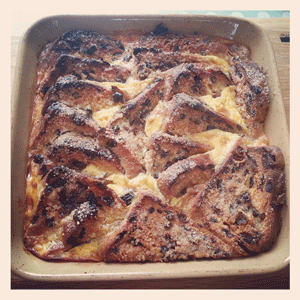 To adapt the classic Bread and Butter Pudding, I bought a large Plum Loaf from Jessop's (cost £ 3.10).
I cut the loaf into thick slices, buttered both sides and then cut into triangles.
Layer them in an ovenproof dish.
In a bowl, whisk together 2 free range eggs, 300ml pot double cream, 1/4 pt milk and 2 dessert spoons of sugar.
Pour over the plum loaf and let soak for up to an hour. Sprinkle top with more sugar and nutmeg.
Bake at 170 deg for 35 mins or until golden on top.
For more recipes and tasty ideas follow the link below:
http://mellowbelly.blogspot.co.uk
Poetry Corner
This month's edition is a bit full of serious stuff. As a little lighter relief I'd like to introduce a couple of poems. Relevant to the season we have a new contributor and an old favourite.
Our first is a local lady of mature years who has, only recently, put pen to paper. Our second, Gladys Seabrook who has written many a verse since the 1970s, and is, or rather was, an unrecognized talent.
Sadly Gladys passed over early in 2014 but has left some perfect gems:-
Autumn
Autumn is a time that I love;
The changing hues and a blue sky above.
When everything is slowing down,
The forests are shining like a golden crown.
The birds have finished building their nests,
And many will, soon, be flying to the West.
And, as the Winter glooms
With far less flowers and lovely blooms;
But, as I sit and give a sigh,
I see a rainbow in the sky.
Perhaps we are in for a storm,
And have the whole place wet in the morn:
But that is first Nature's way,
There is nothing that we can do or say.
Country Girl
My memory leads me through the haze
Of bygone golden Autumn days.
Through stubble fields and stacks of corn
And cocks that crow at early dawn.
Through rustling leaves beneath my feet
And berries hanging dark and sweet
Wide furrowed acres newly ploughed
'Neath windswept sky and drifting cloud
Migrating swallows in their flight
Grey drifting smoke and bonfires bright
A trace of mist as daylight dies
Ripe juicy plums and apple pies
Cool churns of milk and pots of jam
New laid brown eggs and home cured ham
Around me now these visions whirl
For once I was a country girl
But now I live amid the maze
Of traffic lights and City ways
Of jostling crowds on every street
And concrete pavements 'neath my feet
In dust and fumes and stagnant air
With noise and bustle everywhere
There's nothing here to let me know
When autumn brings its mellow glow
But sometimes on September days
Nostalgia makes me stand and gaze
At one small view of Heavens high
Then like a bird I long to fly
Back to the countryside I knew
Through meadow pastures wet with dew
To live again where life is free
Once more a country girl to be
Gladys Seabrook (1926 - 2014)
The Registers
Baptisms - We welcome into God's family:
13th September - Ellen Rose Robinson
13th September - Sophie Robinson
13th September - Charlotte Daisey Leiley De Ville
14th September - Leo Manning
21st September - Lucas Harley Wainwright
28th September - Sienna Janet McCartney
4th October - Louie James Almond
12th October - Lola-Rose Dow
12th October - Tommy Jay Morley
12th October - Andrea & David Carter

Weddings - We ask God's blessing on:
no Weddings this month
Funerals - We commend to God's keeping:
25th September - Elizabeth (Betty) Mosley at Boston Crematorium
3rd October - Audrey Pratt at Surfleet Crematorium
16th October - Margaret Amy Grey